Lawsuits filed against L.A. County, lenders over green energy program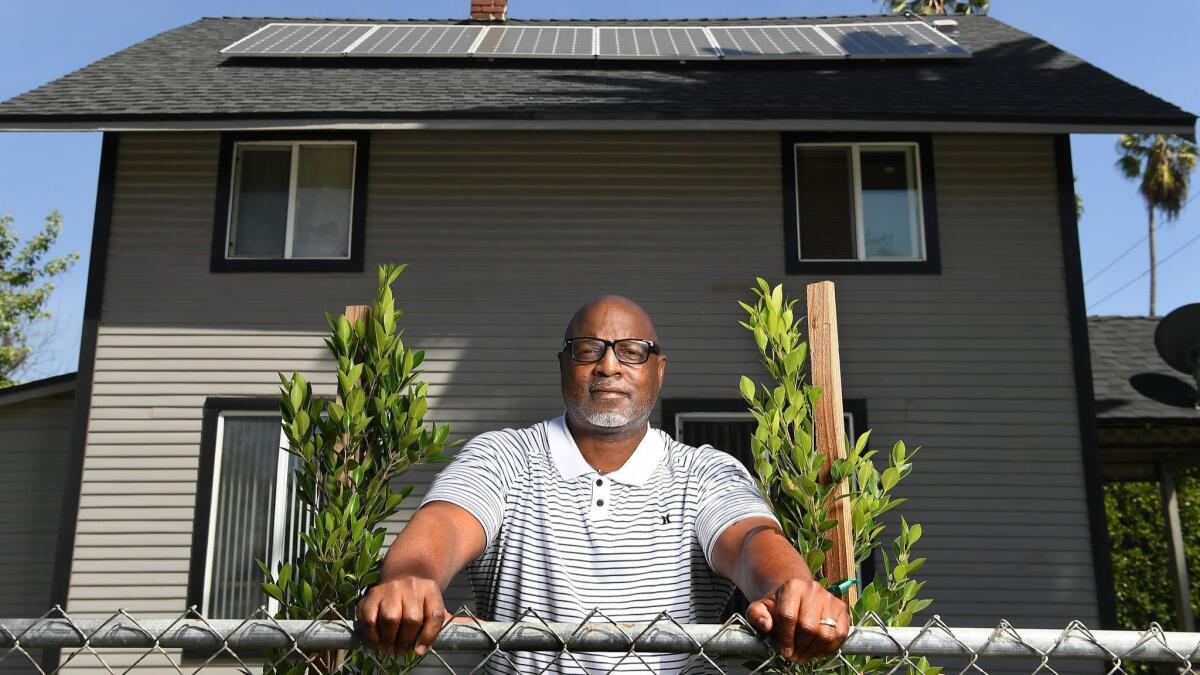 Attorneys representing homeowners filed lawsuits Thursday against Los Angeles County, alleging a county program that funds solar panels and other energy-efficient home improvements is a "plague" that's ruined the finances of many borrowers by saddling them with loans they cannot afford.
The twin suits seeking class-action status were filed in Los Angeles County Superior Court against the county, as well as Renovate America and Renew Financial, the county's private lender partners for the Property Assessed Clean Energy program.
The complaints say borrowers are now at risk of losing their homes because the loans are liens on a house, lacked adequate consumer protections, and were marketed and sold by unscrupulous contractors that were not properly monitored.
"Many PACE participants are living hand-to-mouth to hold onto their homes, fearful of what is yet to come," the nearly identical suits say. They note that many of those in trouble have low incomes, are elderly or don't speak English as their first language.
L.A. County representatives did not respond to a request for comment.
In a statement, Renew Financial said it couldn't comment on pending litigation, but said it's worked with government authorities to improve consumer protections, including new state laws that took effect this year.
Renovate America said it similarly supported the enhanced protections and finds "no merit in the allegations in the complaints."
Specifically, the lawsuits allege the county and lenders have committed financial elder abuse, while the lenders charged inflated interest rates and broke a county contract that said they were to provide "best in class" protections against predatory lending and special safeguards for seniors.
While the lenders have said they checked borrowers for previous bankruptcies or missed mortgage payments prior to approval, they did not ask for their incomes until recently, basing approvals largely on home equity.
The lawsuits said the county knew, or should have known, its program would harm vulnerable homeowners and has looked the other way as problems piled up.
The suits seek class-action status for borrowers who took out loans between March 2015 and March 2018 and that had excessive debt-to-income ratios or were left with very little residual income after making their loan payments. The lawsuits said the class size is unknown, but argued PACE has been a "disaster for thousands of vulnerable homeowners."
The suits, brought by Irell & Manella, Public Counsel and Bet Tzedek, ask that loans for borrowers in the class be canceled and that homeowners be returned any money paid.
"We can't keep up with the number of complaints about this program," said Jennifer H. Sperling, an attorney with Bet Tzedek. "This is a systemic problem."
The class time frame was chosen because as of April 1, under a new state law, PACE lenders must ask for a borrower's income and make a "good faith determination" of a borrower's ability to repay.
Another new bill mandated that PACE providers have a phone conversation with all homeowners before they take out the loan to ensure they understand the terms. Renew Financial has said it's always had such calls and Renovate America said it started doing so before the law passed.
The bills, which included other reforms as well, were signed by Gov. Jerry Brown last year following repeated complaints over unscrupulous contractors who market and sign people up for the loans on tablet computers and smartphones.
"If they had let me know from Day One this is what [you are] going to get into ... there is no way I would have signed," said Reginald Nemore, a 58-year-old former bus driver who had to retire after a back injury.
He took out a Renovate America loan for solar panels and attic insulation in 2016. Nemore said before a contractor handed him a smartphone to sign, the individual didn't explain to him exactly how much he would be paying. He said he was told he'd qualify for a $7,000 government check for going green, but found out it isn't available to him.
Nemore said he wasn't told he could lose his house if he didn't pay and only found out the true cost when paperwork arrived in the mail after the loan was finalized. He now owes roughly $240 a month for 25 years, even though he said he and his wife, who suffers from multiple sclerosis, sometimes only have $50 or less in their checking account each month.
Nemore's attorney said he and his wife only take in around $2,475 from Social Security disability payments.
"I don't want to be uprooted," Nemore said. "But I don't know if it is going to be up to me to have that choice."
First started in 2008, PACEprograms are established by government authorities, which allow the privately financed loans to be repaid as line items on property tax bills. In addition to solar panels and energy-efficient air conditioners, the loans in California can be used for items such as low-flow toilets that save water.
In Southern California, Los Angeles, Riverside, San Bernardino and San Diego counties have approved PACE programs and contracted with private lenders to fund and largely operate the efforts.
If PACE loans go unpaid, a homeowner can be foreclosed upon. However, Renovate America and Renew Financial — which partner with Los Angeles County and issue loans under the Hero and California First programs, respectively — told The Times last year they hadn't foreclosed on anyone for nonpayment of PACE loans.
L.A. County said it had set up reserve funds to cover missed borrower payments for a time, making a quick foreclosure unlikely for those who've missed PACE payments.
Program proponents, including the lenders, have praised them as a tool for saving energy and combating global warming. And they say most customers have come away happy.
A recent study from the Lawrence Berkeley National Laboratory found PACE programs boosted the deployment of residential solar photovoltaic systems in California cities with the program by 7% to 12% between 2010 and 2015.
But consumer groups say contractors who serve as de-facto mortgage brokers too often misrepresent how the financing works, sticking people with loans they can neither understand nor afford. And they note mortgage servicers will often cover the PACE bills for a time and might be the ones foreclosing upon a delinquent homeowner.
In the lawsuits filed Thursday, attorneys allege on behalf of their clients that Renovate America and Renew Financial failed to screen and monitor their network of contractors and encouraged predatory lending and aggressive marketing.
Often, the suit says, contractors served as a homeowner's "primary" source of information about the loans. Lenders told contractors they didn't need to determine if customers could afford the loan and rubber stamped payment to contractors, without regard to whether they followed certain guidelines, the lawsuits allege.
Renovate America has said it's tried to weed out bad contractors, kicking them out when they don't follow the rules. In October, the company announced its chief executive was stepping down and it retained a law firm to "conduct and make public a third-party review of practices and procedures."
In its statement Thursday, the company said a different outside review of its loans for the Western Riverside Council of Governments found it followed the applicable consumer protections that the agency set up more than 99% of the time.
Follow me @khouriandrew on Twitter