More restrictions announced for toxic pesticide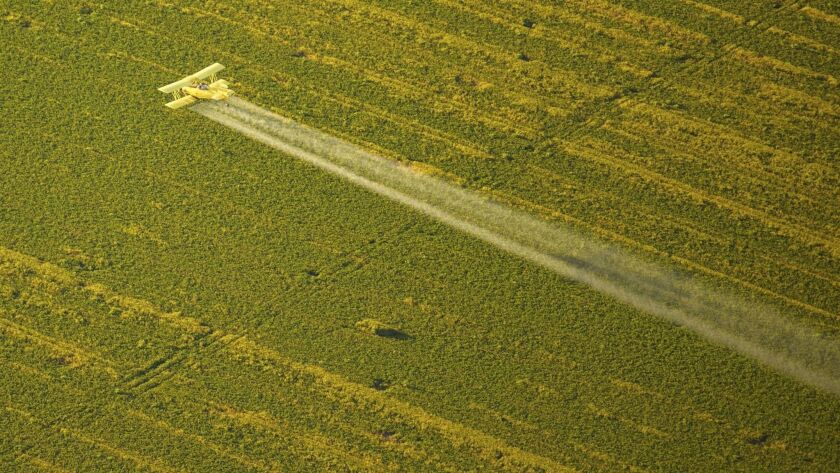 California moved a step closer Friday to banning a widely used agricultural pesticide linked to birth defects, openly departing from the Trump administration's decision to walk back an Obama-era effort to ban the chemical.
Growers and other users will be asked to increase the buffer zone between fields where they spray the pesticide and inhabited areas such as homes and schools, the state Environmental Protection Agency announced Friday.
The agency will proceed with plans to list the chemical, chlorpyrifos, as a known hazard to humans, under Proposition 65. The agency also updated its scientific assessment of the chemical, which has been linked to birth defects and reproductive maladies.
"While chlorpyrifos has been protecting crops for more than 50 years, new information in the scientific community leads us to believe the level of risk it poses is greater than previously known," said state EPA Secretary Matthew Rodriquez. "We need to better understand the science to ensure our actions protect public health."
California growers in 2015 used more than 1 million pounds of the chemical on more than 60 crops, including almonds, grapes, walnuts, oranges and cotton, according to the California Department of Pesticide Regulation, part of the state EPA. Use has declined by about half from 2005 to 2015, the last year for which data were available.
The chemical was blamed for sickening 37 farmworkers on a field south of Bakersfield in May. Authorities said the pesticide had drifted more than a half-mile from the fields where it was being applied. Several of the farmworkers required medical attention.
The Kern County Department of Agriculture last week fined two nearby growers for violating pesticide application rules.
California last month joined five states and the District of Columbia in a lawsuit against the federal EPA over its decision to halt a recommendation by the Obama administration to ban the chemical, marketed by Dow AgroSciences.
EPA Administrator Scott Pruitt's decision in March came in response to complaints by the agricultural and chemical industries that a scientific review of the chemical's effects on humans had been cut short.
The Obama administration had been under pressure from an order by the U.S. 9th Circuit Court of Appeals to speed up its ruling on the safety of the chemical.
Environmental activists on Friday said California was still moving too slowly.
"Pesticide regulators need to create a clear timetable for getting brain-harming chlorpyrifos out of our fields rather than further delay," said Paul Towers, a spokesman for the Pesticide Action Network of North America, one of the groups that has pressured regulators to eliminate the chemical from use on crops.
Towers noted that the agency is issuing voluntary guidance, not new rules, about how the chemical is applied. He also faulted agency scientists for not adequately focusing on the chemical's effects on children's brains.
A UC Berkeley study found that 7-year-old children in the Salinas Valley who were exposed to high levels during pregnancy had slightly lower IQ scores than their peers. A Columbia University study showed similar effects at lower exposure.
Dow AgroSciences did not immediately respond to the California actions Friday, but the company has said it believes federal regulators made the correct decision in March.
"Dow AgroSciences remains confident that authorized uses of chlorpyrifos products offer wide margins of protection for human health and safety," the company said at the time.
Joel Nelsen, president of California Citrus Mutual, an industry advocacy group, said it will now be more difficult to produce food for consumers.
"This is a solution looking for a problem," Nelsen said. "This chemical has been a critical tool for years, without any problems."
In 2006, the EPA revised its tolerance levels for the chemical and limited the crops on which it can be applied.
California restricted use of chlorpyrifos in 2015, requiring licensing, training and oversight by county agriculture commissions. It also tightened buffer zone requirements around fields where the chemical was applied, and banned its use near schools and other facilities when winds exceed 10 miles per hour.
About 5 million to 10 million pounds of chlorpyrifos are used annually on crops nationwide. The chemical is an organophosphate, a class of chemicals originally designed as a nerve agent weapon.
Chlorpyrifos has been banned from consumer products and residential use nationwide for more than 15 years.
Twitter: @LATgeoffmohan
---
Must-read stories from the L.A. Times
Get the day's top news with our Today's Headlines newsletter, sent every weekday morning.
You may occasionally receive promotional content from the Los Angeles Times.