Court's rejection of a lawsuit over pesticides in seed coatings is a setback to beekeepers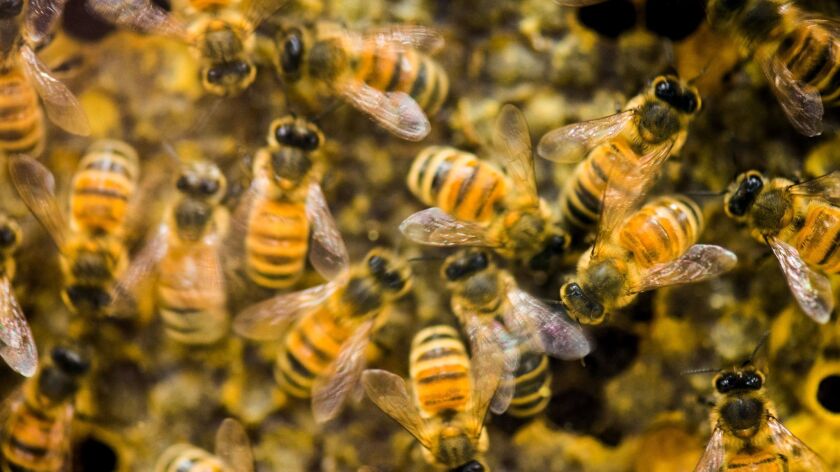 A federal court on Tuesday dealt a setback to efforts by beekeepers and consumer groups to force the U.S. Environmental Protection Agency to regulate insecticide coatings on crop seeds.
The U.S. District Court for the Northern District of California said it was well within the discretion of the federal agency to exclude chemical-coated seeds from pesticide rules that already cover the compounds in their other uses.
"The Court is most sympathetic to the plight of our bee population and beekeepers," Judge William Haskell Alsup wrote. "Perhaps the EPA should have done more to protect them, but such policy decisions are for the agency to make."
Several farmers, along with the Center for Food Safety, American Bird Conservancy, Pesticide Action Network North America and the Pollinator Stewardship Council had challenged the EPA's exemption for seeds coated with neonicotinoids, a class of insecticide used on about 150 million acres of food crops, predominantly soy and corn grown in Midwestern states.
Bees are exposed to dust from the seeds when they are planted, and to the nicotine-imitating toxins that spread to plant tissue as the crops grow, the groups contended.
Peer-reviewed studies have linked exposure to this class of pesticides with higher death rates among honey bees, and to problems with bee reproduction, navigation and communication. Other studies, however, have disputed whether the level of those pesticides typically found in fields constitute a serious threat.
Honey bees pollinate crucial food crops and contribute about $14 billion in value to the agricultural economy nationwide. A combination of pesticide exposure, management practices, parasites and habitat loss have been linked to a precipitous decline in bee populations first reported in 2006.
"This decision does nothing to alter my resolve," said Gail Fuller, a Kansas grain farmer who was a plaintiff in the case. "EPA and the states must address the issue of pesticide seed coatings rather than hide their head in the sand."
Lex Horan, a Midwest organizer for the Pesticide Action Network, said states should fill in the gaps in federal regulation of neonicotinoids.
"EPA has failed to address repeated concerns about the issues of pesticide seed coatings and the threats to bees, beekeepers and our food system," Horan said.
The groups alleged that EPA was failing to enforce the Federal Insecticide, Fungicide and Rodenticide Act, known as FIFRA, by exempting articles coated with these chemicals, because they already are regulated for other uses. The court rejected that argument, as well as several others that centered on whether EPA guidelines to its staff constituted official agency actions that are subject to public review and challenge.
The court also rejected the groups' demand that the EPA release emails and other documents related to the agency's guidelines.
The EPA is scheduled to review neonicotinoids over the next several years. In January, it concluded that one of them, imidacloprid, "potentially poses risk to hives when the pesticide comes in contact with certain crops that attract pollinators."
Follow me: @LATgeoffmohan
---
Must-read stories from the L.A. Times
Get the day's top news with our Today's Headlines newsletter, sent every weekday morning.
You may occasionally receive promotional content from the Los Angeles Times.