PG&E Chief Executive Geisha Williams leaves as utility readies for possible bankruptcy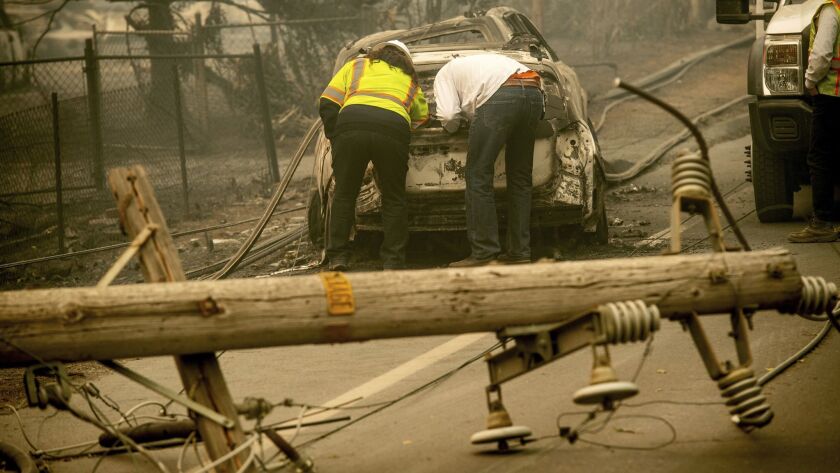 The largest wildfire in state history claimed another victim on Sunday: one of the most powerful women in corporate America.
Geisha Williams, chief executive of PG&E Corp., stepped down from the troubled San Francisco-based company, which is on the brink of bankruptcy due to tens of billions of dollars of damages it could be forced to pay.
Williams, 57, has run the company since March 2017, during which time PG&E has faced a string of both natural and self-inflicted blows that have marred the utility's reputation and financial health.
Williams also stepped down from the boards of the holding company and the utility, PG&E said in its statement Sunday. While a search for her replacement is conducted, the position will be filled in the interim by John Simon, a 12-year veteran of the company who has served as executive vice president and general counsel since 2017.
"While we are making progress as a company in safety and other areas, the board recognizes the tremendous challenges PG&E continues to face," said board Chairman Richard C. Kelly, in the statement. "We believe John is the right interim leader for the company while we work to identify a new CEO. Our search is focused on extensive operational and safety expertise, and the board is committed to further change at PG&E."
Williams could not be reached for comment but in an email to Bloomberg she said, "I value the opportunity I've had to lead PG&E and wish all of my colleagues well," without detailing the reasons for her departure.
PG&E has seen two-thirds of its market value wiped out since November's Camp fire — which killed 86 people and is the deadliest wildfire in California's history. Investigators have been probing whether the power giant's equipment ignited the fire.And the company faces potential liability for blazes that devastated Northern California's wine country in 2017 — costs that may tally as much as $30 billion. Its debt has been downgraded to junk status and state regulators have called for a management shakeup.
The company's deepening financial crisis has forced California regulators and policymakers to consider a bailout package, and PG&E is weighing whether to file for bankruptcy. The utility is planning to notify employees as soon as Monday that it may make a Chapter 11 filing within 15 days, people familiar with the plan said Saturday. Such a notice would be required under state law.
The notice wouldn't necessarily make a bankruptcy filing certain and the company could still decide not to if its situation changes, one of the people familiar with the matter said.
The utility has faced tremendous scrutiny over the last decade, starting with a 2010 gas explosion that killed eight people in the Bay Area city of San Bruno. Some PG&E critics have called for a government takeover or for the massive company to be replaced by smaller, municipal utilities.
But it's far from clear that local governments across Northern and Central California have the ability or the desire to take control of PG&E's infrastructure and to assume the huge liabilities that running the power grid entails. And state officials aren't likely to support a takeover because then the utility's problems would become Sacramento's problems instead.
The consequences of bankruptcy or an asset sale could ripple far beyond the utility's shareholders, some experts say, affecting 16 million Californians who depend on PG&E for energy and potentially threatening the state's ability to meet its climate-change goals.
The Public Utilities Commission is eager to avoid a Bankruptcy Court proceeding, in which a federal judge would control the company's fate and the interests of creditors would be placed above those of ratepayers, who could face higher rates.
The company filed for bankruptcy once before, in the midst of the early-2000s energy crisis that stemmed from a failed deregulation scheme and led to rolling power outages in much of the state.
Under Williams, PG&E spent millions of dollars trying to convince state lawmakers to change a legal doctrine known as inverse condemnation, under which utilities are liable for damages if their equipment is found to have sparked a wildfire, even if they weren't negligent. Williams called the doctrine bad public policy that made utilities the default insurer in the state. She said the wildfires were a symptom of climate change, as hotter and drier conditions spark more frequent and more intense blazes.
Although state lawmakers rejected PG&E's request to change wildfire liability law, they did pass legislation in August that will help PG&E pay for lawsuits arising from the wine country fires. In November, however, the utility's equipment again was being looked at as a possible source of the Camp fire, which destroyed the town of Paradise.
Support for PG&E's management eroded even further in December when state regulators accused the utility of falsifying records related to locating and marking underground gas lines from 2012 through 2017 — years in which the company was trying to convince the public that it had cleaned up its act after the 2010 pipeline blast.
Williams was one of only about two dozen women running S&P 500 companies, including Duke Energy Corp.'s Lynn Good, El Paso Electric Co.'s Mary Kipp, PNM Resources Inc.'s Pat Vincent-Collawn and Sunrun Inc.'s Lynn Jurich.
The daughter of Cuban political refugees, Williams became the nation's first Latina CEO of a Fortune 500 company when she took over PG&E. Her departure follows the exit of three PG&E executives earlier this month: Patrick Hogan, senior vice president of electric operations at PG&E's utility unit; Kevin Dasso, vice president of electric asset management; and Gregg Lemler, vice president of electric transmission.
Times staff writers Laurence Darmiento and Sammy Roth contributed to this article. Bloomberg News reports also were used.
---
For reporting and exclusive analysis from bureau chief John Myers, get our California Politics newsletter.
You may occasionally receive promotional content from the Los Angeles Times.