PG&E stops honoring settlements with fire victims as bankruptcy nears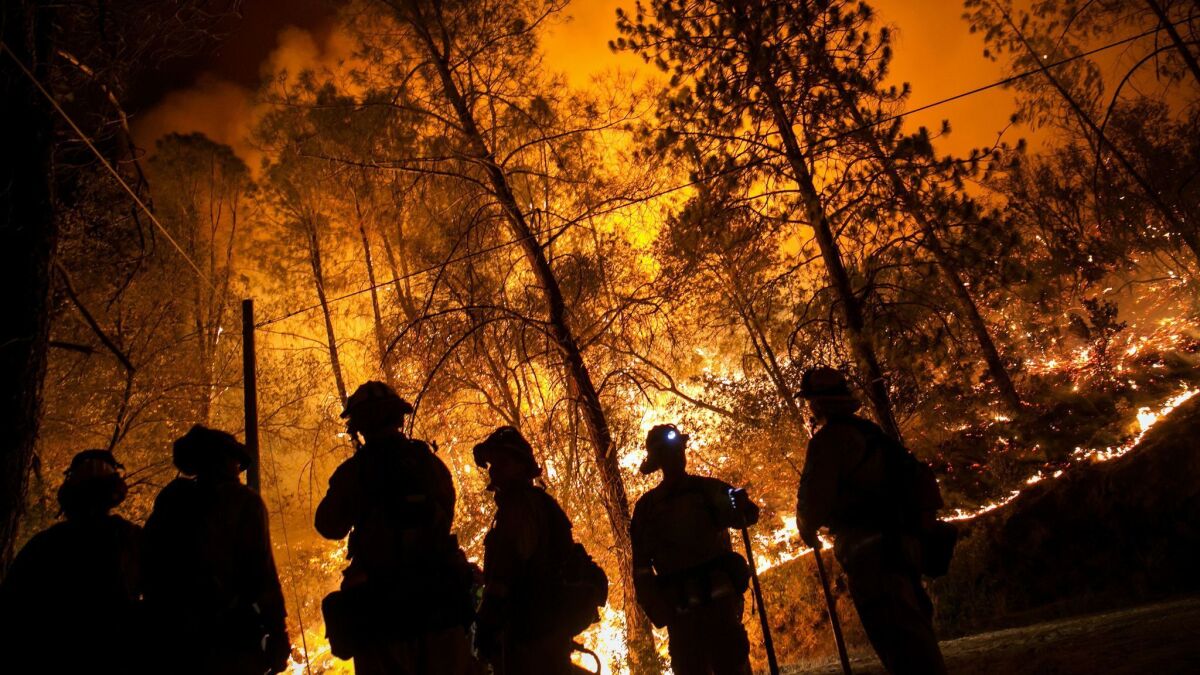 As PG&E Corp. prepares to file for bankruptcy, victims of wildfires are getting a preview of how they're likely to be treated as the utility reorganizes: harshly.
PG&E files for bankruptcy. Electricity prices are likely to rise for millions of Californians »
Ahead of an expected filing for Chapter 11 bankruptcy protection this week, the company is skipping payments it agreed to make to people whose property was destroyed in a 2015 blaze in the Sierra Nevada foothills caused by a tree falling on a power line — a fire, known as the Butte fire, that officials have blamed on PG&E subsidiary Pacific Gas & Electric Co.
So far, California's largest investor-owned utility has failed to make payments of about $1.5 million to four families whose properties were destroyed by the Butte fire, and it appears prepared to turn its back on at least seven other settlement agreements worth about $2.5 million, according to plaintiffs' lawyer Amanda Riddle.
PG&E told a judge in a Jan. 23 letter that money is too tight now to commit to honoring the settlements — two days before the company said its board approved a $75,000 raise for its senior vice president of gas operations.
"They have wildfire victims who've been through litigation, went through a mediation, negotiated a settlement, reached an agreement with PG&E and are ready to be paid," Riddle said. "And PG&E refuses to pay them."
California utility equipment sparked more than 2,000 fires in 3½ years »
The utility has said that bankruptcy is in the best interests of wildfire victims to ensure fair and expeditious resolution of their claims while it faces billions of dollars in liabilities from 2017 and 2018 California wildfires. (It's not guaranteed that PG&E will enter bankruptcy, however: On Monday, the company was fielding last-minute proposals from some of the biggest names in the investment world to keep it solvent, according to people with knowledge of the situation. Whether PG&E was considering those proposals was unclear.)
The company has already settled with 2,900 Butte fire victims and has shared its position on remaining settlements with lawyers and mediators "to ensure that everyone is fully aware of what's happening," a PG&E spokeswoman said in a statement.
Victims of wildfires caused by PG&E's equipment are unsecured creditors, meaning their legal claims in bankruptcy get paid after those of secured lenders such as banks, and even after financial analysts and bankruptcy lawyers, who are expected to charge hundreds of millions of dollars.
The victims of the 2015 fire say they're different because they have agreements in hand, fought for and negotiated over years before PG&E decided to file for bankruptcy, and a date by which they were supposed to be paid.
PG&E hasn't cited the Butte fire — which burned 70,000 acres and destroyed almost 500 homes — as a reason for its needing protection from creditors.
PG&E hasn't run out of money. So why is it planning to file for bankruptcy? »
PG&E is backing out of settlements even as California fire investigators exonerated it last week in the most devastating blaze of 2017: the Tubbs fire, which tore through part of the city of Santa Rosa. That exoneration may release the company from more than $9 billion in potential liabilities. Riddle said some of the agreements were reached in December — after November's Camp fire, which is suspected of having been ignited by PG&E equipment and was the deadliest and most destructive blaze in California history.
The conflict over Butte fire settlements is "as straightforward as it is unfortunate," Christopher Tayback, a lawyer for PG&E, said in a Jan. 23 letter to Sacramento County Superior Court Judge Allen H. Sumner.
Until the company files for bankruptcy, Tayback wrote, "PG&E hopes and expects that it will be able to make payments as they come due, including contractual obligations such as settlement agreements."
"However, PG&E faces liquidity problems" and is prioritizing payments to deliver gas and electricity, the lawyer added. "As a result of all these factors, PG&E cannot commit to pay one potential creditor over any other in the days prior to filing for bankruptcy."
Under federal law, PG&E's bankruptcy filing would automatically put on hold thousands of claims by fire victims filed in California courts. In that scenario, the Butte fire cases would be lumped with all other fire victims fighting it out against other unsecured creditors, such as bondholders, to get money from the utility.
Mike Danko, a lawyer representing fire victims suing PG&E, said bankruptcy would prolong any recovery for homeowners, who get paid only if they can prove their cases.
Even then, victims will get repaid in full for property damage and other claims "only if PG&E's assets exceed its liabilities, and if the professional fees and other costs associated with a bankruptcy don't eat those assets up," Danko said. "Bankruptcies are unbelievably expensive."
---
Sign up for the California Politics newsletter to get exclusive analysis from our reporters.
You may occasionally receive promotional content from the Los Angeles Times.