Pomona hospital employees say patients are at risk of superbug infections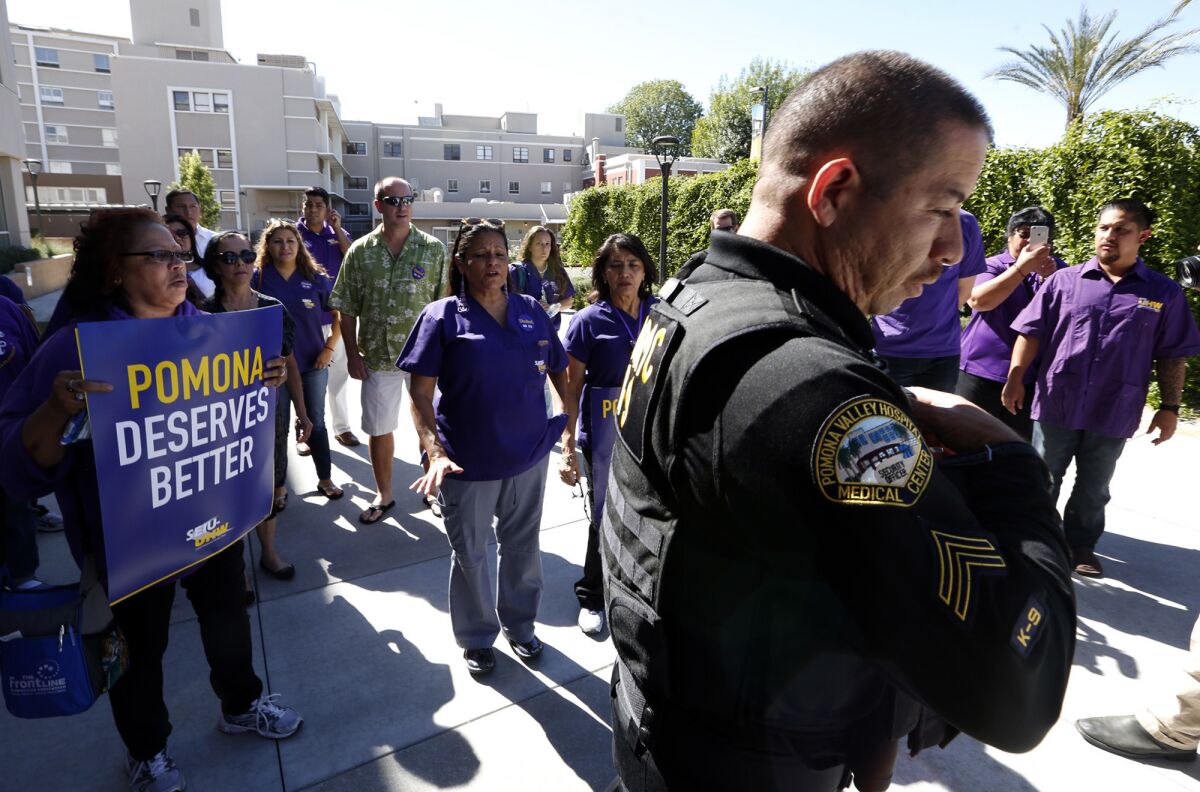 Employees of one of the San Gabriel Valley's largest hospitals say they that fear patients are being sickened by dirty conditions that management has ignored.
"I pick up bone, blood and flesh," said Leticia Duarte, an environmental services employee at Pomona Valley Hospital Medical Center. "It can be on the walls and ceiling. We use mops to clean up. We're not trained how to handle that."
Duarte's comments were included in a report that a unit of the Service Employees International Union released this week on conditions inside the Pomona hospital. The hospital's workers have been trying to unionize.
The report pointed to federal data showing Pomona Valley had reported that 97 patients were infected with the lethal bacteria Clostridium difficile in 2015 – a rate that was worse than the national average.
According to state data from 2012 to 2014, 19 patients infected by C. diff bacteria during their stays at the hospital died.
The employees said management had ignored their complaints about their lack of training in how to stop the spread of infections.
On Tuesday, hospital executives denied the employees' complaints. Darlene Scafiddi, vice president of nursing and patient care services, said employees are trained in infection control at least annually.
"We have documentation of their training," she said. "We're committed to public health and safety."
Scafiddi said the patients who died had other serious illnesses that may have contributed to their deaths. She said she could not say more about the cases because of privacy laws.
In the report, Maria Heredia, another employee in the hospital's environmental services department, said she had been trained once in 12 years. "I have not received any training on infection control," Heredia said.
Duarte, a nine-year employee of the hospital, said she had seen infectious material being spread between operating rooms.
"They often irrigate to cool down the bones they're cutting," she said. "That dirty water ends up on the floor, where doctors and other operating room staff step in it. They track it around to other operating rooms because they don't change their booties."
Other workers said the hospital was not taking proper precautions to control a patient's infection from spreading to other patients and staff.
"I would say that as often as two or three times per month, I'm working with a patient and not covered with protective equipment before I'm told the patient is an isolation case," said Socorro Valencia, a certified nursing assistant who has worked at the hospital for nine years.
Scafiddi said the hospital has increased infection controls, including installing more hand-washing stations, to reduce the rate of C. diff infections.
"We meet or exceed all state and federal regulations," she said. "We're committed to promoting the health of everyone in our region."
Follow @melodypetersen on Twitter
MORE BUSINESS NEWS
Facebook bans fake news from its advertising network — but not its News Feed
Banks lead stocks lower on Wall Street; Target jumps 9%
---
Sign up for the California Politics newsletter to get exclusive analysis from our reporters.
You may occasionally receive promotional content from the Los Angeles Times.