Labor Secretary Thomas Perez urges upgrades at L.A. and Long Beach ports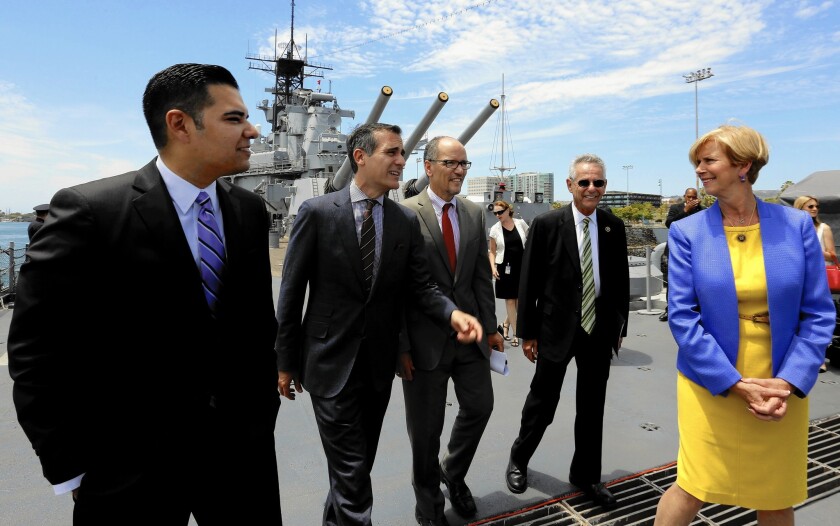 Four months after helping to resolve a long-running labor dispute that crippled traffic at West Coast ports, U.S. Labor Secretary Thomas E. Perez was back in California to praise how quickly workers and management were able to clear enormous backlogs of cargo.
But he also pointed to long-term challenges facing the ports of Los Angeles and Long Beach as they work to remain the dominant hub for transpacific trade.
"Location, location, location in this competitive global economy is not enough," Perez said at a news conference Monday in San Pedro with port officials and local political leaders. "You have to be efficient, you have to be timely, you have to be reliable, and you have to be state of the art."
Although the San Pedro Bay ports are the nation's two largest shipping hubs, their share of U.S. imports has declined over the last decade amid competition from East Coast and Gulf Coast ports. The much-anticipated widening of the Panama Canal next year could also pose a threat, giving businesses a new option for routing goods.
As global shipping lines have started to use giant cargo ships in an effort to cut costs, ports across the world have struggled to adapt to much larger influxes of cargo.
The ports of Los Angeles and Long Beach are in the midst of multibillion-dollar expansions — some of the largest ever undertaken — in an effort to speed up the flow of cargo and stave off rivals who want their business. Major projects include a $1.3-billion plan in Long Beach to replace the Gerald Desmond Bridge and a $510-million project in Los Angeles to upgrade and automate one of its major terminals.
But ports on the East Coast, including New York-New Jersey and Savannah, Ga., have been making similar upgrades as they brace for larger ships coming through the Panama Canal.
In an interview Monday, Perez said the key to future success is figuring out how to "maximize the advantages that you already enjoy over basically the rest of the country."
The two ports are also working together to speed up the supply chain, making it easier for truckers who move goods from the ports to major distribution centers in the Inland Empire. In the last few months, both ports created a system to better distribute trailers used by truckers and are working to create off-site storage yards to free up space on the docks.
"When our ports are more efficient, when our goods move in a speedy way, they attract more ships and put more people to work," Los Angeles Mayor Eric Garcetti said at the news conference. "We're actively looking for new ways to add value to our terminals, to be a partner in moving goods to the nation and the world."
Until the labor dispute ended in February, container cargo volumes at the ports of Los Angeles and Long Beach were down 18% for the first two months of this year compared with a year earlier. But in March, after the dispute was resolved, cargo volumes at both ports surged more than 23%.
---
Your guide to our clean energy future
Get our Boiling Point newsletter for the latest on the power sector, water wars and more — and what they mean for California.
You may occasionally receive promotional content from the Los Angeles Times.