Port truck drivers plan sixth strike against company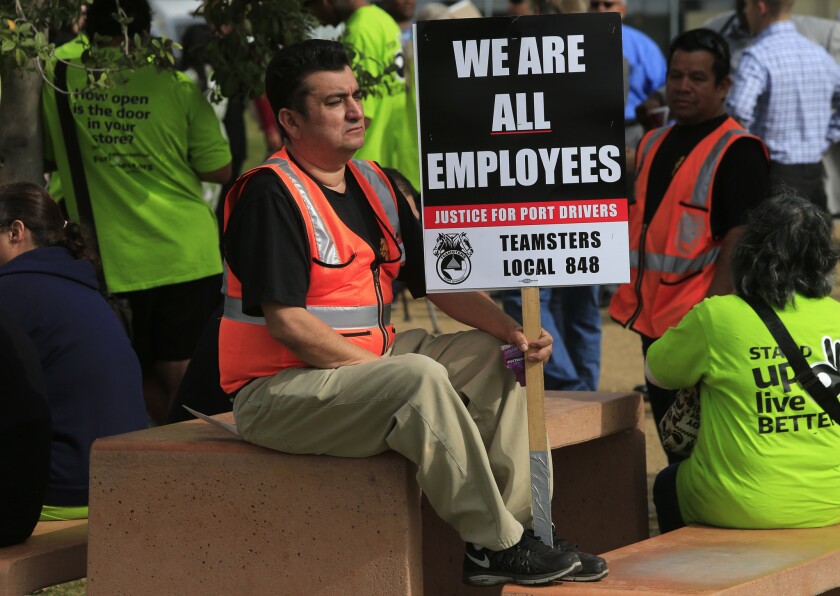 Drivers at a trucking company serving the Los Angeles and Long Beach ports plan to walk away from their jobs Tuesday in an ongoing struggle to be deemed employees, a union representative said.
The truckers are also demanding wages they say they are owed by their employer, Pacific 9 Transportation, after working as independent contractors rather than company employees.
The picket lines, scheduled to go up around the company's truck yard and port terminals at 6 a.m. Tuesday, will mark the sixth strike against the company in nearly two years, Teamsters Union spokeswoman Barbara Maynard said.
She didn't know how many drivers would abandon their posts, but said the strike could go on indefinitely.
In the past, drivers returned to work after several days because they needed the income. Some may never return to Pacific 9, Maynard said, because they have a good chance of joining companies that began offering employee status – including hourly wages and medical insurance – as a result of recent strikes against several trucking firms.
Eco Flow Transportation and Shippers Transport Express, for example, now take on drivers as employees and allow unions.
Maynard said the striking drivers hope that Pacific 9 will follow suit.
"Our goal is to impact this company so that they actually turn their ship around," she said.
Pacific 9, which has hauled cargo for Wal-Mart, Costco and CVS, was ordered by the California Labor Commissioner in December to pay three drivers a total of nearly $255,000 in back wages and penalties. The company is facing 40 other wage theft claims that show it owes drivers a total of $6 million, according to the Teamsters.
The National Labor Relations Board ruled last year that Pacific 9, which has fewer than 100 trucks registered at the Los Angeles and Long Beach ports, should allow drivers to unionize and post signs informing workers of that right.
But the Teamsters claim that Pacific 9 never properly did so and that the matter is back under the labor board's review.
"There's a fundamental dispute about whether the drivers are employees, as they contend, or independent contractors, as Pacific 9 contends," said Thomas Lenz, an attorney representing Pacific 9.
A Pacific 9 spokesman said the company would not comment on the planned strike because it is facing several lawsuits relating to allegations of wage theft and worker classification.
A dozen Teamsters supporters, including Pacific 9 truckers, gathered in downtown Los Angeles on Monday outside the Kenneth Hahn Hall of Administration, where the L.A. County Board of Supervisors will meet Tuesday to vote on whether to commission a study on wage theft regulations.
Amador Rojas, 58, said he has filed a wage theft claim for $270,000 covering three years of driving for Pacific 9. In his nine years with the company, Rojas said he has had to cover his own truck lease, repair, insurance and fuel costs while sometimes working 18-hour days.
"All the costs, we pay ourselves," he said in Spanish. "Sometimes we come out with a negative check" after expenses.
Representatives at the ports of Los Angeles and Long Beach said they expect cargo to flow in and out of the ports as usual Tuesday.
daina.solomon@latimes.com
Twitter: @dainabethcita
---
For reporting and exclusive analysis from bureau chief John Myers, get our California Politics newsletter.
You may occasionally receive promotional content from the Los Angeles Times.