Kiwi Crate CEO Sandra Oh Lin says starting a business isn't child's play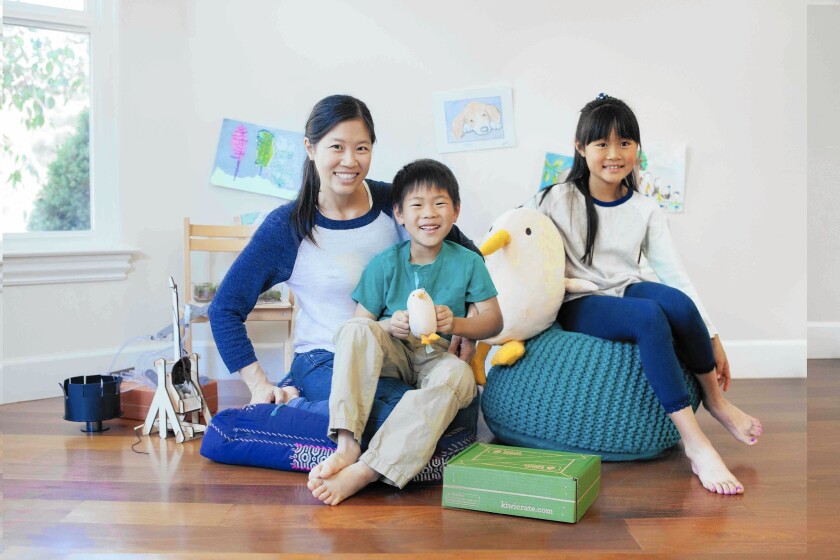 Starting a business can be fraught with problems, even for someone with a Harvard MBA and management experience.
Just ask Sandra Oh Lin, a co-founder and chief executive of Kiwi Crate. Her Mountain View, Calif., company creates and ships hands-on crafts and learning projects, or "crates," for children ages 3 to 16.
Kiwi Crate delivers new monthly projects to subscribers for $19.95 or less a month, and the crates also are available at Target Corp.'s stores and website. Despite its early growing pains, Kiwi Crate has shipped more than 1 million crates since opening in late 2011.
Oh Lin said annual sales now top $10 million and the firm has 40 employees. Kiwi Crate has raised several million dollars from venture capital firms to fund its growth.
A key part of Kiwi Crate's strategy is helping busy parents find fun projects for their kids. Oh Lin fit that description herself when she hit on the Kiwi Crate idea — she's a mother of two who formerly worked at EBay Inc., PayPal Holdings Inc. and Procter & Gamble Co.
We asked her to discuss how the business started, and what she's learned along the way. Here's an excerpt:
What does the Kiwi name mean?
I was brainstorming, and in my house one of the stuffed animals that caught my eye was a stuffed kiwi bird from New Zealand. We loved New Zealand and how much that country is about nature and discovery and exploration. We thought it was a great tie-in with what we were trying to do with the company.
How did the idea for your business develop?
Part of this came from a personal need and passion. I've always had a real interest in kids and creativity. When we started Kiwi Crate, my children were 21/2 and 41/2 and just getting to that age where I wanted to give them exposure to hands-on activities. I thought it would be a great way for them to learn. It took quite a bit of time to figure out what kinds of activities would be appropriate. And then it was a pain to go out and get the materials, especially with a couple of kids in tow.
I invited my friends and their kids over to participate in activities. We would have these potluck play dates. One of the parents said to me, "You should really start a business around this. This is so much fun." That's how the idea of Kiwi Create was born.
What about the idea for monthly deliveries?
That came from understanding families and parents and the demands on their time today. There are a lot of busy, well-intentioned parents looking for ways to engage their children and they want them to have enriching projects. We want to make it ultra-convenient. Every month, it's a fresh new experience.
Where did the business start?
We started in my garage for several months. We moved into our first office/warehouse the day we launched in October 2011.
Were there any early mistakes?
There were a lot of mistakes!
What's one example?
I don't think we quite had the appreciation for the operational parts of the business, and we certainly didn't have the experience. We're dealing with a physical product. At PayPal and EBay we were not dealing with inventories. At Kiwi Crate, I would do things like order shipping boxes and those boxes arrived on pallets to my garage and there was no room. That was one area where very quickly I figured out we were in over our heads.
What's the No. 1 piece of advice you would give someone starting a business?
Surround yourself with a great team. People nod their heads to [the idea] but in practice it takes active management. That's something I definitely learned along the way.
Can you elaborate?
You want folks [you hire] to understand what you're trying to achieve. That includes the behavior you expect as well as the values you expect folks to have. The early hires you have, they're the ones who are defining your culture.
What do your values and culture include?
The idea that no one should be saying that "this is not my job," that we're all willing to roll up our sleeves to get the job done. That's really important to us, that everyone is an owner of the business. You can imagine that there might be cases where someone might come on board and they don't look at the world in the same way. Another one of our values is being very customer-centric. For example, we have kids coming in once or twice a week to do testing [of our products]. It comes down to the way we interact with our community and customer service.
How long does it take a typical "crate" to get from the design stage to the customer's home?
About eight months. We do a lot of prototyping of materials. We do a lot of kid testing. Then, of course, we're sourcing everything [materials] and then getting those crates out the door.
Before you raised money from venture capitalists and others, was having sufficient capital a problem?
We were working very, very lean. At the time it was very much based on sweat equity and doing things in a very scrappy way. And we didn't officially make a first hire, beyond the founders and advisors, until we actually raised money.
Twitter: @PeltzLATimes
ALSO:
CEO pay-ratio rule likely to heat up debate on income inequality
Group seeks a legislative fix as California refinery profits surge
Tesla cuts annual production forecast; second-quarter loss widens
---
Your guide to our clean energy future
Get our Boiling Point newsletter for the latest on the power sector, water wars and more — and what they mean for California.
You may occasionally receive promotional content from the Los Angeles Times.