Retailers extending Black Friday deals amid lukewarm demand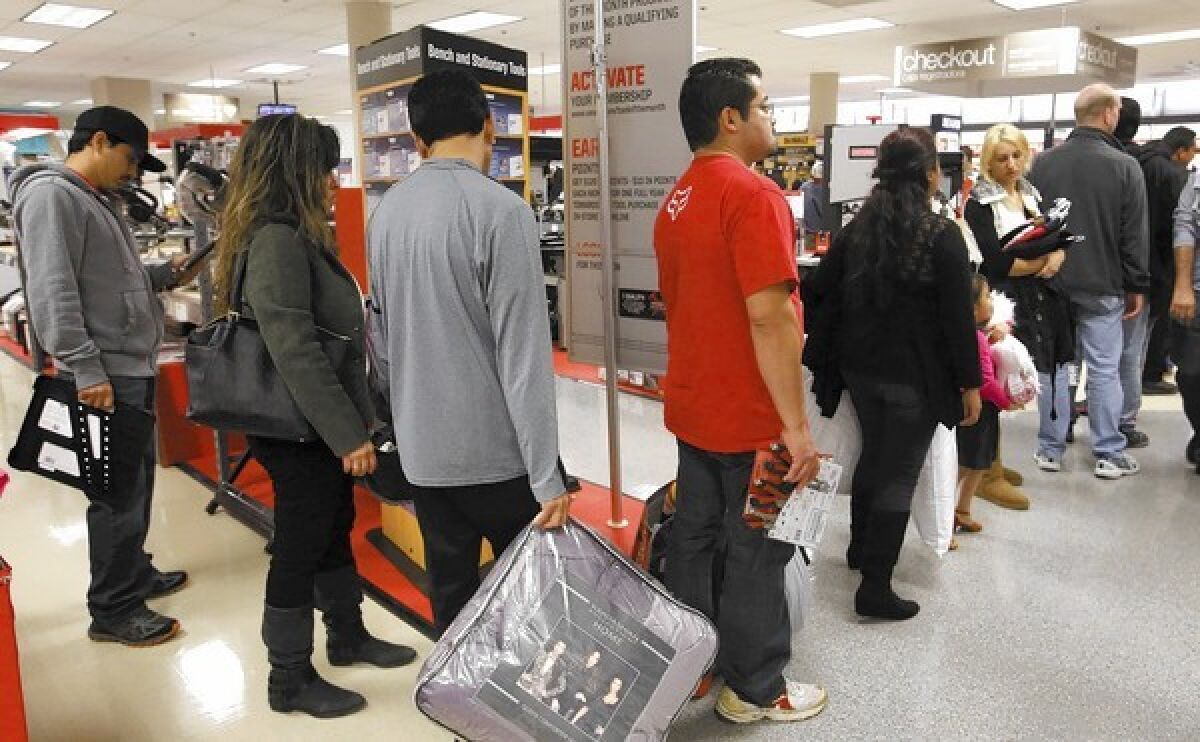 With holiday spending on clothes and toys off to a chilly start, worried retailers are plying shoppers with an early gift: Black Friday-style bargains extended into the first weeks of December.
Merchants get nervous each year during the dreaded early-December shopping lull, when consumers rest their wallets before swarming back into malls at the last minute — if they return at all. But this time, shoppers are splurge-shy, there's a dearth of hot new fashion trends and the key Thanksgiving weekend failed to deliver hoped-for sales.
"This is the last thing you want to be dealing with, the lack of forward momentum," said Columbia Business School professor Mark Cohen. "The panic is on."
That was underscored Thursday by the Commerce Department's report on November retail sales, which rose 0.7% from October. The increase beat forecasts, mostly because analysts "were bracing for modest disappointment, which lowered the bar of expectations," said Sterne Agee Chief Economist Lindsey Piegza.
While the gauge was bolstered by strong gains in big-ticket items such as cars and home improvement goods, sales in the categories normally popular for Christmas gifts — apparel, sporting goods and general merchandise — fell or were flat.
Earlier this week, Long Beach animal trainer Clarissa Black, 31, ambled through the Westfield Century City mall with her friend Laura Ramos of Santa Monica. Their hands were full of Macy's, Banana Republic and Express bags — but half of the items inside were earlier purchases meant to be returned.
As scattered shoppers strolled under holiday decorations and past signs advertising 60% off at H&M and 50% off at Gap, the friends said they also spent $200 on cologne and clothing deals. But on the day after Thanksgiving, Black shopped but didn't spend.
"Everything was on sale, but I didn't see any garments I liked," she said.
Such indifference has retailers breaking a sweat.
The average consumer spent nearly 4% less during the shopping blowout weekend than last year. On top of that, the period between Thanksgiving and Christmas is the shortest it's been in a decade.
In recent months, retail sales "can euphemistically be described as lackluster," said Columbia's Cohen.
He and other analysts interpreted November's 0.7% upswing — the largest increase in five months — as a promising sign economically, in line with gains in the stock market, a reprieve from high pump prices and improving home values.
However, the government numbers "run against the grain of the early holiday shopping season reports," which have generally been less than enthusiastic, according to Credit Suisse.
Analysts also said that the swing into big-ticket retail — a 1.8% month-to-month increase at auto and parts dealers, a 1.2% boost at furniture stores — makes shoppers less inclined to spend extra money on toys and apparel. The clothing and accessories category slumped 0.2% last month.
"Consumer confidence and sentiment are steadily improving, but spending remains at a modest pace," said National Retail Federation Chief Executive Matthew Shay. "While it seems that the economy is improving, the future remains far from certain."
In an attempt to keep shoppers coming, retailers are extending their Black Friday promotions into December — a tactic rarely employed to this extent. To avoid being caught in January with excess inventory from 2013, many are choosing to sacrifice profit margins by preemptively discounting this month.
Cohen said the type of bargains normally reserved for the week after Christmas are "now available a month in advance."
"This is the drowning man phenomenon — some retailers appear to be flailing around desperately trying to keep their heads above water," he said.
Wal-Mart said it would offer "Black Friday-like prices" during its Christmas Countdown Savings Event on Friday — including $20 off the popular Furby Boom toy. The retail behemoth is also courting mid-December shoppers with an 8 a.m. shipment of hard-to-get PlayStation 4 consoles on Sunday as well as with a separate round of online savings the next day.
At Toys R Us on Friday and Saturday, shoppers armed with a Doorbuster Bonus Pass found in the retailer's ad can take even deeper price cuts on already discounted items such as the Monster High Catty Noir Doll. PetSmart will offer savings of up to 60% each day during its 12 Days of Deals event.
John D. Goodman, chief executive of Wet Seal Inc., said in a conference call with analysts this month that his apparel company stepped up its promotional efforts in recent weeks "to remain competitive and drive sales."
"We fully intend to move through the product during the holiday season in order to enter January in a clean position," Goodman said.
Some shoppers, however, are waiting.
Many "expect retailers to offer juicier promotions later in the holiday season," according to a Thomson Reuters research report last week. Michael Relich, chief operating officer of Guess Inc., told analysts this month that he expects "a lot of the customers to show up at the last minute before Christmas."
ShopperTrak reported that four of the ten busiest shopping days of the year will occur from Dec. 20 to Dec. 24. The so-called Super Saturday rush lands on Dec. 21.
Still, heading into the final week and a half before Christmas, retailers are jittery about how they'll fare this month. Holiday hiring is down from last year's record high. Many companies are bracing for the flood of returns common after Christmas.
Women's clothing retailer Francesca's Holdings Corp. failed to meet its Black Friday weekend expectations. The retailer is lowering its projections for its entire fourth quarter "given our slow start to the holiday season," Chief Executive Neill P. Davis told analysts earlier this month.
And Richard Miles Brooks, chief executive of sports clothing retailer Zumiez, could have been talking about snowboarding when he warned analysts in a conference call this month about this season's spending outlook.
"We'll see the peaks get more violent this season, but the troughs will get deeper in between the peaks," he said.
Retailers are hoping for more bright spots like Encino homemaker and part-time accountant Yona Levi, 53, who dropped $2,200 over Black Friday weekend.
Then, on a recent weekday, the self-professed shopaholic spent an additional $500 at the BCBG store at the Century City Mall, buying a pink jacket that was 30% off and a black bag that was marked down 40%.
"I keep checking for good deals every week," she said. "I don't buy things at full price."
Twitter: @tiffhsulatimes