Historic theaters gain new life as retail stores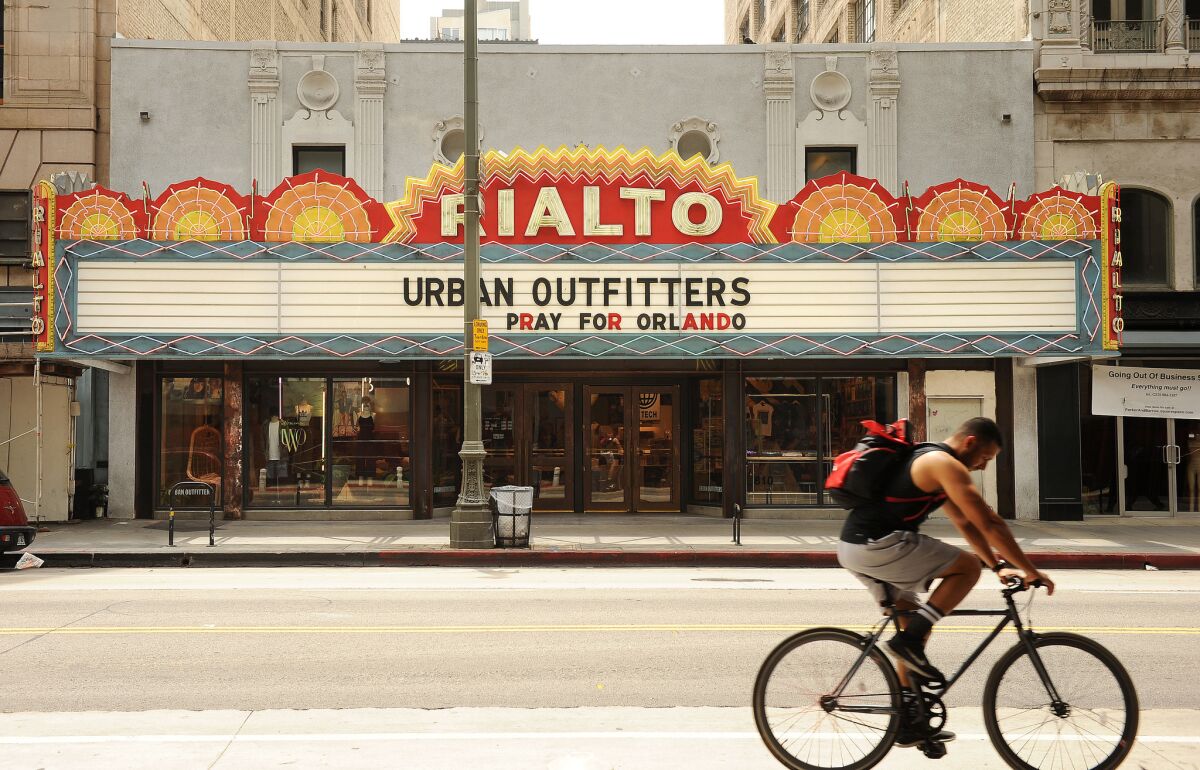 Downtown L.A.'s Broadway Theater District, home to one of the largest concentrations of historic movie palaces in the nation, is gaining a new lease on life that doesn't involve showing films.
Some of the dozen remaining theaters are turning to other uses: There's a hotel, the occasional church and retail. The theaters may be unusual because of their opulence and because there are so many of them in such a small area, but they reflect a growing need by landlords to find alternative uses for the cavernous spaces as movie audiences gravitate away from single-screen theaters toward multiplexes and streaming video services.
The Rialto Theatre, built in 1917, remained dilapidated for several years before Philadelphia-based Urban Outfitters leased the 10,000-square-foot building and restored the original marquee in 2013.
See the most-read stories in Business this hour »
Urban Outfitters spent several years contemplating a store in downtown Los Angeles. At the time, everything was happening around 5th and Spring streets, but the company was interested in the theater district, said John Hauser, Urban Outfitters chief officer of brand experience.
"We toured 12 of the theaters on the street," Hauser said. "Most are stunning, but not really conducive to retail."
Opening Urban Outfitters in the Rialto Theatre became much more viable, Hauser said, once the boutique Ace Hotel opened in 2014 in the upper revamped floors of Broadway's United Artists building.
"We were fortunate the city was so eager and interested in getting Broadway to be revitalized," Hauser said, referring to the city's "Bringing Back Broadway" initiative. "We knew we wanted to get in on the ground floor. We wanted to be in the right area and the right neighborhood."
COS, a higher-end brand of H&M, plans to open its third Los Angeles-based location in the historic Olympic Theatre next year.
Construction will begin soon on the store, with more than 5,500 square feet utilized as retail space, including the ground floor and mezzanine level. COS will restore the original facade and Olympic sign to honor the building's prominent history as a theater, said Marie Honda, COS managing director.
"We actually have quite a few stores in locations of historical prominence around the world and it is true that such venues often do stand out to us for a number of reasons," Honda said in an email. "Sometimes, it's because of their charm or striking architecture and other times, it's for more practical reasons."
A variety of businesses expressed interest in leasing the Olympic Theatre, including galleries, furniture stores, club operators and smaller clothing stores, said Brigham Yen, Downtown LA Rising blogger and broker for the property.
"Right now, the momentum is building due to the Ace Hotel and what's been happening around 9th and Broadway," Yen said. "Retailers are scouting. They know they want to be downtown, but unsure where they should be."
A lot of people that tour the spaces really do appreciate the historic value of these buildings.
— Brigham Yen, Downtown LA Rising blogger
Retailers are attracted to these unique spaces because it sets them apart from run-of-the-mill stores, Yen said.
"A lot of people that tour the spaces really do appreciate the historic value of these buildings," he said. "They have the best intentions to make the building shine."
Because the theaters aren't equal in size and condition, it poses a challenge to bring them back as movie houses, Yen said. (None of the downtown Broadway theaters shows films on a regular basis, although some host special screening series and live performances.)
"There's so much money required to restore these buildings. It costs millions. We need big chains that are still cool and relevant. We need deep pockets to come put in the money," he said. "I'm really so grateful that these retailers are saving these buildings. When they put money in them, it gives them a purpose again that people can interact with."
Single-screen theaters are being turned into drugstores, gyms and fitness centers by national chains looking for real estate, said Ross Melnick, associate professor of film and media studies at UC Santa Barbara.
"There are a lot of examples in New York and Los Angeles," he said. "That is what's happening now with downtown."
The Rialto and Olympic theaters join a growing number of former movie houses used for retail purposes.The CVS pharmacy chain converted the Golden Gate Theater in East Los Angeles in 2012. Apple is in talks to lease the historic Tower Theatre downtown for a retail store, people familiar with the negotiations said.
Melnick said given the unique density of downtown's historic theaters, it would be preferable for them to remain as movie houses. But the viability of that is up to the property owners and their ability to convert the spaces for film and live programming.
"One good thing about [retail] restoration is if they make it so that the space could be converted back," he said. "Most careful restorations usually do that."
However, the desires of property owners may not sync up with preservationists, and the difference between converting a bank compared with a theater is the attachment that people have to the buildings.
"For a lot of people, these spaces have a lot of different memories," he said. "They have a certain kind of emotional stake in them. That's why they can be contested when they are changed. That also accounts for some of the emotions that can run a little higher around these projects."
SIGN UP for the free California Inc. business newsletter »
Retail is essential to build a world-class shopping district downtown with regional and national draw, Yen said.
"It's all interconnected synergy that will happen once Broadway has variety of businesses that attract a wide group of people," he said. "It's important to get some of these theaters that may not have the potential to be entertainment venues to be activated."
Rents are edging upward and lack of retail construction in downtown Los Angeles will boost demand for existing properties, according to a recent report by commercial real estate brokerage Marcus & Millichap.
The average retail rent in Los Angeles County rose 5.6% over last year to $2.35 per square foot and is expected to rise an additional 3.2%. In downtown Los Angeles, the asking rent is $2.55 per square foot – up 9.6% over last year, with a projected increase of 5.2% in the year ahead, according to the report.
Although it's unlikely in the near future that all 12 Broadway theaters will be active, it would be ideal to have a mix of retail and movie houses, as long as the buildings are respected and brought to life, said Linda Dishman, president and chief executive of the Los Angeles Conservancy.
"The theaters aren't open all the time for the most part and retail is, so it gives people a chance to go see a movie on a weekend," she said. "What both projects are doing is they are going to relight the neon. There are people who would much appreciate that. It adds to the vitality of the street."
For more business news, follow Amy Edelen on Twitter: @amyedelen
MORE BUSINESS NEWS
AMC considers abandoning Carmike deal; Carmike delays shareholder vote
Behind shrinking middle-class jobs: A surge in outsourcing
Sign up for the California Politics newsletter to get exclusive analysis from our reporters.
You may occasionally receive promotional content from the Los Angeles Times.