Romaine lettuce E. coli contamination claims more victims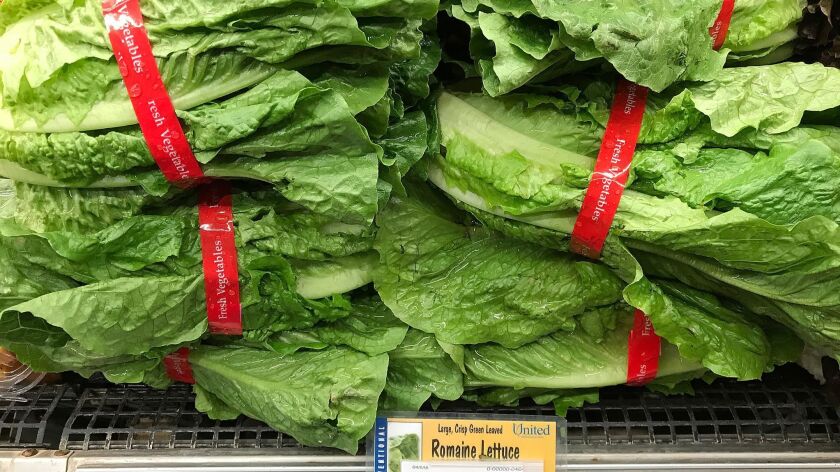 The monthlong outbreak of a virulent E. coli strain tied to romaine lettuce has now sent 42 people to hospitals in 19 states, federal health officials said Wednesday.
The U.S. Centers for Disease Control and Prevention added 31 people to its tally of victims in the outbreak. The agency has linked the outbreak to the Imperial Valley growing region centered around Yuma, Ariz., where more than 90% of the nation's winter lettuce is cultivated.
Half the 84 cases have resulted in hospitalizations, including nine for treatment of kidney failure, according to the CDC.
No grower, packer or distributor has been implicated thus far, the agency said.
Illnesses were first reported March 13, and the agency warned that additional cases over the last several weeks may not yet be reflected in the data.
The worst hit states include Pennsylvania, with 18 cases, and California, with 13, according to the CDC. Idaho had 10 cases, while the remaining states had 7 or fewer: Arizona, Alaska, Washington, Montana, Colorado, South Dakota, Missouri, Louisiana, Illinois, Michigan, Ohio, New York, Connecticut, New Jersey, Virginia, and Georgia.
The Alaska cases occurred among prisoners at a Nome correctional facility who had eaten whole-leaf romaine — previously, illnesses had been associated with chopped, bagged romaine.
Here is the CDC's advice to consumers:
Do not eat or buy romaine lettuce unless you can confirm it is not from the Yuma growing region.
Product labels often do not identify growing regions; so, do not eat or buy romaine lettuce if you do not know where it was grown.
This advice includes whole heads and hearts of romaine, chopped romaine, and salads and salad mixes containing romaine lettuce. If you do not know whether the lettuce in a salad mix is romaine, do not eat it.
Follow me: @LATgeoffmohan
---
Your guide to our new economic reality.
Get our free business newsletter for insights and tips for getting by.
You may occasionally receive promotional content from the Los Angeles Times.