As RVs regain popularity, younger fans seek out ways to rent their joyride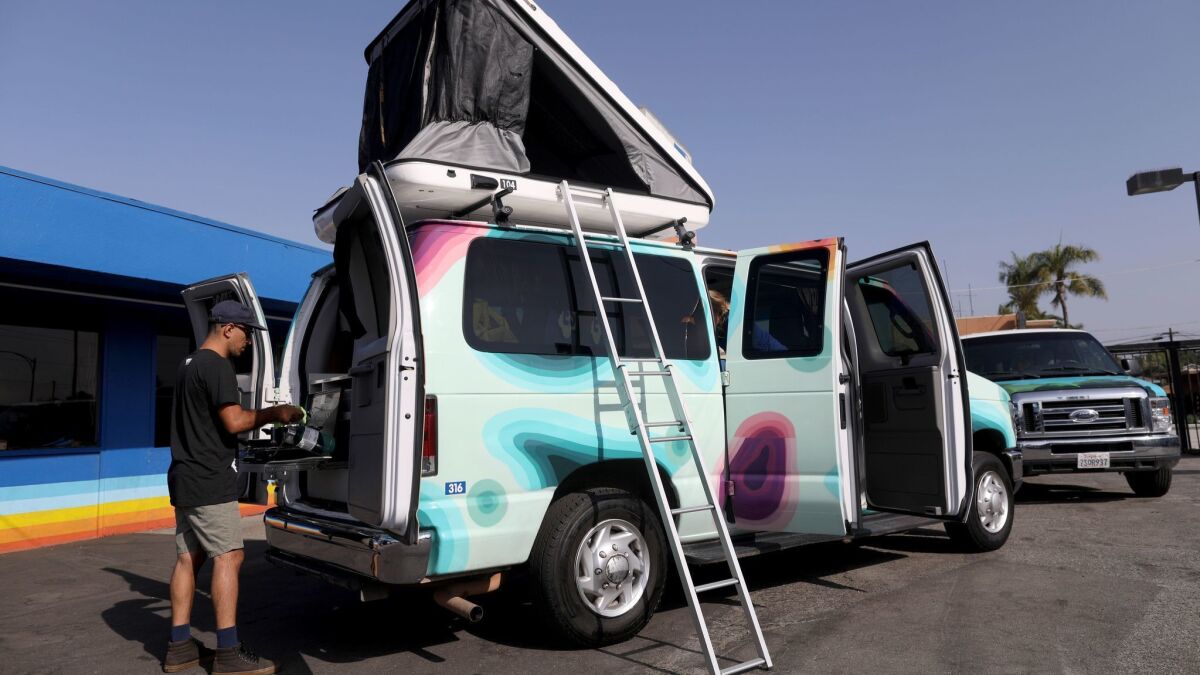 Somewhere in Colorado, between the Grateful Dead concert at Red Rocks and the drive through Telluride, Mike Lawson and his son, Nainoa, became converts to the #GoRVing movement.
It wasn't a change Lawson, 49, ever expected to make. Like many Gen Xers, he once viewed recreational vehicles as dinosaurs from the pre-recession era. Then he began to enjoy a fully stocked camper van with solar power, bedding, stove, running water, refrigerator and more.
"Wherever you end up at the end of the day, a parking lot, a river, the forest, you can just stop and spend the night, cook dinner, have a campfire, sleep, get up and go," said Lawson, who designs and builds furniture and houses.
A strong economy, growing incomes and graying baby boomers have pushed the RV industry to new heights. The Recreational Vehicle Industry Assn. has predicted record sales of nearly 540,000 units for 2018. A more youthful crowd also is onboard, industry data show, with a preference for vehicles on the smaller and hipper end of the RV scale that will look good on social media.
But Lawson didn't buy his camper van. Like many younger RV fans accustomed to short-term bookings of housing and consumer goods, Lawson rented his rig.
The vehicle, which was painted with a cartoonish raccoon, was supplied by Inglewood-based Escape Campervans and came equipped with everything the Marina del Rey resident needed for his trip.
"We are seeing an expansion in demand across all ages," said Marisa Lifschutz, an analyst at IBISWorld. The research firm has projected that rentals of RVs and camper vans will reach a record $395.8 million this year, up more than 45% from 2009 revenue.
"With improvements in RVs and camper vans at the manufacturing level, coupled with campgrounds offering free Wi-Fi and other amenities, millennials have been increasingly looking to rent RVs and camper vans as their choice of vacation," Lifschutz said.
In addition, peer-to-peer websites have popped up that are like Airbnb for recreational vehicles, with insurance and roadside assistance as part of the package.
Thor Industries Inc., the world's biggest RV manufacturer and owner of the classic cool Airstream brand, early this year formed a joint venture with New Zealand-based Tourism Holdings Limited aimed at increasing its rental business and digital platforms. Among the venture's assets is Mighway, an RV-sharing platform in the U.S. and New Zealand that allows owners to earn income by renting their vehicles out, while renters can enjoy well-equipped RVs without having to buy one.
"We want to make RVing more accessible to more people and create the opportunity for them to experience the RV lifestyle," said Mighway Chief Executive Dave Simmons, who is based in Auckland.
Mighway prices vary, depending on what rentals are available. On a recent day, they ranged from $72.85 a night for a modest Dodge Caravan Trailblazer to $466 a night for a 39-foot Fleetwood Expedition.
One of Mighway's regulars is John Flynn, a Bay Area sales manager for Aramark Corp. Flynn, 50, said he probably would buy an RV someday, when circumstances and finances permit. In the meantime, he rents.
"This gives us a chance to sort of test out what we think we might want to buy eventually," Flynn said.
Outdoorsy is a similar peer-to-peer rental marketplace, which got its 2015 start after Jeff Cavins and Jennifer Young got tired of spending their days inside their San Francisco offices.
Young acquired a 27-foot custom Eddie Bauer edition Airstream trailer and a GMC Sierra Denali to tow it. They toured through several states, talking to RV owners.
At first, Chief Executive Cavins and Chief Marketing Officer Young ran the company from the trailers. Since then, the company has booked nearly 700,000 days of RV rental travel, and 40% of those customers are millennials, Young said.
"In many ways we are bringing in an entire new generation of customers," Young said. "The average age for RV owners in the past has been 58. We're allowing people to come in and rent RVs at a much younger time in their life and a much lower price."
Outdoorsy rentals on a recent day ranged from $85 a night for a 1971 Westfalia Campmobile for two to a 40-foot Tiffan Phaeton that could accommodate eight passengers. Young said 80% of the income goes to the RV owners.
Few anticipated the rise of the RV rental industry sooner than Rob Mewton, founder of Escape Campervans. Mewton moved to the U.S. from New Zealand in 2009 to open a camper van rental business, but to friends familiar with the collapsed U.S. RV market, it seemed like terrible timing.
"The economy was really in a bad place, but I think that really helped us," Mewton said. "Buying an RV wasn't feasible for most people back then. A lot of people were looking for alternatives."
Mewton started building out the first vans in his Los Angeles backyard. He trolled places like the Venice Boardwalk to find local artists and taggers that would give each camper van a unique signature.
"The artwork is a really strong part of our business," he said. "It becomes a little piece of the holiday."
Mewton rents out Ford rigs similar to a full-size conversion van, crammed with every imaginable perk, including a solar panel and LED lights. In spite of all of the additions, there is room for a queen or king mattress with the option of a sleeper unit on top.
Perhaps equally important, Mewton said, was that renters wouldn't need to lug all the gear to outfit a large RV: camping equipment, bedding, dishes, utensils and the like were provided as part of the rental package. Rates range from $57 a night in the offseason to $154 a night during the busy season for a seven-day trip.
"You rent one from me, you're not making a monthly payment," Mewton said. "You're not covering insurance. You're not covering maintenance. You're not buying tires. You pick where and when you want to go and everything else is included."
Foreign tourists were his first customers.
"I reckon I could have counted on one hand the number of Americans I rented to in the first year. Our business was almost entirely international," Mewton said. That all began to change in 2016, he said.
"We went from five American rentals in the first year to 40% of the business being Americans now," Mewton said.
Privately held E&A Cos. in Indiana bought Escape Campervans for an undisclosed sum in 2016. Mewton stayed on to run the company until recently and still serves as a consultant.
Escape Campervans now has more than 500 vehicles to rent and has offices in 10 U.S. cities.
On one recent day, four British university students ended a six-week excursion in a Death Valley-themed van. They covered more than 3,500 miles, hitting just about every notable scenic spot on the West Coast.
Everywhere they went, the van drew a crowd of people.
"It was a real icebreaker," said Ellie Tijou, 21, a business and international marketing student at Bournemouth University. "We met so many people just because of our camper van."
For more business news, follow Ronald D. White on Twitter: @RonWLATimes
---
Sign up for the California Politics newsletter to get exclusive analysis from our reporters.
You may occasionally receive promotional content from the Los Angeles Times.