Nazarian loses control of Vegas hotel after embarrassing past surfaces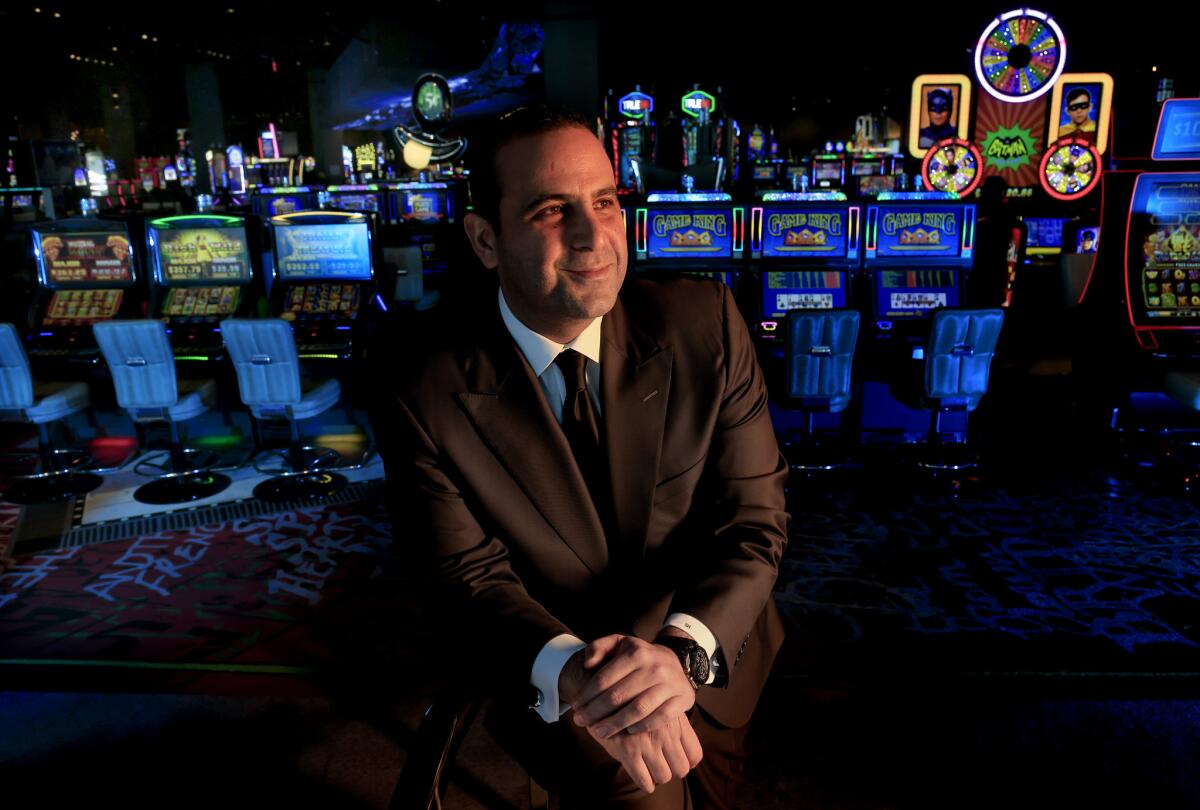 Los Angeles nightclub mogul Sam Nazarian has relinquished control of his newest hotel in Las Vegas after a gaming license investigation disclosed he used drugs and paid nearly $3 million to a convicted felon.
UPDATE: Night club owner Sam Nazarian gives up control of Las Vegas hotel
Nazarian and Stockbridge Capital, the majority owner of the SLS Las Vegas, announced Tuesday that Nazarian has turned over control of the hotel to President and Chief Operating Officer Scott Kreeger.
Kreeger will report directly to Terry Fancher, executive managing director of Stockbridge Capital, which owns a 90% stake in the hotel.
The move comes several weeks after the Nevada Gaming Control Board recommended a gaming license for Nazarian but only after a grueling three-hour hearing that aired embarassing details about his business dealings with twice-convicted felon Derrick Armstrong.
The Nevada Gaming Commission is scheduled to considering the control board's recommendation on Thursday.
Investigators for the gaming commission disclosed that Nazarian had paid Armstrong a total of about $3 million since 1999. Nazarian made some of the payments to a convicted racketeer and others to record label owner Suge Knight, but Nazarian said they were collecting the money on behalf of Armstrong.
Nazarian characterized the payments as "extortion."
Nazarian also admitted using cocaine during a recent trip to Mexico, according to transcripts from last month's Gaming Control Board hearing.
During his testimony before the board, Nazarian described the payoffs as part of a shakedown by Armstrong that included threats to harm and embarass Nazarian and derail his multimillion dollar business deals. He told the board the cocaine use was a mistake.
The Las Vegas hotel, which opened to fanfare in August with fireworks and a parade of celebrities, will remain an SLS hotel and will include restaurants and nightclubs operated by Nazarian's company, SBE.
"I am extremely proud of what our SBE team has accomplished these past eight years, culminating in the August opening of the SLS Las Vegas, which has been a powerful catalyst for the revitalization of the north end of the Strip," Nazarian said in a statement.
"With the extremely talented executive team led by Scott Kreeger and our dedicated workforce at the resort, I feel my professional efforts are more productively focused on the long-term growth of SBE brands throughout North America."
To read more about travel, tourism and the airline industry, follow me on Twitter at @hugomartin.