California's biggest county could severely restrict solar energy projects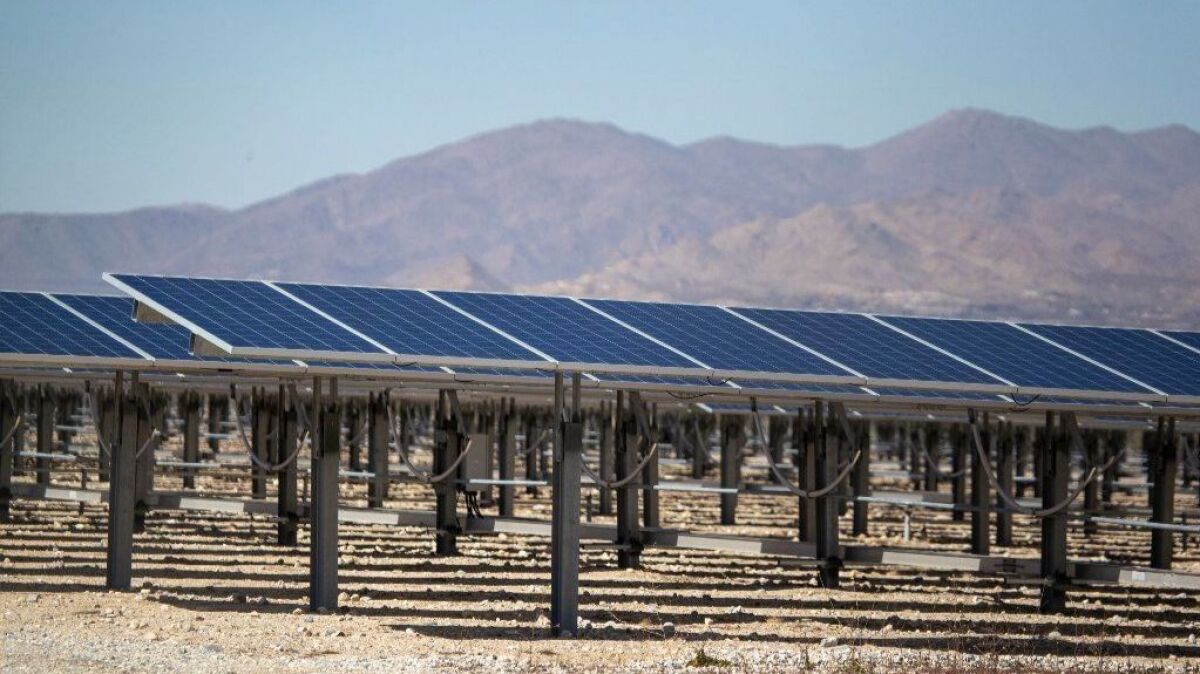 Brian Hammer thought he and his wife would retire to the abandoned Lucerne Valley farmhouse they bought nearly a decade ago in the rural high desert northeast of Los Angeles. They paid the full $55,000 asking price, then rehabbed the house themselves, stripping it down and installing new wiring, plumbing and appliances.
Now Hammer worries all that time and money were wasted.
An energy developer is planning to build a 483-acre solar farm that Hammer says would come within a few dozen feet of his house. He doesn't want to live next to an industrial energy project, which he says would destroy the area's rural character, fuel dust storms and harm the Mojave Desert ecology. Those are common concerns among residents of rural San Bernardino County, who have been fighting for years to block large solar farms even as California ramps up its renewable energy targets.
"It's been soul-crushing to think that our blood, sweat and tears were poured into this, and it can be taken away with the disturbance of the land," Hammer said as he stood in the yard behind the house, trying to imagine how a field of solar panels beyond his fence would affect the 360-degree views of a valley ringed by mountains.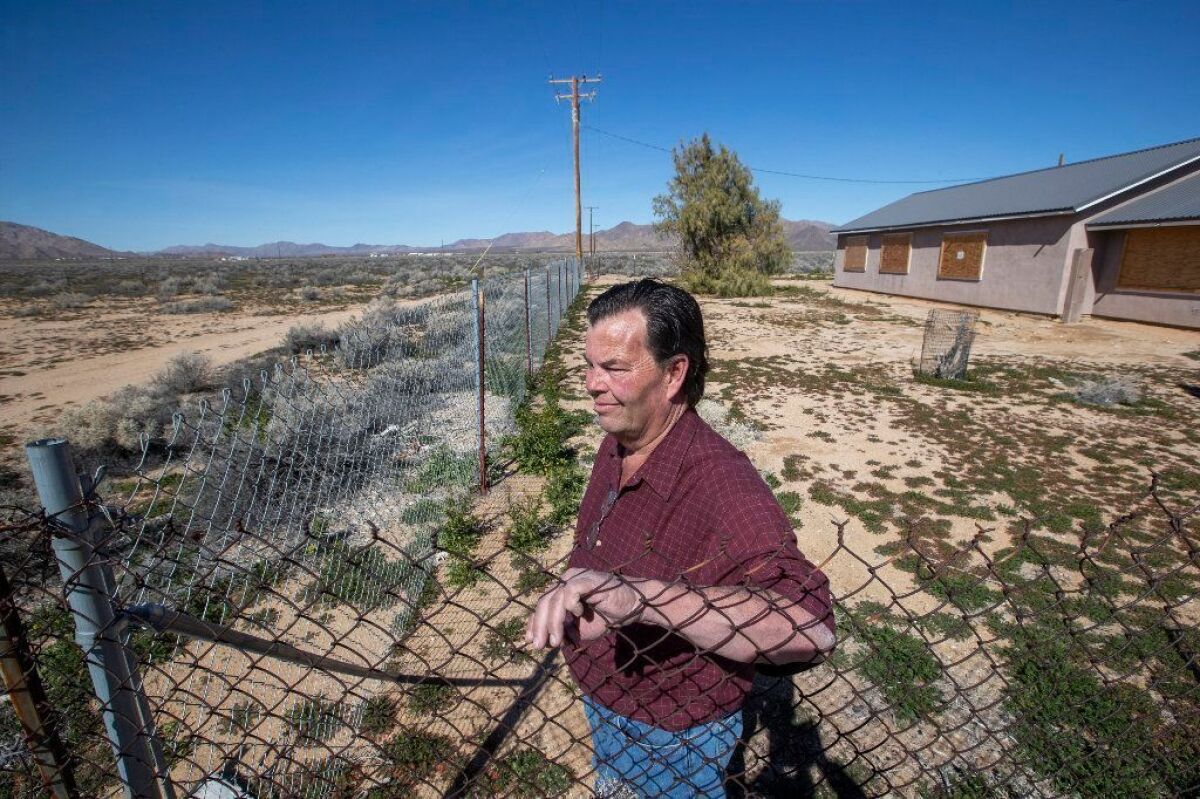 San Bernardino is California's largest county by area and a hotbed for the state's solar industry. But local officials may pump the brakes on solar this week, which developers say could disrupt ambitious climate change policies passed by state lawmakers.
The county's Board of Supervisors is slated to vote Thursday on a policy that would prohibit large renewable energy projects on much of the unincorporated private land governed by the county. The new restrictions would add to existing regulations that solar and wind developers say have made it difficult to build on federal land, which makes up the vast majority of the county's 20,000 square miles.
As local residents have told the supervisors in public comments, the restrictions would protect their quality of life. Many locals say California should shift its focus from land-intensive solar farms to smaller installations on rooftops and parking lots. The National Renewable Energy Laboratory estimates that rooftop solar could meet 74% of California's energy needs.
"We like solar. In fact, I'm probably going to try to get some panels here at my place," said Chuck Bell, a farmer who serves as president of the Lucerne Valley Economic Development Assn., as he drove his Ford pickup truck past a solar farm this week. "Let's figure out how many megawatts we can produce [on rooftops and parking lots], and then figure out what do we really need to do in the California desert."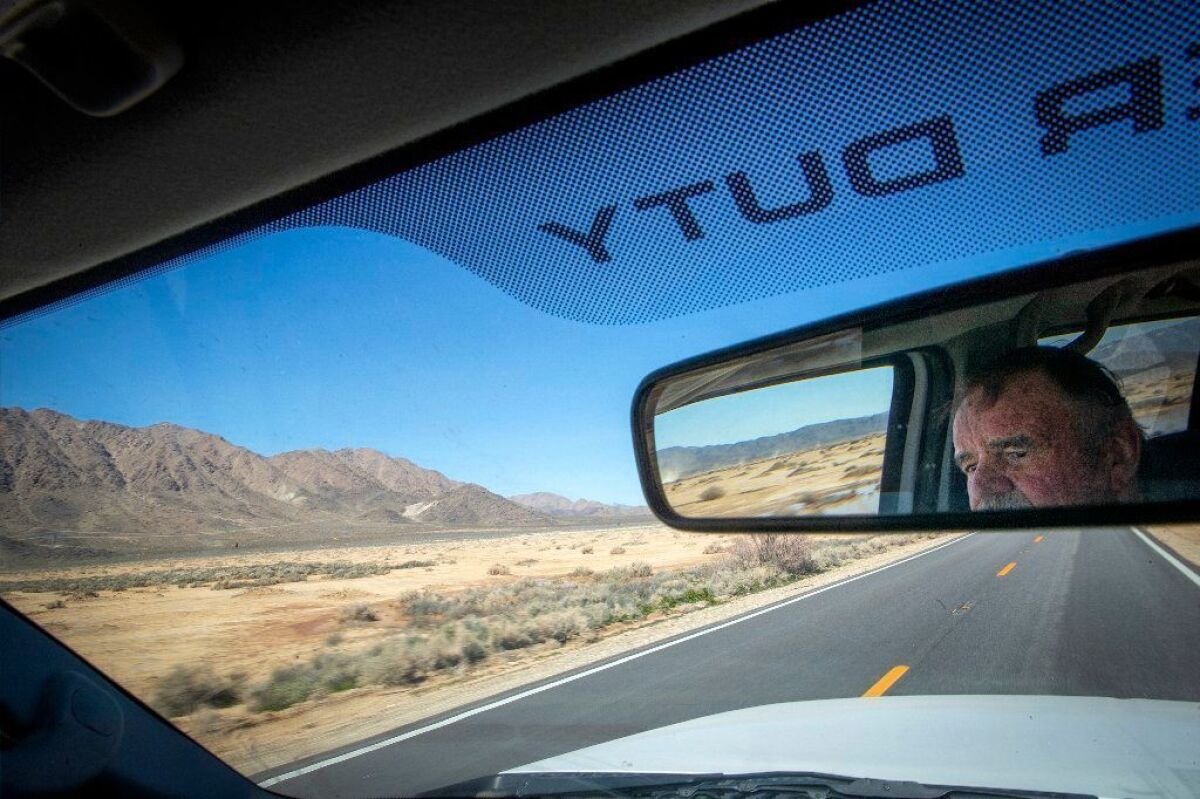 From the solar industry's perspective, the proposed restrictions in San Bernardino County are a case study in how local governments can make or break plans crafted in Sacramento.
Legislators passed a bill last year requiring California to get 60% of its electricity from renewable sources by 2030, and to eliminate the burning of fossil fuels for electricity by 2045. State officials also hope to put 5 million electric vehicles on the road by 2030, up from an estimated 550,000 EVs that have been sold in California to date.
Those policies are meant to reduce emissions of greenhouse gases, which fuel rising seas, bigger wildfires, worsening droughts and more dangerous heat waves.
Meeting the state's goals will require significant new solar and wind power facilities to be built, along with batteries to store that zero-carbon energy for use when the sun isn't shining and the wind isn't blowing.
Some of the renewable power will come from solar panels on rooftops and parking lots — starting in 2020, California will require all new homes to be built with solar power. But so far, the vast majority of California's renewable energy has come from sprawling solar and wind farms, which are generally cheaper than rooftop solar because of the economies of scale involved.
California set a goal of 100% clean energy, and now other states may follow its lead »
San Bernardino County is crucial to the state's climate fight because it has some of the strongest and most consistent sunlight in the world, said Shannon Eddy, executive director of the Large-scale Solar Assn., a Sacramento-based trade group.
The county is also really, really big. San Bernardino County has more land area than nine U.S. states and is twice as large as California's next-biggest county, Inyo.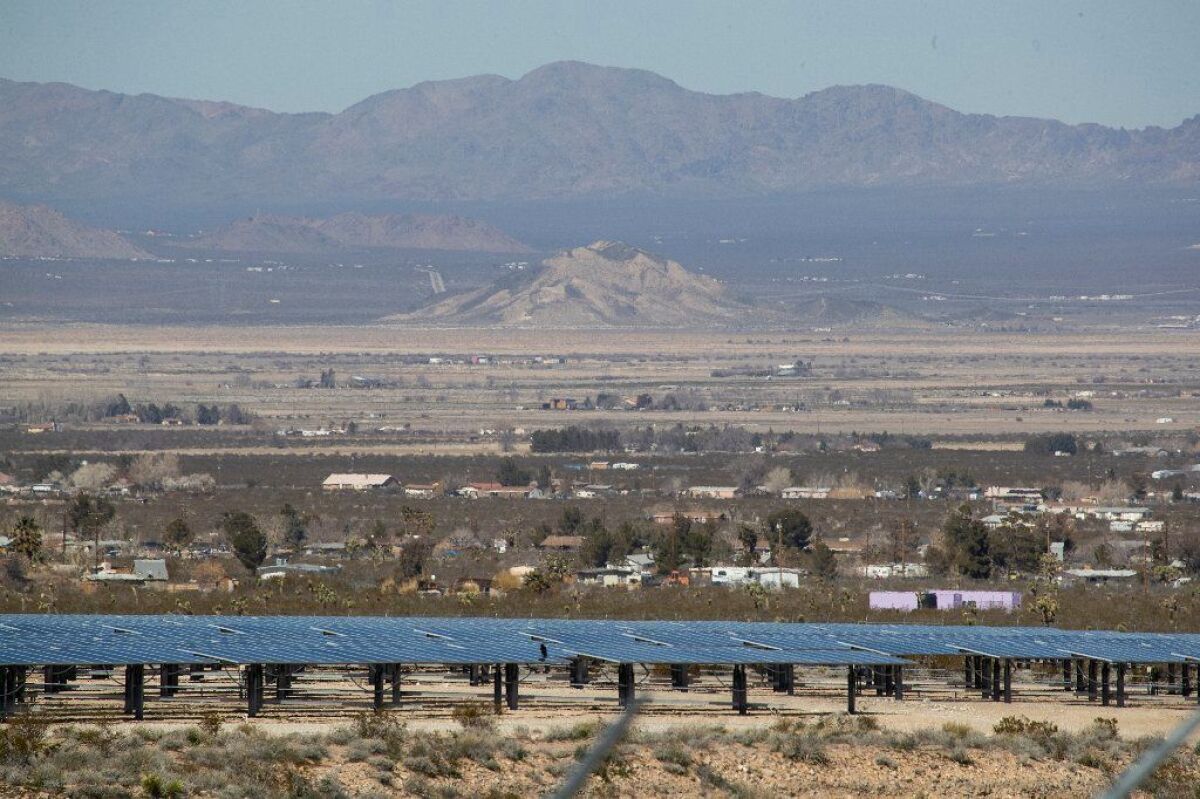 San Bernardino County wouldn't be the first local government to restrict renewable energy production facilities. In 2016, Los Angeles County prohibited large wind turbines in unincorporated areas, including the rural high desert. Other desert counties have land-use plans that solar and wind developers find stifling.
"Where will California put the projects it will need to meet its clean energy goals if the counties keep saying no to solar and to wind?" Eddy asked. "San Bernardino is an emblem, but this is a broader problem across the state."
The proposal going before county supervisors on Thursday would prohibit utility-scale renewable energy projects within the boundaries of Community Plans that have been adopted by more than a dozen unincorporated towns, including Joshua Tree, Lucerne Valley and Morongo Valley. Construction of big solar and wind farms would also be banned in so-called Rural Living zones.
A county spokesman said the proposal, known as Renewable Energy Policy 4.10, would block new solar and wind farms on slightly more than 1 million acres, out of nearly 2 million acres governed by the county. But Tim Mason, policy director for the Large-scale Solar Assn., said one solar company estimates the amount of "developable" land across the county — taking into account on-the-ground conditions and existing restrictions on federal lands — would decrease to 90,000 acres under the new policy from 360,000 acres, in a county of nearly 13 million acres.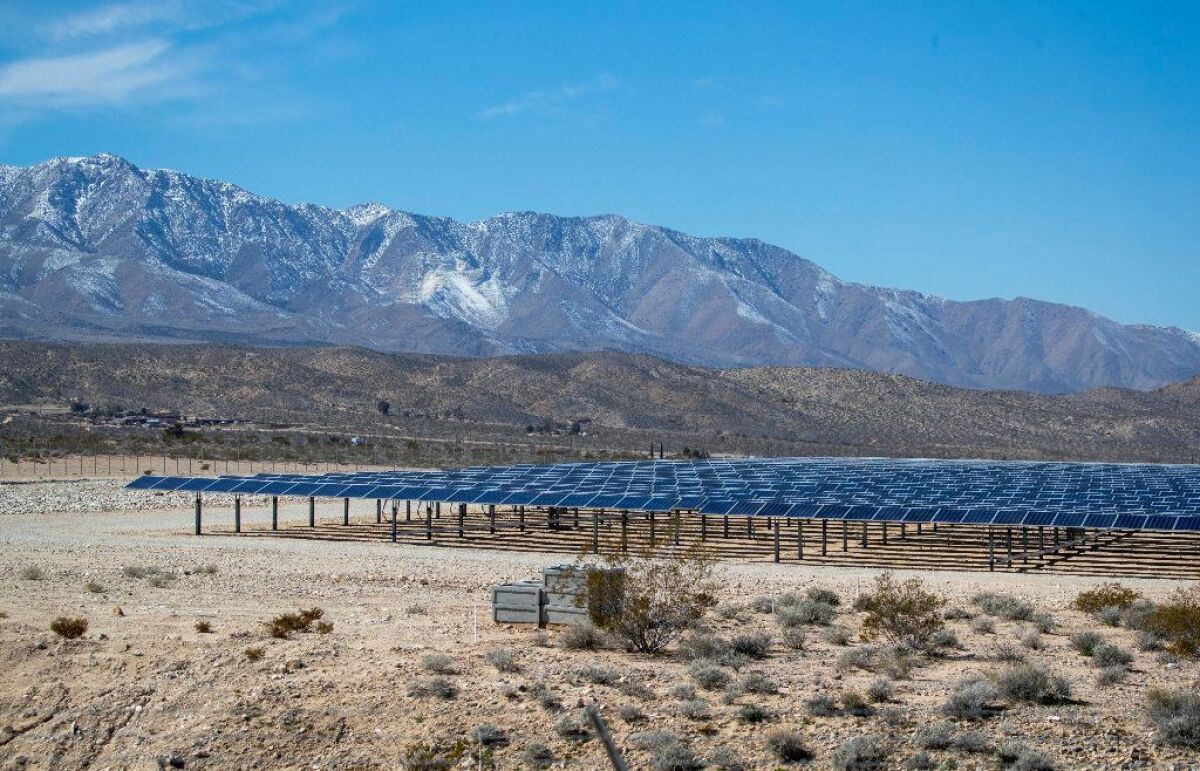 Some locals say the proposed restrictions may not be tough enough.
Morongo Valley resident Pat Flanagan, who serves on the board of the Morongo Basin Conservation Assn., is worried developers could still ask county supervisors to carve out exceptions to the policy. She's also not convinced solar farms should be allowed in the handful of already disturbed areas the county has previously suggested may be appropriate for large renewable energy projects.
Earlier this week, Flanagan stepped off the blacktop near Highway 247 in Lucerne Valley and crouched down to examine the salt brush scrub that dominates this part of the Mojave Desert. She was surrounded by land where the Australian construction giant Lendlease wants to build the 664-acre, 100-megawatt Calcite solar farm.
"People get away with deciding this is good for putting all this solar on because this doesn't have spectacular plants," said Flanagan, who has a bachelor's degree in biology.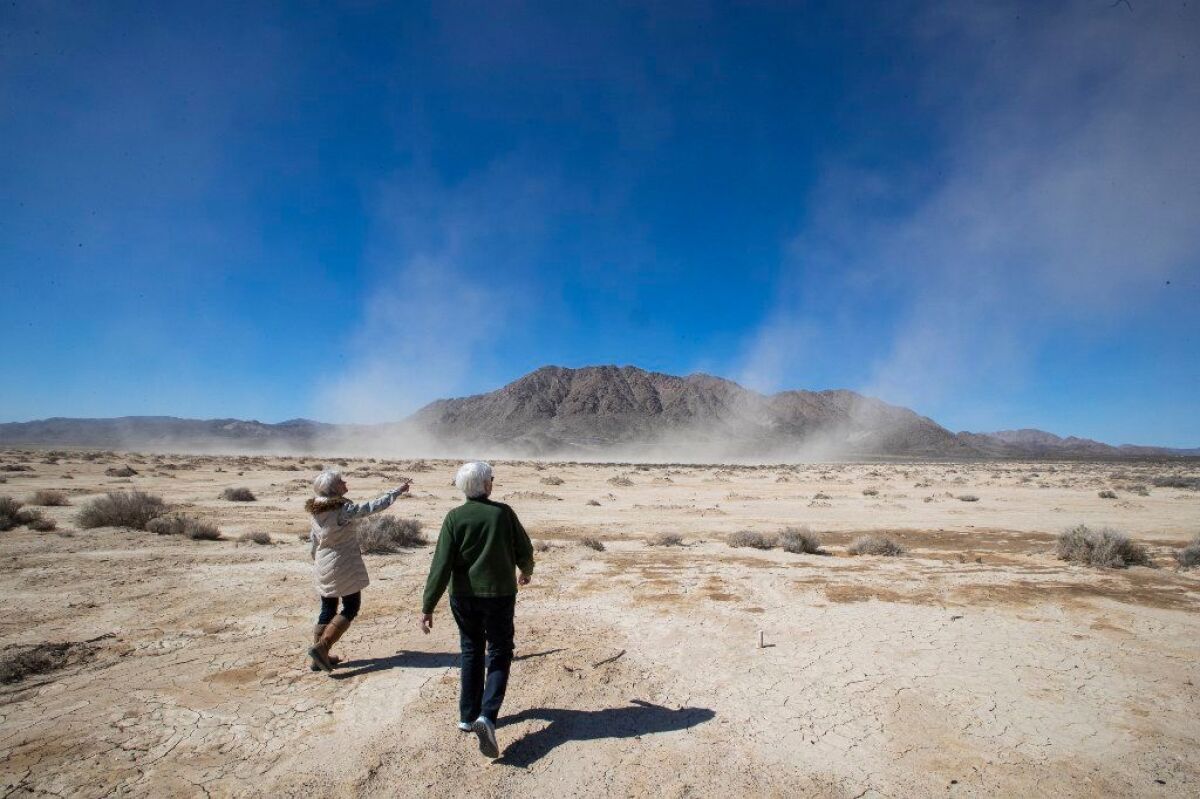 Soon Flanagan's attention was drawn to a dust storm forming across the highway, at the base of the Granite Mountains. Whipped by wind, dust particles flew high into the air, making breathing more difficult as the particles approached the highway.
Like other local residents, Flanagan says existing solar projects fuel bigger dust storms because they destabilize the soil.
A Lendlease representative didn't respond to a request for comment. A spokesman for Florida-based NextEra Energy Resources, which is developing the Ord Mountain solar project that would be built next to Hammer's property, declined to comment.
Renewable energy has been a source of tension in California's deserts for years, with nearly all large solar and wind projects facing opposition from unhappy local landowners, environmental groups or both. The biggest battles have been fought over potential harm to wildlife, such as birds getting sliced apart by wind turbine blades or desert tortoises and other critters losing habitat to sprawling fields of solar panels.
Although most major environmental groups support the construction of renewable energy projects in the desert, they've tried to steer developers toward previously disturbed lands near existing power lines.
That same mentality informed the regulators who crafted the Desert Renewable Energy Conservation Plan, an Obama-era document that protects millions of acres of California desert from the Owens Valley to the U.S.-Mexico border and sets aside smaller pockets of federal land for energy development.
Trump administration takes aim at California desert protection plan »
Energy companies have never been satisfied by the federal plan, which they say leaves too little land for solar and wind projects and adds environmental regulations that make permitting difficult even on lands designated for development. They're also frustrated by federal leasing rules, imposed by the Obama administration, that they say have raised the costs of renting public lands for solar and wind farms.
The ongoing battle in San Bernardino County deals with county lands that are privately owned and overseen by the Board of Supervisors, rather than the federal government or incorporated cities.
Solar projects like Ord Mountain and Calcite that are already going through the permitting process would still be allowed to proceed. So even if the supervisors vote to restrict development, Hammer could still have a solar farm as a neighbor.
---
Sign up for the California Politics newsletter to get exclusive analysis from our reporters.
You may occasionally receive promotional content from the Los Angeles Times.