Sears CEO proposes breaking up the company; his hedge fund offers to buy some pieces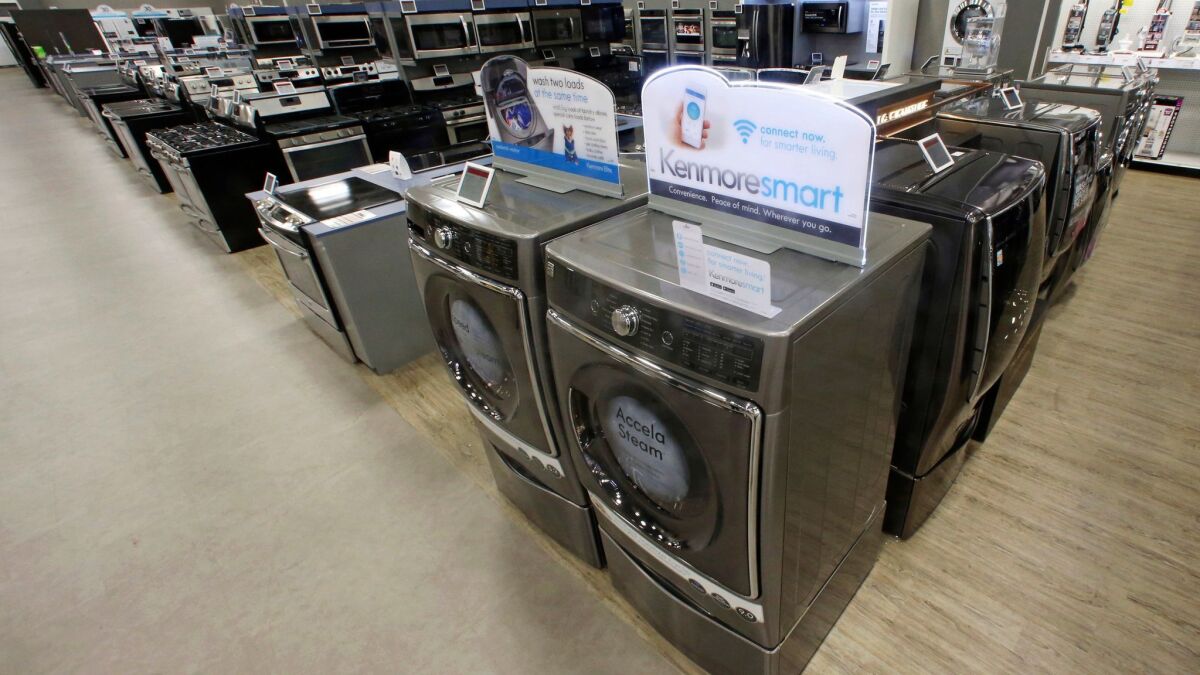 Chicago Tribune
The hedge fund run by Sears Holdings Corp.'s chief executive has offered to buy Sears' popular appliance brand Kenmore and other Sears divisions, moving to break up the company after it failed to find other buyers for the assets.
Sears said it received a letter from Edward Lampert's ESL Investments suggesting that it acquire all or part of Sears' Kenmore brand, as well as the Parts Direct and home improvement businesses of the Sears Home Services division.
Sears has been exploring alternatives for those businesses, as well as its DieHard brand, for nearly two years. Its shares jumped 7.6% on Monday to $3.24.
A sale would give the retailer a cash injection as it works to restructure its business after racking up more than $10.8 billion in losses over the last seven years. The company has said it believes there's room to grow those brands by expanding their distribution beyond Sears.
The brands would continue to operate as they have, according to the letter to the board of directors, which was filed with the Securities and Exchange Commission. ESL also offered to buy certain Sears real estate assets, including debt, and continue to lease the properties to Sears or other entities.
ESL called its proposal "part of a comprehensive solution to transform Sears Holdings." The hedge fund said in a news release that its main interest is that Sears improve its health by selling Kenmore, Parts Direct and the home improvement business "in the near term in a transaction that delivers the greatest value for Sears, regardless of whether ESL or a third party is the ultimate buyer."
ESL valued Parts Direct and the home improvement business at $500 million. It did not provide a valuation of the Kenmore brand but offered to submit a proposal and said it believed it could close on a deal in 90 days.
Sears, based in Hoffman Estates, Ill., said it would review the letter.
To ensure "fair and reasonable terms" given the close ties between ESL and Sears, ESL said Lampert and Kunal Kamlani, president of ESL and a member of Sears' board, would not participate in discussions, deliberations, negotiations or decisions on behalf of Sears unless specifically asked to do so. ESL also said it would not buy the businesses unless the deal was recommended by a Sears board committee and approved by a majority of disinterested shareholders.
Using the pieces of its retail empire to generate cash isn't a new strategy for Sears, which shut 426 stores last year and has repeatedly tapped Lampert for loans as it works to stem the red ink and slash costs. It spun off the Lands' End brand in 2015, bringing in a $500-million cash dividend. A year later, Sears sold 235 stores to real estate investment trust Seritage Growth Properties — in which Lampert holds a stake and serves as chairman of the board — and raised $2.72 billion. And last year, it sold its Craftsman tool brand to Stanley Black and Decker in a deal valued at $900 million.
Transactions announced since the start of 2017 added up to more than $1.8 billion in additional capital, according to a March report from Moody's Investors Service. The sum includes asset sales and loans backed by Sears' real estate and intellectual property, excluding the Kenmore and DieHard brands.
But without the Kenmore, Home Services and Parts Direct businesses, Sears "looks like a bunch of empty stores," said Erik Gordon, assistant professor at the University of Michigan's Ross School of Business.
Kenmore might be better off with an outside buyer that has experience building brands, but its ties to Sears could make that a harder sell, he said.
Gordon said it's hard to see a way the businesses would benefit from separation, beyond the cash infusion for Sears and ability to sell assets before they lose value.
"There's no apparent strategic logic here. But there is some financial protection logic," he said, if Sears were to seek bankruptcy protection.
And although the company still has a "meaningful" amount of real estate and other brands that could provide a source of cash, the more Sears sells, the fewer assets it will have to fund future shortfalls, Moody's said.
Moody's also noted that Sears issued $1.8 billion of securities backed by royalties from brands including Kenmore and DieHard, which could affect their value.
crshropshire@chicagotribune.com
ALSO
Sears to close last store in Chicago, the city that helped launch its growth into a major retail presence
Sears slashed more than 50,000 jobs in 2017
Sears' latest $100-million loan again comes from CEO's firm
Sears, once an appliance powerhouse, sees sales shrink despite growing demand
---
UPDATES:
3:40 p.m.: This article was updated throughout with additional details and background information and with comment from professor Erik Gordon.
This article was originally published at 8:10 a.m.
---
Sign up for the California Politics newsletter to get exclusive analysis from our reporters.
You may occasionally receive promotional content from the Los Angeles Times.