Shanghai Disneyland tickets go on sale in March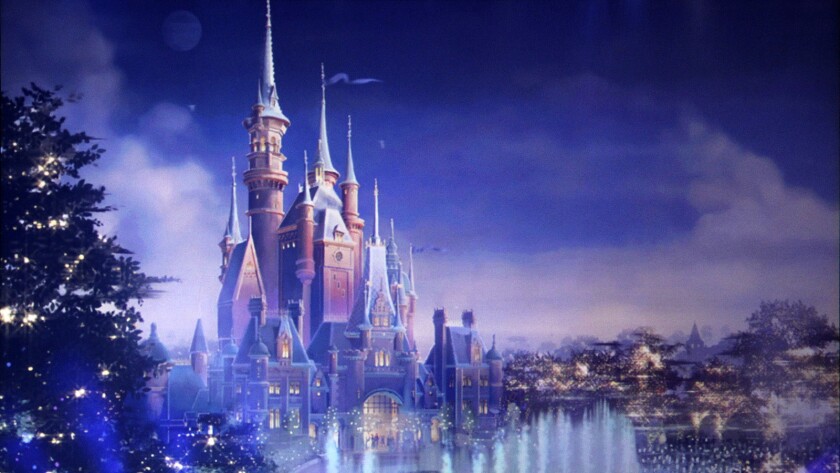 Visitors to Walt Disney Co.'s newest theme park, Shanghai Disneyland, can get a break on ticket prices by waiting to visit the resort until after the summer crowds thin out.
Disney announced Wednesday that it plans to put tickets on sale March 28 for the $5.5-billion resort opening in Shanghai on June 16. The park will feature six themed areas, two hotels, a shopping district and 99 acres of gardens, lakes and parkland.
The daily ticket prices will vary from 499 yuan ($76) during high-demand days, such as summer and in the two weeks immediately following the opening of the park, to 370 yuan ($56) on slower weekdays starting in September. The park will also offer discounts for children, seniors and visitors with disabilities.
The concept of cutting ticket prices for low-demand days has already been adopted at Disneyland Paris but has not been implemented on a long-term basis in Disney's U.S. parks.
This week, Universal Studios Hollywood became the first major U.S. theme park to adopt a pricing plan that attempts to spread out spikes in attendance by lowering ticket prices for low-demand days, such as weekdays. The lower prices give visitors an incentive to visit when crowds are thinner.
The only Disney theme park on mainland China had originally been scheduled to open in December 2015, but was delayed because Disney and its Chinese partner, the Shanghai Shendi Group, invested an additional $800 million to add more attractions.
More information about the park is available at the Shanghai Disneyland website.
The new park, along with several other resorts under construction in China by U.S. firms, is designed to attract members of China's booming middle class who are faced with a shortage of recreational options in China.
To read more about travel, tourism and the airline industry, follow Hugo Martin on Twitter: @hugomartin.
---
Be your money's boss! Learn how to make a budget and take control of your finances with this eight-week newsletter course.
You may occasionally receive promotional content from the Los Angeles Times.