Six Flags Magic Mountain will be open 365 days a year
Good news for thrill seekers: Six Flags Magic Mountain in Valencia will stay open all year starting Jan. 1. (Aug. 23, 2017) (Sign up for our free video newsletter here http://bit.ly/2n6VKPR)
Good news for thrill-seekers: Six Flags Magic Mountain in Valencia and its stomach-churning roller-coaster collection will operate every day of the year, starting Jan. 1.
The expansion represents an attempt to transition from a niche regional theme park to a major destination resort like Southern California rivals Universal Studios Hollywood and the Disneyland Resort in Anaheim.
The change also means Six Flags Magic Mountain can better target tourists who visit from outside the region, including travelers from Asia, Mexico and Australia, said Bonnie Weber, president of Six Flags Magic Mountain.
"By operating 365 days a year, that is the entry point to go after the tour and travel trade," Weber said.
The park, which runs more roller coasters — 19 — than any other U.S. theme park, now operates 250 days a year, primarily in the summer months, during school holiday breaks and on select weekends. The Disneyland Resort, Universal Studios Hollywood and Knott's Berry Farm in Buena Park operate year-round.
Industry experts say the move is unusual for a regional theme park but makes sense for Six Flags Magic Mountain, which already has an extra-long season, after extending operations during the Christmas holiday in 2014.
The park has long staged a hugely popular Halloween event that runs for several weeks, starting in September and running until the end of October.
"Any time you can add additional revenue to your fixed costs, you are adding profit," said Martin Lewison, a theme park expert and business management professor at Farmingdale State College in New York.
On the East Coast, many smaller theme parks shut down in the winter because of extreme weather, which is not a problem in sunny Southern California, he added.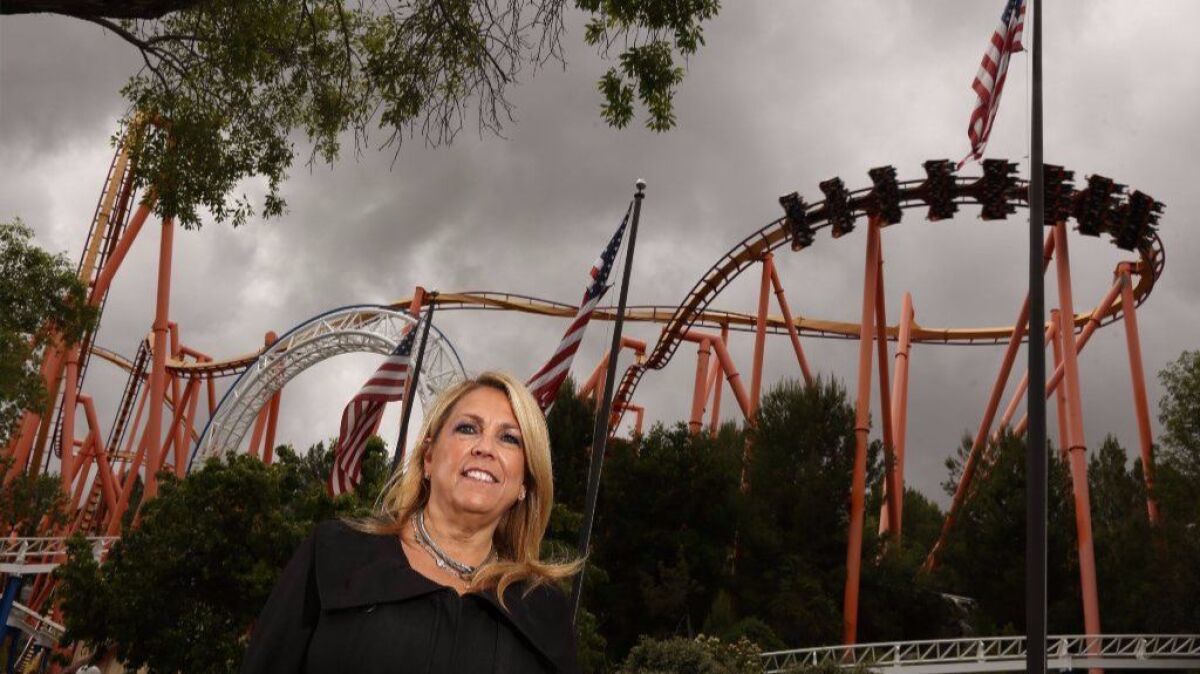 The demand for the park appears to be strong enough to justify the expansion.
Attendance has surged at Six Flags Magic Mountain over the last few years as its parent company, Six Flags Entertainment Corp., has invested heavily in new attractions.
From 2014 to 2016, attendance grew 17% to 3.3 million, according to an estimate by Aecom, the Los Angeles engineering and consulting firm that produces an annual theme park attendance report.
Among Southern California theme parks, Six Flags Magic Mountain ranked sixth in 2016 attendance, behind Disneyland (17.9 million visitors), California Adventure (9.3 million), Universal Studios Hollywood (8.1 million), Knott's Berry Farm (4 million) and SeaWorld San Diego (3.5 million).
Amusement parks generally don't release attendance statistics, but the Aecom estimates are considered reliable by industry insiders.
Six Flags Magic Mountain will be the first of the 20 parks operated by Six Flags Entertainment Corp. to open its gates throughout the year.
The operating schedule for the adjacent water park, Hurricane Harbor, won't change. The water park is open 103 days a year, primarily between Memorial Day and Labor Day, with September weekends added on.
The move to operate 365 days a year also makes it easier for Six Flags Magic Mountain to team up with other Southern California tourist destinations to offer foreign and out-of-town visitors travel packages that combine two or three destinations during one trip.
Although Six Flags Magic Mountain does not operate a hotel in the theme park, Weber hinted that such a project could be in the works. "We are looking at all our options," she said.
A hotel could be a profitable addition to the park because guests would be willing to pay higher nightly rates to stay in an on-property hotel that is designed with superhero or roller-coaster themes, Lewison said.
"If you are going to have your park open all year, it makes sense to have accommodations all year-round as well," he said.
The park has already invested in new attractions to help boost attendance as travel spending has increased nationwide, thanks to lower airfares and high consumer confidence.
In July, the park opened its first "dark ride," an indoor, 3-D interactive attraction starring DC superheroes and villains, called Justice League: Battle for Metropolis.
Last spring, the park teamed up with electronics giant Samsung to strap virtual-reality goggles onto riders of the park's Revolution roller coaster so they can feel the twists, drops and climbs of the coaster track while watching images of a midair battle with space aliens.
The two projects were only the latest investments by the park's corporate parent to boost attendance and visitor spending at the park.
"By opening the park all year-round, Six Flags is significantly enhancing the tourism and travel industry, creating jobs and spurring economic growth for the entire region," said Kathryn Barger, the Los Angeles County supervisor whose district includes the park.
Theme park fans say they are excited about the prospect of riding Six Flags Magic Mountain's stomach-churning attractions every day of the year.
"I'm good with it because that gets me into the park on more days with less crowds," said Duane Marden, a coaster enthusiast and founder of the Roller Coaster Database, an online directory of roller coasters worldwide.
To read more about the travel and tourism industries, follow @hugomartin on Twitter.
---
Sign up for the California Politics newsletter to get exclusive analysis from our reporters.
You may occasionally receive promotional content from the Los Angeles Times.