Skechers sues Adidas over alleged payments to basketball prospects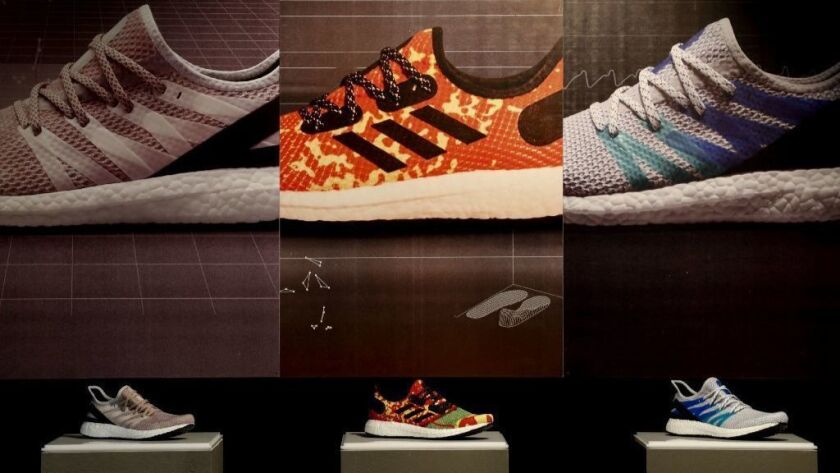 Skechers USA Inc. is suing rival footwear maker Adidas America Inc., saying that the college-basketball corruption scandal that allegedly includes people affiliated with Adidas placed Skechers at an unfair competitive disadvantage that cost Skechers sales.
In a lawsuit filed this week in U.S. District Court in Los Angeles, Skechers alleged that Adidas illegally paid high-school basketball players and others to persuade the players to wear Adidas products and "prop up" its brand at Skechers' expense.
"Adidas has co-opted young players into wearing and expressly or implicitly endorsing its products by funneling hundreds of thousands of dollars in secret payments to players, their coaches and/or family members," the suit alleges.
Skechers, based in Manhattan Beach, said the alleged actions not only violated National Collegiate Athletic Assn. rules but also amounted to false advertising and unfair competition.
Adidas America, the Portland, Ore.-based U.S. unit of German sportswear giant Adidas AG, called Skechers' suit "frivolous and nonsensical" and said the case "should be summarily dismissed" by the court.
The suit, filed Wednesday, extensively cites a scandal that has rocked college basketball since last September.
That's when federal prosecutors charged 10 people — including three people linked to Adidas and four assistant coaches — after an FBI investigation of allegations of bribes and kickbacks meant to steer recruits to specific schools, agents and footwear companies including Adidas.
"These illicit payments denied competitors like Skechers, who play by the rules, a fair opportunity to compete" for high-school and college players who would be seen wearing their products, Skechers' lawsuit alleges.
As a result, the suit says, consumers would be deceived into believing that the players chose Adidas "on the basis of superior quality or brand identity."
The harm from Adidas' alleged misconduct "is substantial," Skechers' suit contends, because the "ability to develop 'street credibility' by having talented young players and trendsetters wear a company's shoes can make or break a brand's reputation."
As a result, it says, "Skechers has been harmed due to increased advertising and marketing costs and lost sales, market share and goodwill."
The suit seeks an injunction against Adidas' alleged actions and an unspecified dollar amount of damages and recovery of certain Adidas profits.
Skechers' sales last year totaled $4.2 billion, while global sales at Adidas, which makes a broad line of sportswear, topped $20 billion.
Elliott Curtis — who as a Carnegie Mellon University student co-founded the Sneakerology 101 course and now works for a marketing firm that counts shoe brands among its clients — voiced doubt that Skechers could prove that any actions by Adidas deprived Skechers of the opportunity to build its reputation.
"A brand's street cred is far more nuanced than the sponsoring (whether legally or illegally) of college and grass-roots basketball programs — it can involve creative marketing, recognizable product design, influencer affiliation, layered brand history, ties to culture, and so much more," Curtis said in an email.
"The irony is that Skechers actually was considered 'cool' by the youth at one point," he said, adding that in the 1990s, "the brand played a major role in club culture fashion and introduced the chunky platform sneakers that are the inspiration for the bulky footwear trend happening with the cool kids nowadays."
USC, the University of Arizona, Auburn University and Oklahoma State University were ensnared in the wide-ranging FBI investigation that led to the federal charges in September. The University of Louisville subsequently acknowledged that its program also was part of the investigation, and longtime Louisville men's basketball coach Rick Pitino lost his job.
Pitino denied participation in or knowledge of the alleged scheme and, in December, sued the University of Louisville Athletic Assn. for $38.7 million, alleging breach of contract.
An independent NCAA task force, the Commission on College Basketball, last month called for widespread reform of college basketball and youth basketball programs and their relationships with others, including apparel companies.
The panel recommended, among other things, greater transparency regarding the multimillion-dollar agreements that schools have with footwear firms.
Skechers and Adidas also have a history of legal disputes, especially over trademark infringement.
On Thursday, for instance, the 9th U.S. Circuit Court of Appeals upheld a lower-court ruling that blocked Skechers from selling its Onix shoe because it was nearly identical to Adidas' popular Stan Smith tennis shoe.
Twitter: @PeltzLATimes
Times staff writer David Pierson contributed to this report.
---
UPDATES:
4:10 p.m.: This article was updated with comment from Elliott Curtisadditional details.
This article was originally published at 10:25 a.m.
---
Your guide to our clean energy future
Get our Boiling Point newsletter for the latest on the power sector, water wars and more — and what they mean for California.
You may occasionally receive promotional content from the Los Angeles Times.