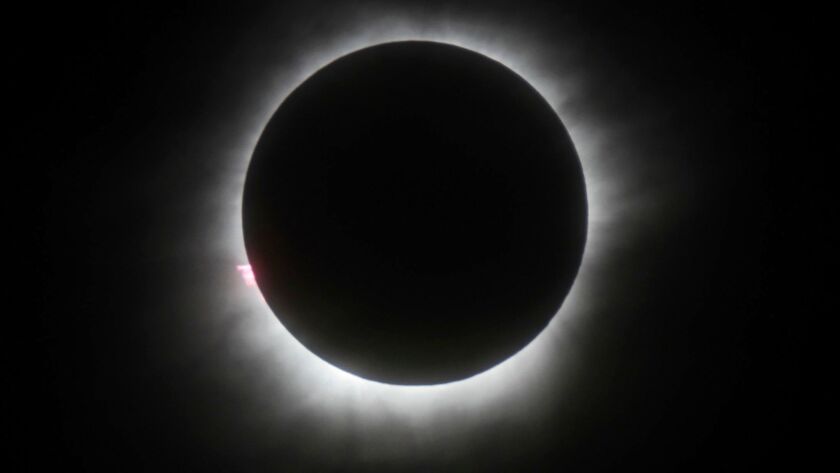 Although the moon will push in front of the sun and darken the skies on Monday, California's solar-heavy electricity grid isn't expected to run short on energy to power homes, businesses and industry.
The manager of the state's electricity grid, the California Independent System Operator, said it's prepared for the widely anticipated solar eclipse that begins about 9 a.m.
The moon will block the sun for 2 minutes and 40 seconds about an hour after the eclipse begins. California is too far south for total blockage of the sun, but eclipse viewers in the state will see the moon cover about 50% to about 90% depending on where they are.
"Our team is committed to keeping the power flowing for Californians, as we navigate the unusual circumstances presented by the eclipse," said Steve Berberich, president of Cal-ISO. "I am confident in the technology of our market and grid, and in the expertise and abilities of our staff to manage the operational challenges associated with the eclipse."
The California Public Utilities Commission still urges consumers to help ease the burden on the power grid by reducing electricity usage and unplugging home electronics (which use power in standby mode) from 9 to 11 a.m.
"This will allow California to burn fewer fossil fuels and emit fewer greenhouse gas emissions when California's solar energy production dips during the eclipse," the utilities commission said in a statement.
With a capacity of 10,000 megawatts, California's solar power at times supplies as much as 40% of the state electricity grid energy load. The growth in solar use during recent years has largely been driven by California's push for clean energy with a mandate that 50% of the state's electricity come from renewable sources by 2030.
As solar power production declines during the solar eclipse, the grid operators forecast that they will need to produce enough power from other energy sources to supply the equivalent of 6 million homes.
"The eclipse presents some grid management challenges for California and the West," said Nancy Traweek, executive director of system operations for Cal-ISO. "However, with detailed planning and engagement among all parties, we are expecting no shortage of electricity or reliability incidents related to the eclipse."
Information about energy conservation during the eclipse can be found on a utilities commission website at caleclipse.org.
For more energy news, follow Ivan Penn on Twitter: @ivanlpenn
ALSO
There's still time to get eclipse glasses — but you'd better act fast
What time does the Great American Eclipse start?
How to watch the Great American Eclipse live online
---