Who is Patrick Soon-Shiong, Tribune Publishing's new No. 2 shareholder?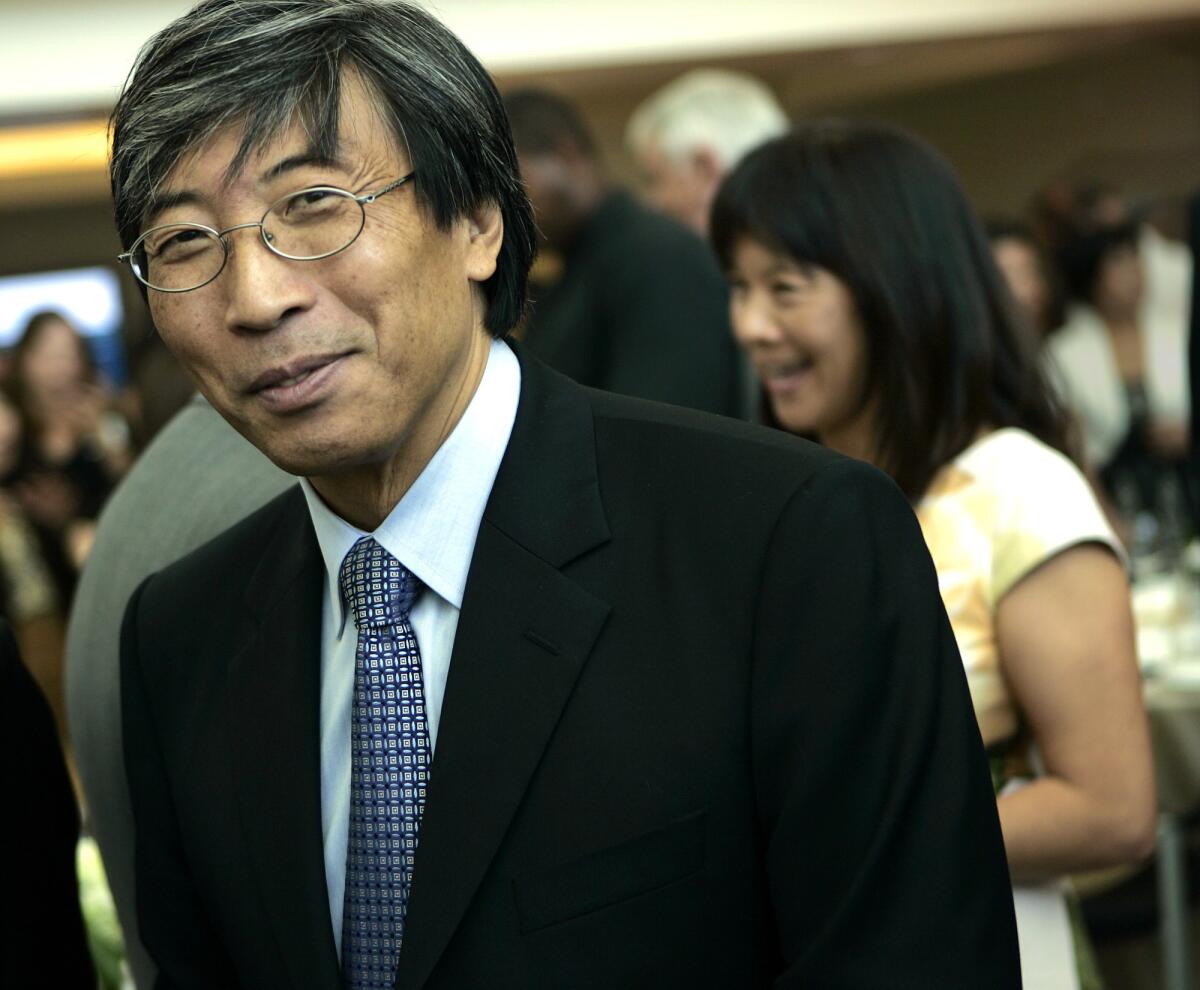 Patrick Soon-Shiong made his fortune through drug development.
Now, he's the second-largest shareholder of newspaper group Tribune Publishing, supporting Chairman Michael Ferro in his campaign to ward off a buyout offer from Gannett Co.
On Monday, Tribune Publishing, parent of the Los Angeles Times, announced that it sold 4.7 million shares of newly issued stock to billionaire Soon-Shiong's Nant Capital for $70.5 million. Soon-Shiong will also join the Chicago company's board of directors as vice chairman.
Tribune Publishing also said it reached an agreement with another of Soon-Shiong's companies, Culver City's NantWorks, to license more than 100 technology patents and to produce video at that firm's subsidiary, NantStudio.
RELATED: L.A. billionaire becomes the 2nd-largest shareholder of L.A. Times' parent company
Read on to find out more about Soon-Shiong.
One of the wealthiest people in Los Angeles
Last week, the Los Angeles Business Journal ranked Soon-Shiong No. 1 on its annual list of wealthiest Angelenos, pegging his net worth at $15.4 billion. Elon Musk, chief executive of SpaceX and Tesla Motors Inc., came in second, at $13.3 billion.
However, as of Monday, Forbes estimated Soon-Shiong's net worth at $11.8 billion, compared with Musk's $12.7 billion.
He had an early start in medicine
Raised in apartheid South Africa, Soon-Shiong graduated from high school at age 16 and became a doctor by 23. He did his surgical residency at the University of British Columbia in Vancouver, Canada, where he also earned a master's degree in surgery in 1979.
By age 31, he had completed his surgical training at UCLA and became a member of the university's medical school faculty. In 1985, he performed the first pancreas transplant on the West Coast on a patient who had diabetes.
See the most-read stories this hour >>
How he made his fortune
In 1991, Soon-Shiong invented the drug that created his fortune. The drug, Abraxane, was a redesigned version of a top-selling cancer drug called Taxol. He sold the company that developed Abraxane to Celgene for $2.9 billion in 2010.
He is part owner of the Los Angeles Lakers
In 2010, Soon-Shiong bought a minority share in the basketball team from Magic Johnson. At the time, the NBA said Soon-Shiong had been a season ticket holder for more than 25 years. He has been seen courtside with celebrities including pop star Will.I.Am and actor Denzel Washington.
He has made several large philanthropic contributions
Soon-Shiong donated $135 million to St. John's Health Center in Santa Monica for renovations. He also provided a $100-million guarantee to the University of California regents to underwrite the reopening of Martin Luther King Jr. Hospital in South L.A., which replaced the closed King/Drew hospital.
He has launched an effort to wipe out cancer
In January, Soon-Shiong announced he had convinced a group of pharmaceutical companies to work together in an effort to conquer cancer. The effort -- which he calls Cancer MoonShot 2020 -- will focus on using the human immune system to control tumors.
Family life
Soon-Shiong is married to actress Michele B. Chan, who had a recurring role in the TV series MacGyver and several other productions. The couple have two children. Daughter Nika was an intern at The Times in 2012 and 2013.
Soon-Shiong was once sued by his brother, Terrence Soon-Shiong, who sided with an investor in a lawsuit over a diabetes research firm. Patrick Soon-Shiong said he won an arbitrator's award, but ended the conflict by paying investors $37 million, $32 million of which went to his brother, and leaving the company.
ALSO
Memorial Day travel expected to be busiest since 2005
Lyft plans to test a feature allowing users to schedule rides a day in advance
Bank of America not liable for fraud in Countrywide case, appeals court finds
For more business news, follow me @smasunaga