L.A. billionaire cancer doctor Patrick Soon-Shiong battles business turbulence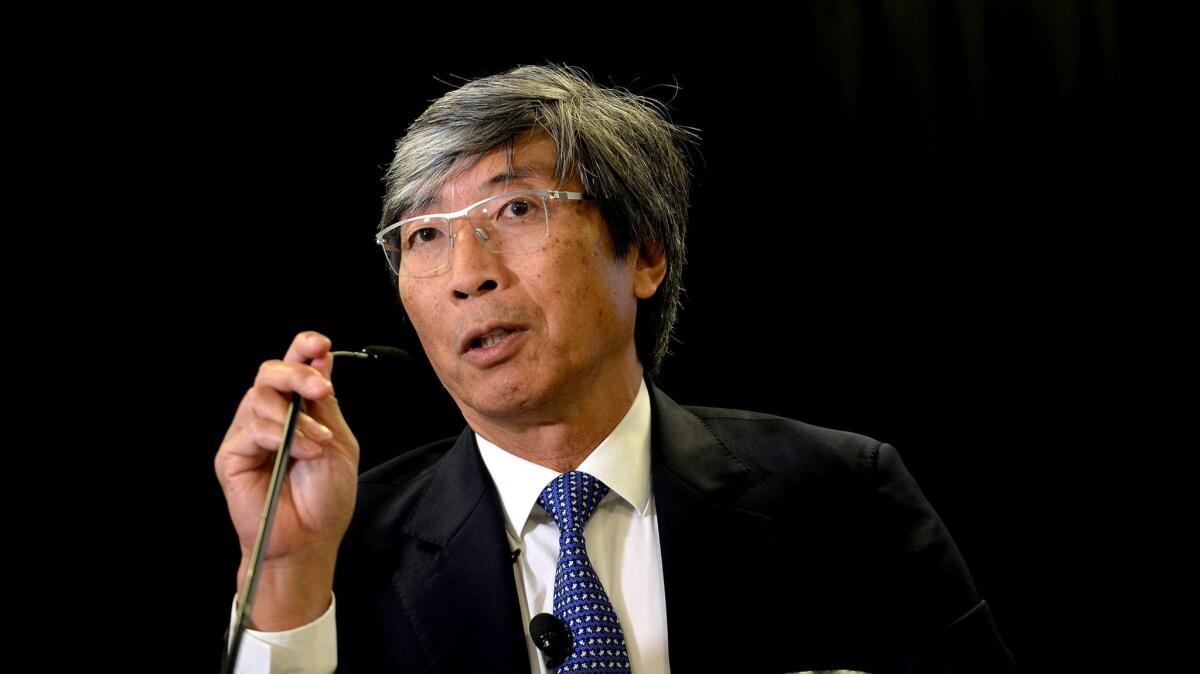 Said to be America's richest doctor, Los Angeles multibillionaire Patrick Soon-Shiong also is a medical entrepreneur, anti-cancer crusader, scientist, inventor, philanthropist, visionary, negotiator and a basketball nut.
With his fortune and cutting-edge cancer research, Soon-Shiong enjoys a global status at the same time he's increasingly weaved himself into the cultural fabric of Los Angeles, where he's one of its wealthiest residents.
Soon-Shiong has met with President Trump and Pope Francis, and he's also friends with Lakers legend Kobe Bryant and a familiar courtside presence at Staples Center after buying a minority stake in the team. He also is a major stockholder of the media company Tronc Inc. that owns the Los Angeles Times.
But Soon-Shiong, 64, lately has been battling turbulence surrounding his business interests, which is nothing new for the South Africa native. He's faced skeptics and short-sellers – traders who bet on stock prices to drop – with his past companies, yet ended up making huge sums for himself and shareholders who stuck with him when the companies were sold.
This time around, two cancer-fighting start-up firms that he took public in the last two years have rolled up major losses and each of their stocks has tumbled more than 70% from their highs.
The companies also are the target of shareholder lawsuits that allege management misled investors by artificially inflating results, claims Soon-Shiong and the companies flatly deny.
There also have been published reports that contended Soon-Shiong's research foundations made grants that ended up benefiting his for-profit businesses or entities that have business deals with his firms. Soon-Shiong vehemently denies those claims as well and said the reports were "maliciously false."
Beyond the healthcare sector, Soon-Shiong (pronounced soon-shong) is locked in a fight with Tronc Chairman Michael Ferro. This year, the two — Tronc's largest shareholders — exchanged acrimonious letters through their lawyers about their stakes in the company.
It's the battle against cancer that mainly drives Soon-Shiong, who leads a network of firms called NantWorks – Soon-Shiong calls it an "ecosystem" – that include the two he took public, NantHealth Inc. and NantKwest Inc. (pronounced nant-quest).
"I am driven to solve cancer in my lifetime," Soon-Shiong, known as "Dr. Pat," said on Twitter in March. "Despite the naysayers, skeptics, and doubters, we are making incredible progress. #SolveCancer"
In addition to his medical expertise, futuristic goals and savvy investing history, Forbes once said Soon-Shiong also has "a deep streak of P.T. Barnum showmanship – and a talent for pissing off investors and colleagues alike."
"I've seen this movie before," Soon-Shiong said in an interview with The Times at NantWorks' Culver City headquarters, referring to the events besetting his companies. "My focus should be on the fundamental progression of advancement we're making" in developing anti-cancer remedies, he said.
Indeed, Soon-Shiong plans another public stock offering next year for a chunk of his business, to be called NantBio, which effectively would use a patient's genetic signature to help activate the "natural killer cells" that ward off cancer.
In light of the stock prices of his existing two public companies, is Soon-Shiong concerned NantBio's IPO might get a cool reception? "No, because it's the data that will speak, it's the results that will speak," he replied.
Soon-Shiong – with a net worth of $8.5 billion, according to Forbes – uses Twitter both for company updates and to routinely relay inspirational messages such as "Push yourself! No one is going to do it for you" and "Life begins at the end of your comfort zone."
Soon-Shiong's companies have tested investors' comfort.
NantKwest, a biotech firm focused on harnessing the immune system to counter cancer cells, went public at $25 a share in late July 2015 and reached nearly $35 the next day. The stock then steadily declined, dropping below $4 a share this spring, but it's rebounded lately and closed Monday at $8.19 a share. Soon-Shiong controls 64% of the stock, according to the company's latest proxy statement.
In 2015 and 2016, NantKwest lost a combined $357.7 million on barely any revenue. And the firm restated its financial statements just months after its public stock sale due to accounting errors related, in part, to Soon-Shiong's compensation package of stock and options, which NantKwest valued at nearly $148 million, according to corporate filings.
NantHealth, whose key products include a genetic test known as GPS Cancer that helps doctors prescribe the best treatments, was priced at $14 a share when it went public last June and traded as high as $18.59. But that stock also has tumbled and closed at $4.13 a share Monday. Soon-Shiong controls 58% of that company's stock.
NantHealth's shares took a particular drubbing in early March. That was after Stat, a news group affiliated with the Boston Globe, reported that Soon-Shiong and his charitable foundation donated $12 million to the University of Utah for genetic-disease research, of which the college paid $10 million back to NantHealth for genetic analyses.
NantHealth disputed the assertion that the donation was made to benefit Soon-Shiong's commercial interests and said that the college was free to choose any vendor. NantHealth issued detailed statements to refute other "multiple inaccuracies" in the Stat story and to assert that "investors were not misled."
That didn't stop some investors from filing lawsuits that alleged the company had reported false and inflated financial figures for the third quarter of 2016.
Then in April, the website Politico said its review of Soon-Shiong's research foundation found that "the majority of its expenditures flow to businesses and not-for-profits controlled by Soon-Shiong himself, and the majority of its grants have gone to entities that have business deals with his for-profit firms."
A spokesman for Soon-Shiong called the report "false and misleading," and said that Soon-Shiong "has not received any tax benefit from the $200 million of grants and commitments his non-profits have made since 2015."
NantHealth's 2016 revenue rose to $100.4 million from $58.3 million in 2015, but its losses ballooned to $184.1 million from $72 million the prior year. The company said it lost an additional $41.1 million in this year's first quarter.
NantHealth acknowledged in its 2016 annual filing with the government that, as a young company making substantial investments in new technologies, it expects to "incur operating losses for the foreseeable future and may never become profitable."
Some of that red ink flows from the slow sales of its new GPS Cancer test, which the company contends enables doctors to pinpoint the best treatments based on the patient's genes. The $11,500 test uses supercomputers and intricate software to perform genomic sequencing on a patient's tumor.
Like many other companies selling laboratory tests, NantHealth did not need U.S. Food and Drug Administration approval to sell GPS Cancer, and it has not done the extensive scientific trials needed to convince doctors it is worth its high price. Many insurers don't yet cover the test. BlueCross BlueShield of Louisiana, for example, calls the test "investigational" because "there is no published evidence" of its "validity or utility."
Asked about the insurers' conclusions, Soon-Shiong pointed to recent trials that he said had shown benefits of the test. He said more studies were in progress.
When Soon-Shiong unveiled his cancer test with much fanfare at a healthcare conference in New York in October 2013, he said that his computers could analyze a patient's genome in just 47 seconds.
Later, when questioned further by a Forbes reporter, he pulled back and said he was aiming to do it in 24 hours. Today the company promises to send back the results "in less than 21 days," according to its website.
On May 10, during a call with investors, Soon-Shiong said doctors had ordered 365 of the tests in the first three months of the year, up from 326 in the fourth quarter of 2016.
Soon-Shiong blamed the disappointing sales on the difficulty of educating doctors about the usefulness of the elaborate test, which produces a 20-page report of detailed scientific data.
The company was finding, he said, that doctors had to try the test four or five times before they say, "Oh, my goodness, this really helps."
"We underestimated the complexity," Soon-Shiong said. "It's just a matter of time." In his interview with The Times, he declined to forecast GPS Cancer test orders for the second quarter or beyond.
Charles Rhyee, an analyst with the investment firm Cowen & Co., said in a May 11 research note that NantHealth's first-quarter results were "weaker than expected." But Rhyee has a bullish "outperform" rating on the company's stock, a 12-month price target of $8 a share, and he said NantHealth "has the potential to transform oncology diagnostics."
Meanwhile, Soon-Shiong has been in a growing dispute over The Times' owner, Tronc, which owns several other newspapers including the Chicago Tribune and San Diego Union-Tribune.
Soon-Shiong initially invested in Tronc in mid-2016 to help the company fend off a buyout bid from Gannett Inc. Soon-Shiong's initial investment of $70.5 million gave him a 12.9% stake in the company.
He has since lifted his holdings to 26.7% and has demanded that he be allowed to lift his Tronc stake to 30%, the same amount that Ferro can own. Ferro owns 27.6%, according to the most recent public filings.
Soon-Shiong, in his interview, declined to comment on whether he planned to try to buy The Times. But he put his goal in broader terms.
"I am concerned there are other agendas, independent of the newspaper's needs or the fiduciary obligations to the viability of the organization," he said. "My goal is to try and preserve the integrity and the viability of the newspaper."
In response, Tronc Chief Executive Justin Dearborn said in a statement that "our news brands are the core asset of this company and the service they provide to the communities we serve has never been more important."
"Our only agenda is to operate the business in a fiduciary and fiscally responsible manner which includes a duty to shareholders, customers and to our newsrooms broadly defined, which has led to a triple-digit increase in our digital subscriptions in the past year," Dearborn said.
Soon-Shiong said his interest in a vibrant press partly stems from being born and raised in apartheid South Africa where, he said, he "grew up under repression personally." People of Chinese descent were not afforded all of the rights of whites, such as the right to vote, he said.
He earned his medical degrees in Johannesburg and Vancouver, British Columbia. Soon-Shiong joined UCLA Medical School in 1983 as an assistant professor in gastro-intestinal surgery and later became director of UCLA's pancreas-transplant program.
In 1991, he developed the cancer drug Abraxane that spawned his fortune. Soon-Shiong folded the drug into a generic-drug firm he bought and later named American Pharmaceutical Partners, which was a target of heavy short-selling.
But in 2005 Soon-Shiong secured a huge victory when Abraxane was approved by the FDA. He eventually split his company and sold the generics business, called APP Pharmaceuticals Inc., to the German firm Fresenius in 2008 for $4.6 billion.
Two years later he sold the business that included Abraxane, Abraxis Bioscience Inc., to Celgene Corp. for $4.3 billion in cash, stock and other considerations. Soon-Shiong owned about 80% of each of his firms when they were sold.
Twitter: @PeltzLATimes
ALSO
Is billionaire Patrick Soon-Shiong Tribune Publishing's white knight?
Soon-Shiong biotech company's stock plunges after report
Jersey City is a case study in the perils of politics and real estate for the Kushners