New Southwest Airlines emotional support animal policy allows only dogs and cats on leashes or in carriers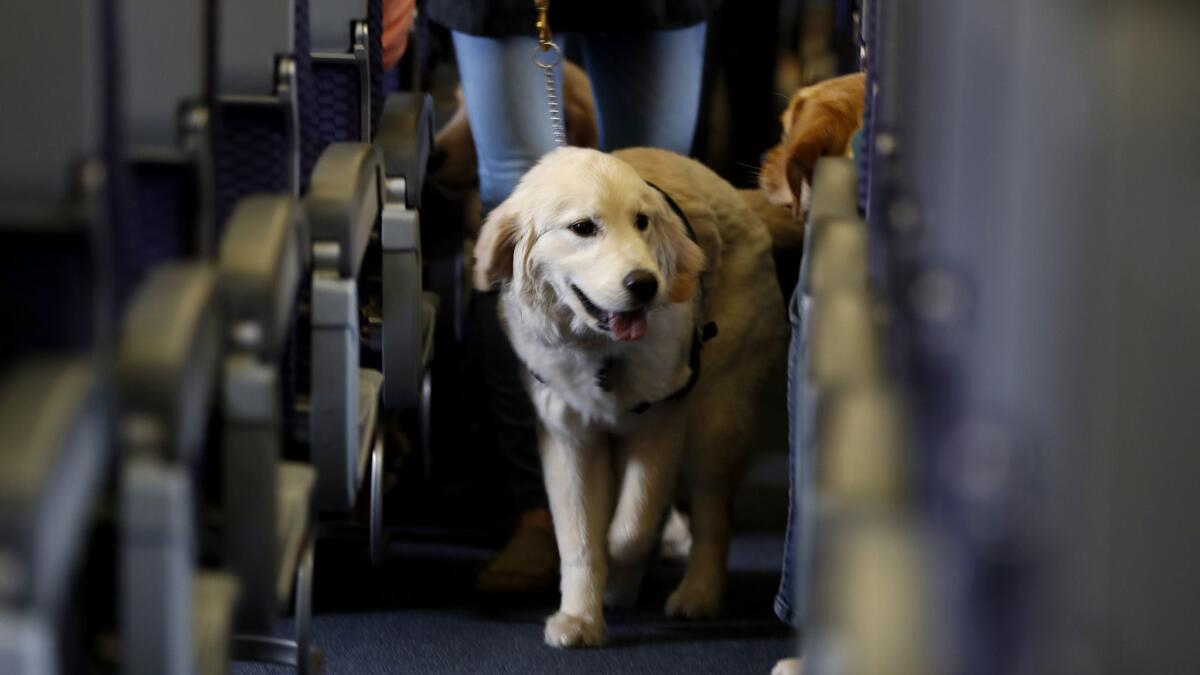 Joining several other carriers that have adopted tough new rules on pets, Southwest Airlines is adopting a new policy for emotional support animals in the cabin, allowing only dogs and cats that are restrained by a leash or kept in a carrier.
The new policy, announced Tuesday by the Dallas-based carrier, also limits each passenger to one emotional support animal. As for service animals that are trained to assist travelers with physical disabilities, the airline will accept dogs, cats and miniature horses. The policy takes effect Sept. 17.
"We want to make sure our guidelines are clear and easy to understand while providing customers and employees a comfortable and safe experience," said Steve Goldberg, senior vice president of operations and hospitality at the airline.
The move by Southwest Airlines comes after several airlines, including Alaska, Delta and United, adopted stricter rules on pets brought aboard planes, changes that were prompted by incidents involving animals that have attacked passengers or caused disruptions on planes.
The U.S. Department of Transportation announced in May that it wouldn't take action against airlines that impose restrictions on passengers traveling with emotional support animals. That announcement was significant because the Air Carrier Access Act requires airlines to allow passengers who believe they need the emotional support of an animal to bring the animal on a commercial flight without paying an extra charge.
But airline officials and psychologists say they believe many travelers who do not have an emotional or physical disability are using the law to transport their pets free of charge.
The new Southwest Airlines policy requires passengers traveling with emotional support animals to present a letter from a medical doctor or a licensed mental health professional, attesting that the passenger must fly with the animal.
Until the policy changes on Sept. 17, Southwest Airlines does not require emotional support animals to be on a leash or in a carrier and does not impose a one-animal-per-passenger limit. The current airline policy doesn't list the species that are accepted as emotional support animals but does ban "unusual or exotic animals, including, but not limited to: rodents, ferrets, insects, spiders, reptiles, hedgehogs, rabbits, or sugar gliders."
The existing policy and the new policy require that emotional support and service animals be trained to behave in public. Any animal that is disruptive can be denied boarding, Southwest Airlines said.
To read more about the travel and tourism industries, follow @hugomartin on Twitter.