SpaceX launch shows 'steady stream' of small-satellite customers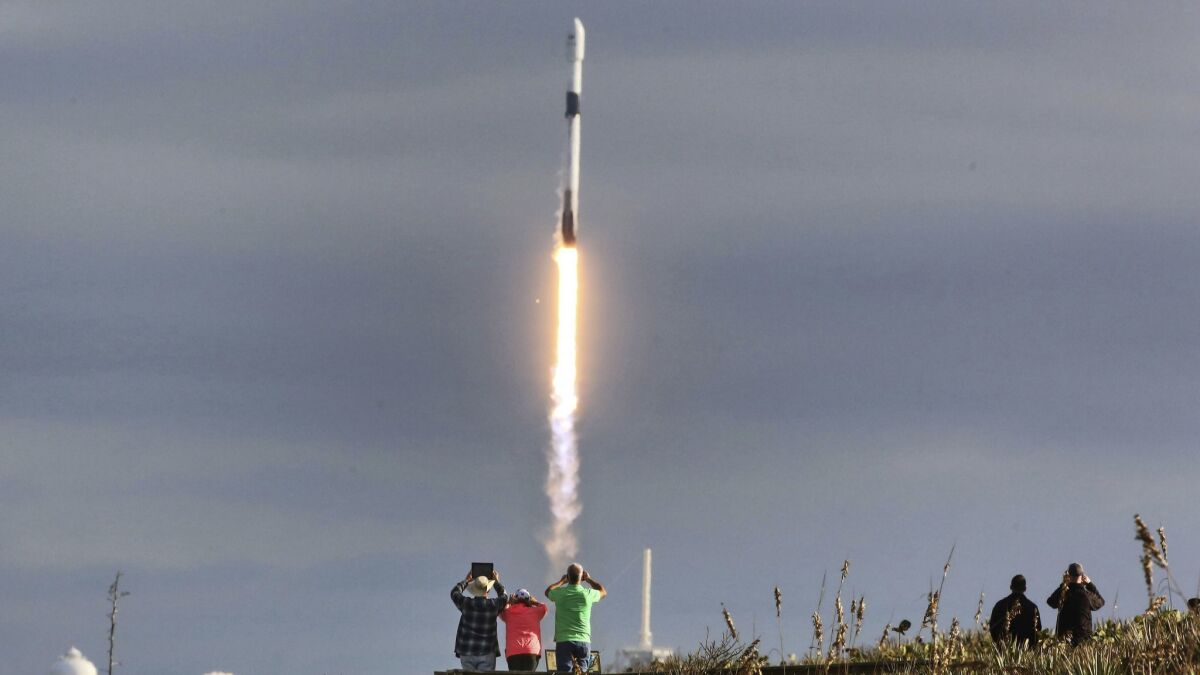 For the first time, dozens of small satellites will ride atop a SpaceX rocket, as a Falcon 9 is scheduled to blast into orbit Sunday.
The 64 tiny satellites range from one built by a Florida middle school to measure the viability of thawed bacteria to a Honeywell Aerospace demonstrator that will test new ship communication technology.
All 34 organizations found their way onto the Falcon 9 rocket with the help of a sort of launch services broker — a relatively niche industry that has grown in tandem with the burgeoning small-satellite market.
Small-satellite startups sometimes have little experience buying launches from companies like Hawthorne-based SpaceX and France's Arianespace, said Bill Ostrove, aerospace and defense analyst at Forecast International. At the same time, these launch service providers are looking for help to coordinate the deluge of developers looking to send small satellites into space, he said.
Sunday's scheduled SpaceX launch is three years in the making for Seattle-based Spaceflight, which bought the entire Falcon 9 rocket to accommodate its various customers. The launch will be Spaceflight's first ride-share mission dedicated exclusively to small satellites.
The purchase indicates that the small satellite industry is "healthy and thriving," said Kerri Cahoy, associate professor of aeronautics and astronautics at MIT.
"There's a lot of new businesses … and a steady stream" of customers, Cahoy said. Being able to sell more than 60 spots on a rocket to customers is "impressive," she said.
Spaceflight got its start about six years ago by helping customers test their small satellites, obtain the necessary launch and operating licenses before shipping the spacecraft to the launch site, and integrate them onto the rocket, said Curt Blake, Spaceflight president.
Typically, small satellites get to space by "piggybacking" on the launch of a larger satellite and fitting in where there's space on the rocket. The best known example is a 2017 launch of the Indian space agency's PSLV rocket, which deployed a 1,574-pound satellite as well as 103 small satellites. A majority of those were Earth-imaging satellites made by San Francisco-based Planet Labs Inc.
While ride-sharing can be a more affordable way to reach orbit, it also means the tiny spacecraft are subject to the timing and orbit destination of the primary satellite.
There is now another way. Huntington Beach's Rocket Lab has developed and launched its Electron rocket, which is designed specifically to carry small satellites and to allow more flexibility in time and orbit. A slew of other companies, including Long Beach-based Virgin Orbit and Tucson-based Vector, are working on their own small-satellite launchers.
Spaceflight negotiates with launch companies to find and purchase slots for their small satellite customers. As more launch companies have come online, Spaceflight has increased its partnerships to include some of the smaller rockets, such as the Electron and Virgin Orbit's LauncherOne, which will air-launch satellites from beneath the wing of a modified Boeing 747.
"They serve different niches that our customers want," Blake said.
The satellite launch broker industry is not large — analysts said there are only a handful of players, including Spaceflight. Business has been stable so far, though there is a chance launch companies could take those services in-house, Ostrove said.
"It certainly has a chance of being lucrative," he said.
Spaceflight's parent company, Spaceflight Industries Inc., has raised more than $200 million in total capital and counts firms such as the late Paul Allen's Vulcan Capital as investors. Spaceflight Industries also has a subsidiary, BlackSky, that provides Earth-imaging data to customers.
In November, Spaceflight Industries filed an offering of $29.9 million in debt and other securities. The company said $22 million had already been sold, according to a filing with the Securities and Exchange Commission.
Blake said he sees Spaceflight's future in providing even more flexibility in launch services and timing. The company now allows customers to move between rocket launches, but charges a change fee.
"It really becomes more like an airline model," he said.
The launch is scheduled to occur at 10:32 a.m. Pacific from Vandenberg Air Force Base near Lompoc, Calif. This will mark the first time SpaceX uses a first-stage booster that has flown twice before. If successful, it will be SpaceX's 19th launch of the year, marking its highest annual launch total yet.
Twitter: @smasunaga
---
Sign up for the California Politics newsletter to get exclusive analysis from our reporters.
You may occasionally receive promotional content from the Los Angeles Times.