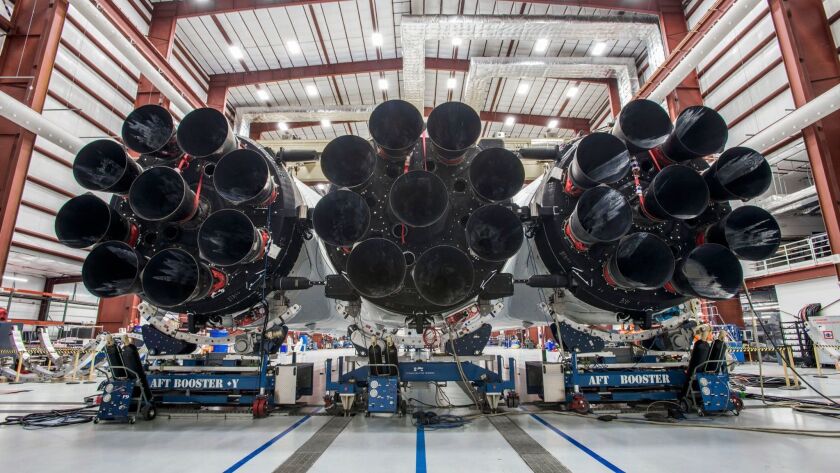 SpaceX released the first photos of its new Falcon Heavy rocket Wednesday morning, about a month ahead of the heavy-lift rocket's first test flight.
Chief Executive Elon Musk shared the photos in a tweet, saying the rocket was currently at Cape Canaveral in Florida. The rocket is set to launch in January from Pad 39A at Kennedy Space Center — the same pad that launched the Saturn V, the workhorse rocket for the Apollo moon missions.
The 229.6-foot-tall Falcon Heavy will be able to lift 140,660 pounds to low-Earth orbit. SpaceX's current workhorse rocket, the Falcon 9, can lift about 50,000 pounds to low-Earth orbit. The price of a Falcon Heavy mission starts at $90 million, according to SpaceX's website.
Musk has tried to temper expectations for Falcon Heavy's first flight, saying there was a "good chance" the vehicle would not make it to orbit on its first launch, but that the flight was "guaranteed to be exciting."
"I hope it makes it far enough away from the pad that it does not cause pad damage," he said during a keynote speech in July. "I would even consider that a win, to be honest."
More recently, Musk tweeted that the payload for the first flight would be his midnight cherry Tesla Roadster.
Hawthorne-based SpaceX plans to use the Falcon Heavy to lift heavier commercial and national security satellites. The company has also said it would use the rocket to take two tourists around the moon.
Twitter: @smasunaga
---