SpaceX scrubs launch, will try again Sunday morning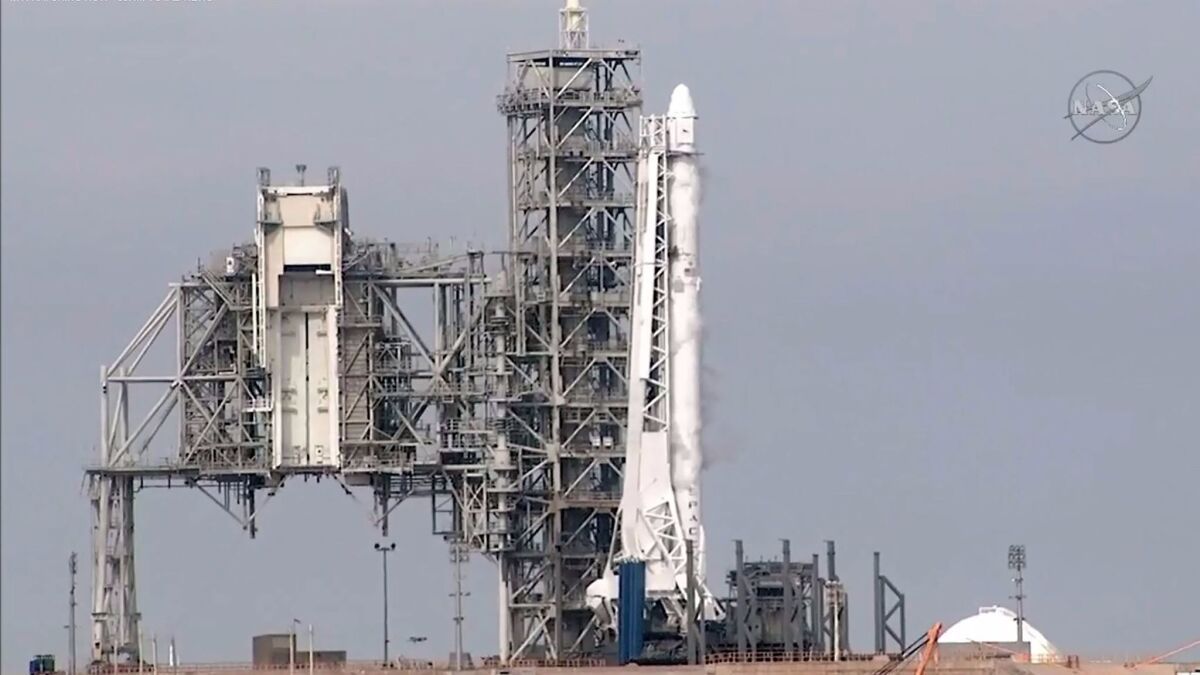 SpaceX scrubbed its launch of a space station supply mission seconds before liftoff Saturday morning, citing a possible problem with the second stage of its Falcon 9 rocket.
The Hawthorne space company said it would try to launch again Sunday at 6:38 a.m. Pacific time from Launch Complex 39A at the Kennedy Space Center at Cape Canaveral, Fla.

For the record:
1:52 p.m. March 25, 2023A previous version of this story described SpaceX's rocket as the Dragon rocket. The company's rocket is called Falcon 9.
A hold was called about 13 seconds before the launch. John Federspiel, a lead mechanical design engineer, said on the company's launch webcast that the call was made "out of an abundance of caution" so the company could look into an issue with the "thrust vector control system" on the rocket's second stage.
SpaceX said in a tweet shortly afterward that it was "standing down to take a closer look at positioning of the second-stage engine nozzle."
The company's chief executive, Elon Musk, gave some more detail in another tweet. "All systems go, except the movement trace of an upper-stage engine steering hydraulic piston was slightly odd. Standing down to investigate," he wrote.
"If this is the only issue, flight would be fine, but need to make sure that it isn't symptomatic of a more significant upstream root cause," Musk tweeted later.
Saturday's issue was not "obviously related" to the "very tiny" helium leak he had tweeted about on Friday. But, he said on Twitter, it was "also not out of the question."
Musk said the possible problem was "99% likely to be fine," but that "1% chance isn't worth rolling the dice."
"Better to wait a day," he tweeted.
This will be SpaceX's second launch since one of its Falcon 9 rockets exploded on a Florida launch pad in September.
SpaceX is set to launch almost 5,500 pounds of science experiments, supplies and research equipment for NASA to the International Space Station.
This will be the first launch from Pad 39A since the last space shuttle mission in 2011. The historic launch pad played a role in both the Apollo and space shuttle programs.
After launch, SpaceX will attempt to land its first-stage rocket booster on land. The Dragon capsule will deploy from the second stage about 10 minutes after launch and is expected to reach the space station two days later.
Last month, SpaceX launched 10 satellites from Vandenberg Air Force Base in California for satellite operator Iridium Communications Inc. The company landed that first-stage rocket on a floating platform in the Pacific Ocean.
ALSO
ABC sells all its Oscar ad time; advertisers brace for political speeches
Big Pharma really, really doesn't want you to know the true value of its drugs
Ocwen will pay $225 million to settle allegations it violated mortgage servicing rules
---
UPDATES:
Feb. 18, 8:15 a.m.: This article was updated with information about the issue in the rocket's second stage.
Feb. 18, 7:35 a.m.: This article was updated with the launch being scrubbed.
This article was originally published on Feb. 16 at 3:20 p.m.
Sign up for the California Politics newsletter to get exclusive analysis from our reporters.
You may occasionally receive promotional content from the Los Angeles Times.