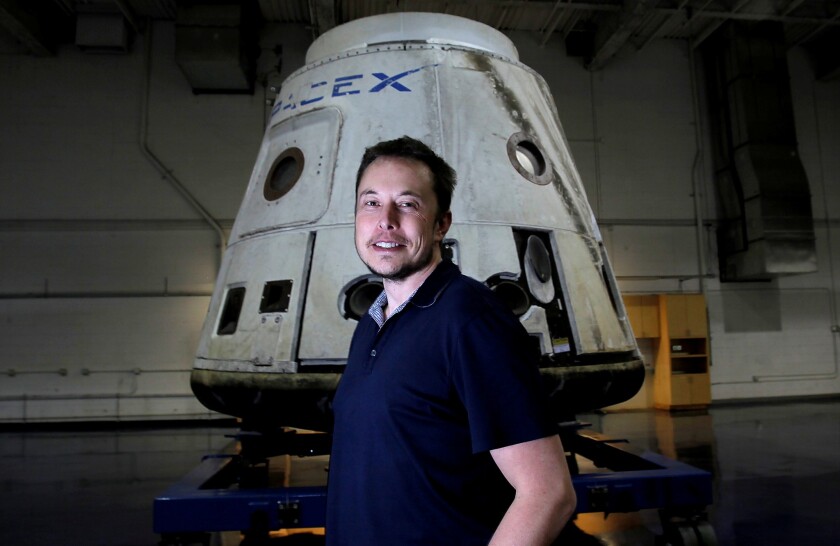 Elon Musk has finally put a date on SpaceX's longstanding goal of going to Mars.
SpaceX tweeted Wednesday morning that it is planning to send an unmanned Dragon spacecraft to the Red Planet as soon as 2018.
The mission would demonstrate a way to land large payloads on Mars without parachutes or other aerodynamic decelerators, SpaceX says. A 2012 paper from NASA and SpaceX about the commercial capabilities of using Red Dragon to get to Mars described the vehicle's ability to decelerate "from supersonic speeds to touchdown."
"Red Dragons will inform overall Mars architecture, details to come," the Hawthorne company, whose full name is Space Exploration Technologies Corp., tweeted Wednesday.
See more of our top stories on Facebook >>
In a separate tweet, Musk said the Dragon 2 spacecraft is designed to be able to land "anywhere in the solar system" and that the Red Dragon Mars mission would be the first test flight. He also said he wouldn't recommend transporting astronauts in the capsule beyond the Earth to moon region.
"Wouldn't be fun for longer journeys," Musk said, adding that the Dragon's internal volume is about the size of an SUV.
Dragon would be launched to Mars by SpaceX's Falcon Heavy rocket, which has yet to lift off on its first mission. The rocket is intended to carry more than 117,000 pounds into orbit and was designed from the beginning to carry humans into space, either to the moon or Mars, according to SpaceX's website.
The Mars mission will also get a boost from NASA under an existing "no funds exchanged" collaboration between the space agency and SpaceX.
NASA has agreed to provide technical support, which could include help with mission design and tracking or data transmission from deep space. For its part, the agency is interested in the entry, descent and landing data from the mission.
SpaceX's announcement comes just weeks after a major success: This month, it landed a booster rocket on a drone ship for the first time, a milestone that could reduce the cost of delivering cargo to space and position the company to dominate the commercial launch services market.
For more business news, follow @smasunaga.
ALSO
Competitors are eating into L.A. ports' dominance
Fed isn't expected to raise interest rates now, but what about in June?
Yahoo to name four new board members, ending Starboard proxy fight
---