SpaceX scrubs morning launch of national security satellite, will try Monday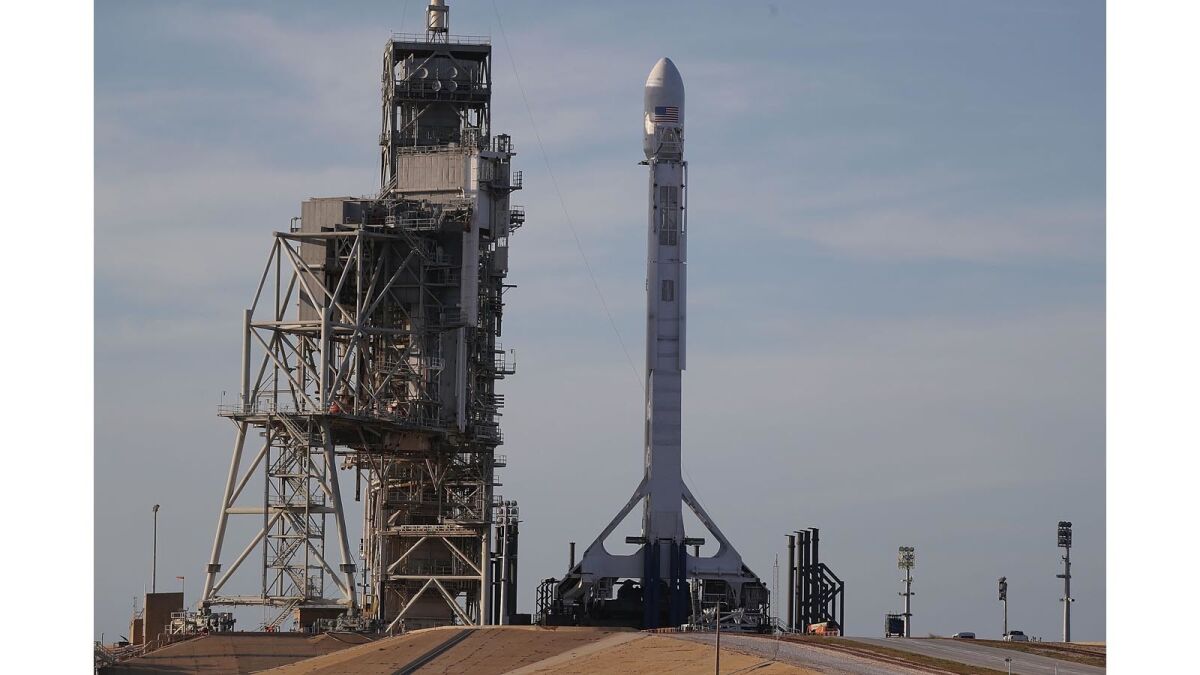 SpaceX scrubbed a Sunday morning launch of a payload for the National Reconnaissance Office in one of the company's earliest tests as a national security launch provider.
The launch of the spy satellite, known as NROL-76, was scrubbed at 4:17 a.m. at Pad 39A at Kennedy Space Center in Florida. The two-hour launch window opened at 4 a.m. Pacific time.
The backup window starts Monday at 4 a.m.
If the launch Monday goes as planned, SpaceX will attempt to land the first-stage booster back at Cape Canaveral Air Force Station.
The Hawthorne space company last month successfully re-launched a previously used first stage to blast a commercial communications satellite into orbit, and then landed the booster on a floating sea platform. Sunday's payload, however, will launch on a new first-stage booster.
Few details have been released about the rocket's secretive payload. Unlike with commercial launches, SpaceX did not say how long it would take the satellite to deploy or to what orbit it would travel.
This may not be SpaceX's first launch for the NRO, which is part of the Department of Defense. The company is believed to have launched a small satellite for the intelligence agency as a secondary payload during a December 2010 demonstration flight for NASA. SpaceX and the NRO did not respond to requests for comment about that launch's payload.
Sunday's mission is "an important chance for SpaceX to basically prove that they're able to reliably place these satellites into orbit and that they can be a trusted partner of the national security community," said Bill Ostrove, aerospace and defense analyst for Forecast International.
Since being certified in 2015 to launch national security satellites, SpaceX has won two contracts to launch GPS satellites for the U.S. Air Force. That has put pressure on United Launch Alliance, a joint venture of Boeing Co. and Lockheed Martin Corp. that has long held a lucrative monopoly on sensitive military launches.
Twitter: @smasunaga
ALSO
MIT researchers create a robot that can 3-D-print a building in hours
As the industry struggles, is it 'time to recognize the nuclear show's over'?
Trump is creating a void on climate change. Can California persuade other states to help fill it?
---
UPDATES:
4:20 a.m.: Updated with the launch being scrubbed.
This article was first published April 28 at 12 p.m.
---
Sign up for the California Politics newsletter to get exclusive analysis from our reporters.
You may occasionally receive promotional content from the Los Angeles Times.