T-Mobile and Sprint plan to merge in a $26.5-billion deal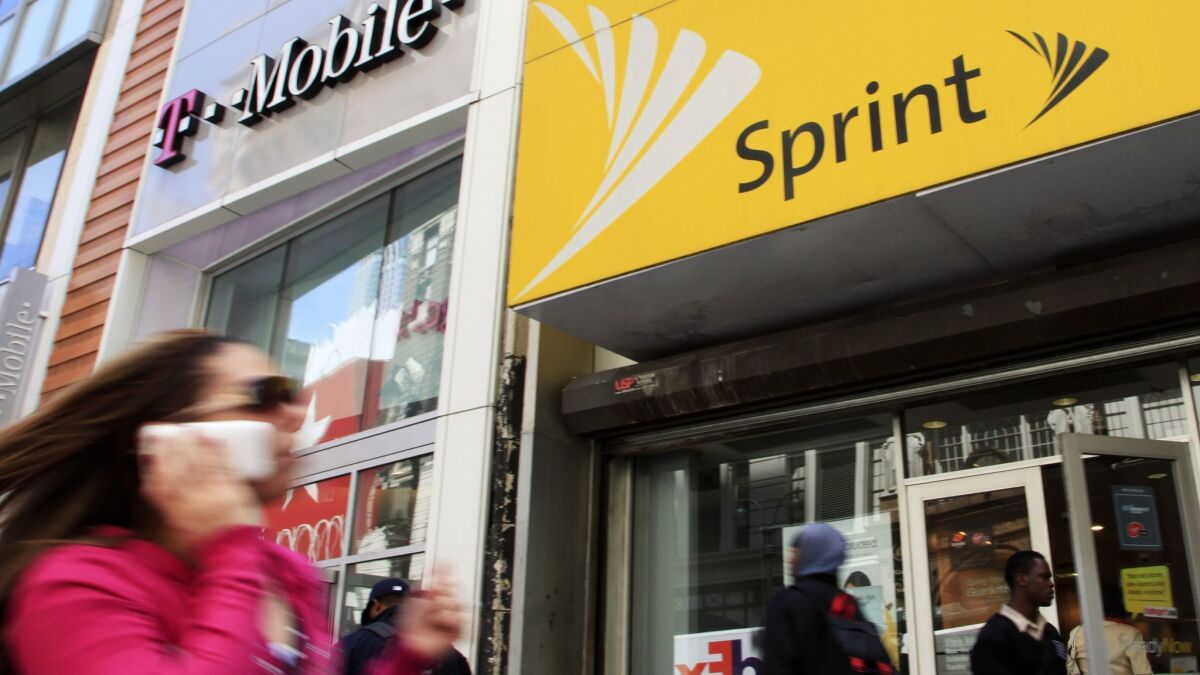 The Washington Post
T-Mobile and Sprint, the nation's third- and fourth-largest wireless carriers, announced a roughly $26.8-billion merger Sunday that could dramatically reshape the U.S. telecom industry and test consumers' and regulators' appetites for further corporate consolidation.
The deal is the latest attempt by T-Mobile, operated by Germany's Deutsche Telekom, and Sprint, run by the Japanese conglomerate SoftBank, to combine forces as they seek to amass subscribers and challenge the national footprints of AT&T and Verizon, particularly at a time when the industry is racing to deploy the next generation of ultra-fast wireless technology, called 5G. For Sprint, which hasn't had a profitable year in more than a decade, the merger would be a bailout.
T-Mobile and Sprint have sought such a tie-up in the past, and much as before, they could face tough regulatory scrutiny in Washington. Federal officials have repeatedly signaled that they think consumers are best served when there are at least four national wireless providers competing against one another, not just three.
This time, though, executives for Sprint and T-Mobile aim to persuade regulators in the Trump administration that offering 5G wireless service around the country — a network for smartphones, internet-enabled cars and other technologies — will require more resources than either of the two carriers could sustain individually.
"This combination will create a fierce competitor with the network scale to deliver more for consumers and businesses in the form of lower prices, more innovation, and a second-to-none network experience — and do it all so much faster than either company could on its own," T-Mobile Chief Executive John Legere said in a statement. Under the merger announced Sunday, Legere would serve as leader of the combined company.
"As industry lines blur and we enter the 5G era, consumers and businesses need a company with the disruptive culture and capabilities to force positive change on their behalf," he said.
If they complete their deal as proposed, a combination of T-Mobile and Sprint could unseat AT&T as the country's second-biggest wireless provider. The new firm, operating under the name T-Mobile, would have roughly 100 million customers, more prepaid and postpaid subscribers in the United States than AT&T's 93 million. And it would put the newly formed wireless giant within striking distance of Verizon's customer base of 116 million.
The combined company would have about $74 billion in annual revenue, compared with Verizon's $88 billion in wireless revenue and AT&T's $71 billion.
"Telecom is a scale business," said Blair Levin, a policy advisor for the analysis firm New Street Research. "There are huge advantages of scale, and T-Mobile and Sprint have been carrying the cost of a network over a much smaller number of customers."
Yet the companies must overcome myriad political hurdles — including heightened wariness about the rapid pace of consolidation in the media and telecom industries. From President Trump to Sen. Elizabeth Warren (D-Mass.), policymakers recently have spoken out against these deals and may train their fire soon on T-Mobile and Sprint's latest gambit.
For years, T-Mobile and Sprint had flirted with such a combination, only to abandon their plans because of political troubles or boardroom squabbles. In 2014, Sprint dropped an attempt to acquire T-Mobile after the Obama administration hinted it would probably block the merger because eliminating a rival would be bad for competition. Those same concerns thwarted AT&T's plan to acquire T-Mobile in 2011.
The Federal Communications Commission and the Justice Department — which will review the newly formalized merger to ensure it protects consumers and competition — declined to comment. T-Mobile and Sprint said they expect the deal to close by the first half of 2019.
But some analysts say the government's argument for opposing such a merger in 2014 since has proven correct. Preventing consolidation paved the way for T-Mobile to launch its "Uncarrier" campaign to reshape the wireless industry, said Craig Moffett, a telecom analyst at the research firm MoffettNathanson. The result has been lower prices and more consumer-friendly business practices, such as the end of long-term customer contracts.
The Justice Department's 2014 "decision to block the transaction has been validated in every conceivable way," Moffett said. "T-Mobile has not only survived — it has thrived. The market has become more competitive. Consumers have unambiguously benefited…. That poses a problematic backdrop for this merger."
For Sprint, the troubles have been more acute, not the least because it holds considerable debt. Combined, though, the two wireless companies are bound to argue they're better positioned to deploy the infrastructure necessary to power 5G. They already have pledged to invest $40 billion in their network in the first three years after they merge.
Cost savings from the merger could amount to $64 billion, according to some analyst estimates. Meanwhile, T-Mobile and Sprint are poised to cite recent efforts by the cable industry to launch nascent wireless products, such as Comcast's Xfinity Mobile, as evidence that in recent years, the marketplace has changed and new competitors have joined the scene.
"This isn't a case of going from four to three wireless companies — there are now at least seven or eight big competitors in this converging market. And in 5G, we'll go from zero to one. Only the New T-Mobile will have the capacity to deliver real, nationwide 5G," Legere said in a statement.
Another wild card may be Sprint's and T-Mobile's foreign ownership. In 2013, SoftBank paid $21.6 billion for a 72% stake in Sprint. SoftBank's chief executive, Masayoshi Son, has since increased his company's stake to roughly 85%.
But the White House has frequently taken aim at mergers involving foreign companies. Broadcom — a chip manufacturer that was based in Singapore until this month, when it relocated to Delaware — was forced to abandon its takeover of San Diego chipmaker Qualcomm over concerns that such a takeover could give China an edge in the development of 5G networks.
Trump has also opined on other companies in the telecom and media industries that are seeking deals. He famously attacked AT&T's proposed purchase of Time Warner during his 2016 presidential campaign, for example, citing the deal as an example of too much power "in the hands of too few." The Justice Department is wrapping up its trial to block that $85-billion merger, and a court decision is expected in the coming weeks.
Although much of the staff at the Justice Department and the FCC has not changed since the Obama administration, the 2016 election brought new leaders to the agencies who might find T-Mobile and Sprint's arguments persuasive, Levin of New Street Research said.
But T-Mobile and Sprint's promises, particularly on 5G, require regulators to "guess" what may happen next at the expense of competition, said Tom Wheeler, who was chairman of the FCC when AT&T was pursuing T-Mobile in 2011.
"The Trump FCC has seldom met a corporate proposal they don't like," Wheeler said. "This is something that is going to benefit the companies, and there is no proof that it will benefit consumers."
Under terms of the deal, Deutsche Telekom will end up with a 42% ownership stake in the combined company, and SoftBank will have 27%. T-Mobile's Mike Sievert will be president and chief operating officer. T-Mobile Chairman Tim Hoettges will serve in that role at the combined company, and the board will include SoftBank CEO Son.
The companies said they expect synergies of about $43 billion based on net present value, with most of the savings coming from network spending. Combining networks will eliminate future costs to upgrade and operate one of the networks, and by consolidating overlapping properties, the combined company can vacate unnecessary antenna towers. Neville Ray, T-Mobile's chief technology officer, said the combined company plans to decommission 35,000 cell sites.
Unlike mergers that achieve cost savings by eliminating duplicate staff, the executives plan to keep dual headquarters in Bellevue, Wash., and Overland Park, Kan. Sievert said the combined worldwide workforce of about 240,000 employees will increase once the merger is complete. Most of the new jobs will be network related, many in rural areas where network expansion is planned.
The combination values each Sprint share at 0.10256 of a T-Mobile share, the companies said Sunday, or about $6.62 a share based on T-Mobile's Friday closing price of $64.52. Sprint closed Friday at $6.50 a share.
Romm and Fung write for the Washington Post. Bloomberg was used in compiling this report.
---
UPDATES:
5 p.m.: This article was updated throughout with additional details.
This article was originally published at 9:35 a.m.
---
Sign up for the California Politics newsletter to get exclusive analysis from our reporters.
You may occasionally receive promotional content from the Los Angeles Times.