Activist investor Bill Ackman takes stake in Starbucks amid U.S. growth slump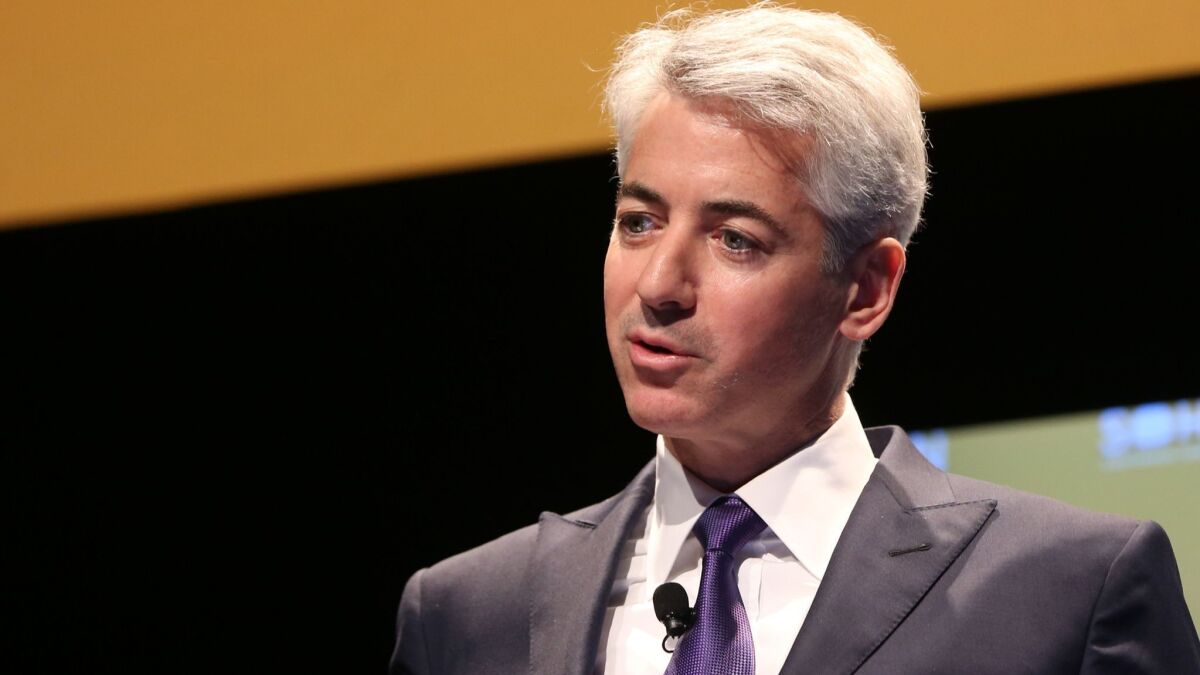 Activist investor Bill Ackman has taken a stake in Starbucks Corp., the once fast-expanding coffee chain that has seen its growth stall.
Ackman announced the move at a conference in New York, according to a person in attendance. The stake is worth about $900 million, said the person, who asked not to be identified because the matter is not public.
The coffee chain has been struggling with slow afternoon sales and a decline in its signature Frappuccino line. It's also been facing pressure as customers — who once saw Starbucks as high-end — trade up for more premium coffees.
In June, it announced plans to close about 150 company-operated stores in densely penetrated U.S. markets next fiscal year. That's three times the number it historically shuts down annually.
Last month, the company said it was also planning structural changes, including layoffs, starting at the top levels in order to help it make decisions faster.
It named a new chief financial officer Monday. Patrick Grismer joins Starbucks from Hyatt Hotels Corp., where he was CFO. In June, former CFO Scott Maw announced plans to retire this year, which spooked investors already worried about stability after visionary leader Howard Schultz departed the same month.
U.S. sales growth has stalled, although business abroad has been booming and the chain has been increasingly adding more cafes. Starbucks also faced backlash this spring after two black men were arrested at one of its stores in Philadelphia while waiting for a meeting to begin.
Starbucks is rapidly expanding in China — a market it sees as eventually surpassing the U.S. It aims to triple revenue there over the next five years and have 6,000 stores by the end of fiscal year 2022.
Starbucks shares closed up $1.17, or 2.1%, to $57.71 on Tuesday.
The company issued a statement in response to Ackman's announcement.
"We view the active, engaged dialogue that we have with shareholders as critical input into our strategic approach, and we value constructive feedback on delivering long-term shareholder value," a spokesperson for Starbucks said in the statement. "We look forward to maintaining a productive dialogue with Mr. Ackman as we do with all of our shareholders."
Ackman said in August that his hedge fund, Pershing Square Capital Management, had built up a new position valued at about $800 million in a company he didn't identify.
This year, Ackman has also disclosed new positions in industrial manufacturer United Technologies Corp., where he is advocating for a breakup of the company, and retailer Lowe's Cos., where he said he was supportive of Chief Executive Marvin Ellison's efforts to improve the company's performance.
He also sold a stake in Nike Inc. this year at a profit of about $100 million in just a few months. In August, Ackman reduced his stake in Chipotle Mexican Grill Inc. as part of a portfolio rebalancing. He sold about $401 million worth of his stock in the burrito chain, reducing his position to 7.4% from 10.4%, according to a filing.
Ackman pledged in March to end three years of underperformance at Pershing Square, calling its most recent returns at the time "particularly unsatisfactory."
That period of time was marred by his exit from a disastrous short stake in Herbalife, the Los Angeles nutritional supplement company. The company, which Ackman thought would be ruled a pyramid scheme, is still in business after a $200-million negotiated settlement with the Federal Trade Commission.
Last week, Pershing Square reported a net return of 15.8% on its investments year to date through the end of September compared with gains of about 8% for the S&P 500 during the same period. The firm's assets under management have fallen about 10% this year to about $8.4 billion, though that total is up from about $8.3 billion at the end of August.
Pershing Square had a net loss of 4% in 2017, after a decline of 13.5% in 2016.
Times staff writer Laurence Darmiento contributed to this report.
---
UPDATES:
3:30 p.m.: This story was updated with Starbucks' closing share price.
This story was published at 12:40 p.m.
---
Sign up for the California Politics newsletter to get exclusive analysis from our reporters.
You may occasionally receive promotional content from the Los Angeles Times.