3,500 protest near Fox studios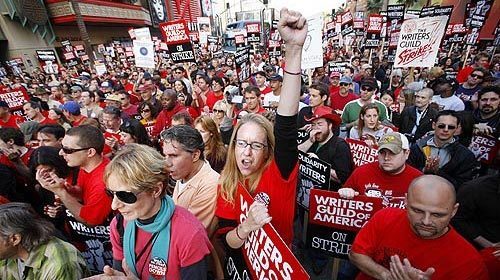 Writer Mere Smith cheers on speakers at the rally along Hollywood Boulevard.
(Barbara Davidson / Los Angeles Times)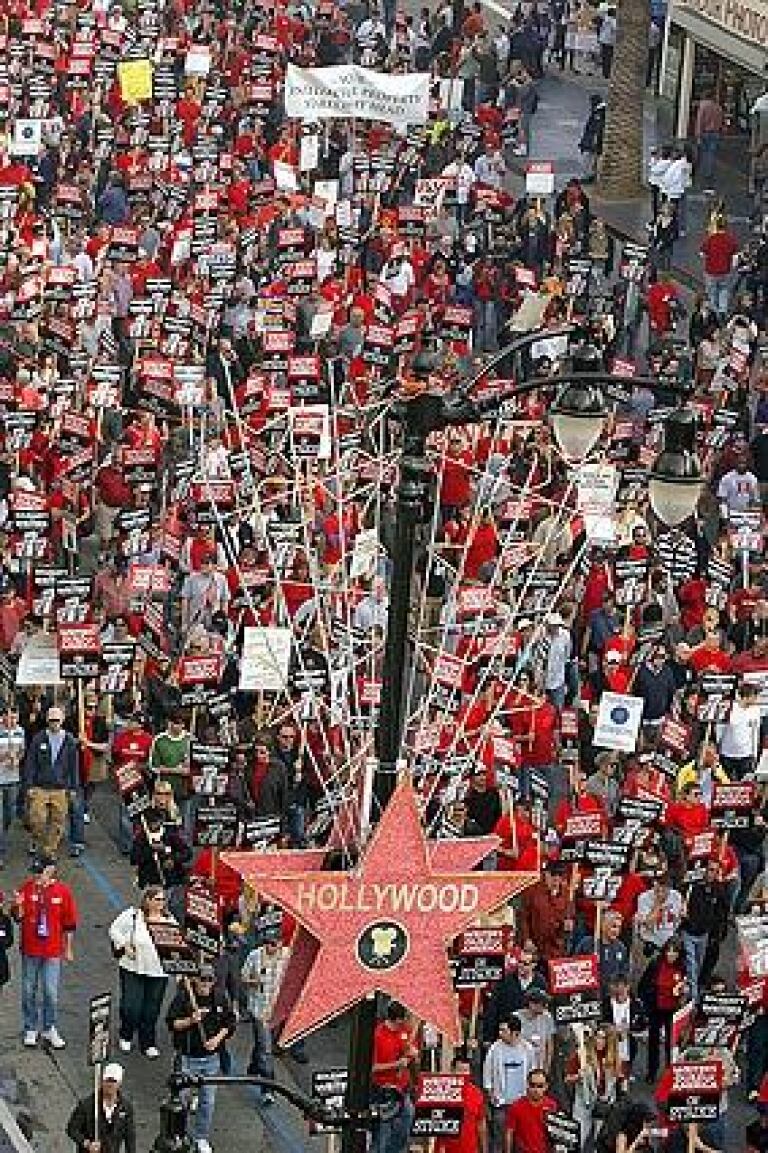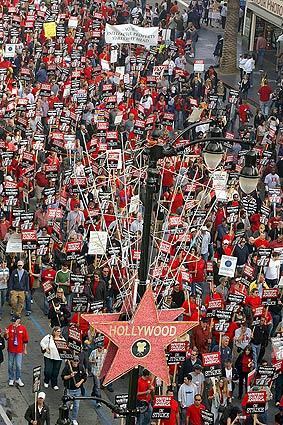 Marchers rally on Hollywood Boulevard to show their solidarity with striking members of the Writers Guild of America.
(Gary Friedman / Los Angeles Times)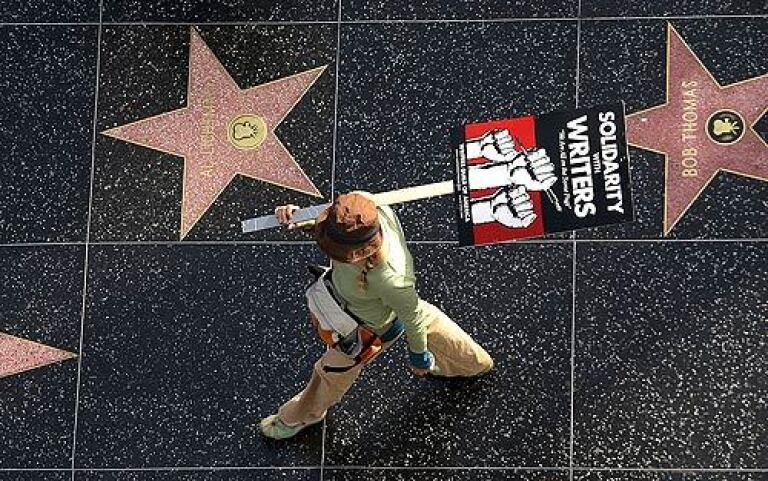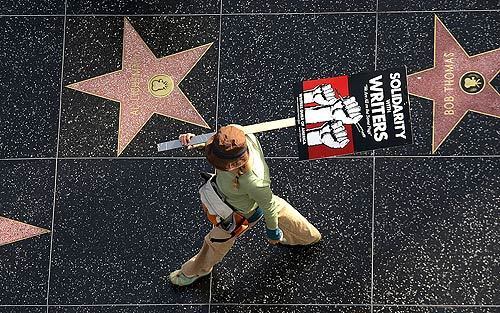 A protester carries a picket sign along Hollywood Boulevard's Walk of Fame.
(Gary Friedman / Los Angeles Times)
A young supporter listens to speakers during the "Solidarity with Writers" march in Hollywood.
(Barbara Davidson / Los Angeles Times)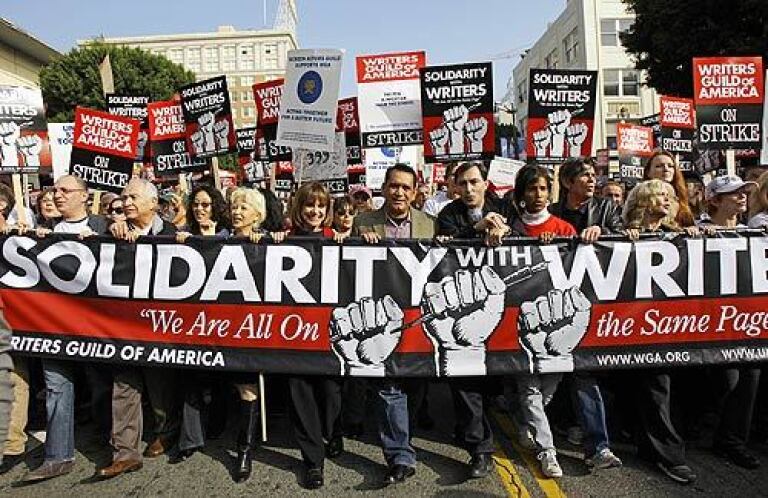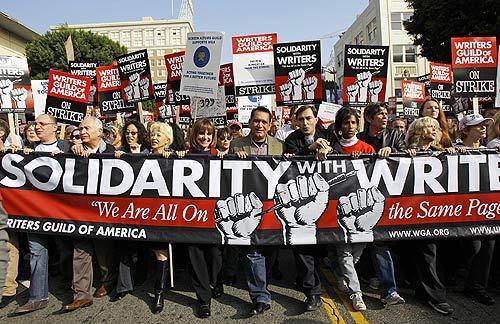 Thousands of people gathered for the march down Hollywood Boulevard on the 16th day of the writers strike. Among the supporters were politicians, actors and members of other unions.
(Kevork Djansezian / Associated Press)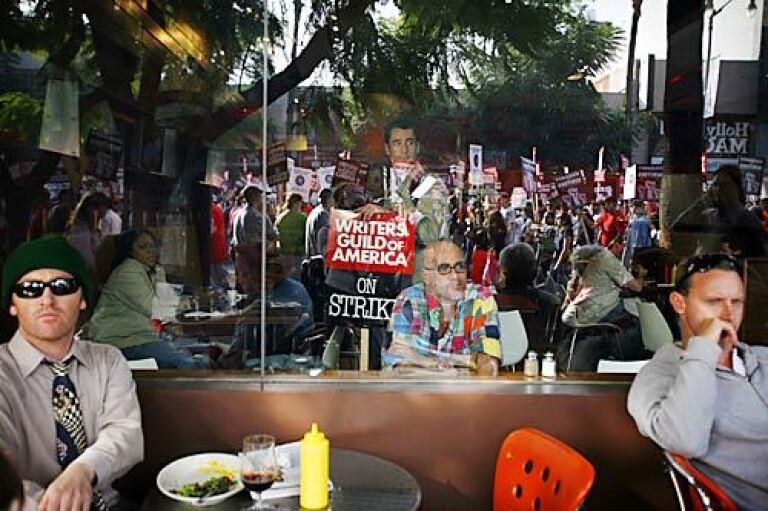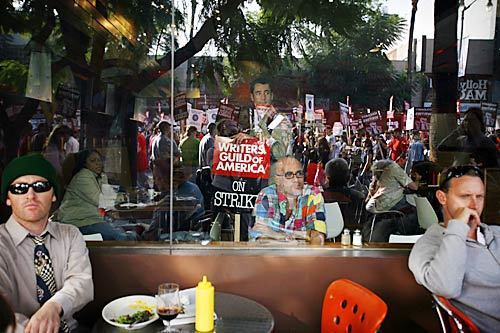 Diners at a Hollywood Boulevard restaurant look on as marchers show their support of the writers strike.
(Barbara Davidson / Los Angeles Times)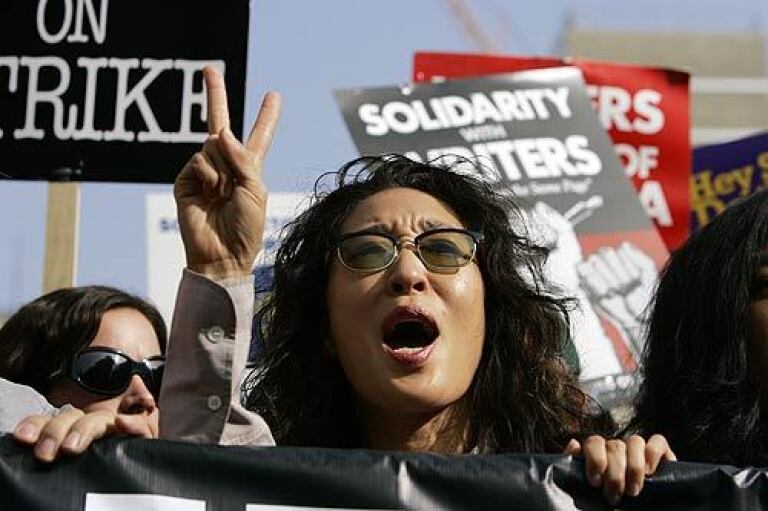 Sandra Oh of TV's "Grey's Anatomy" joins the rally.
(Kevork Djansezian / Associated Press)
Emily Blake supports the cause with her impression of a boxing ring-card girl.
(Kevork Djansezian / Associated Press)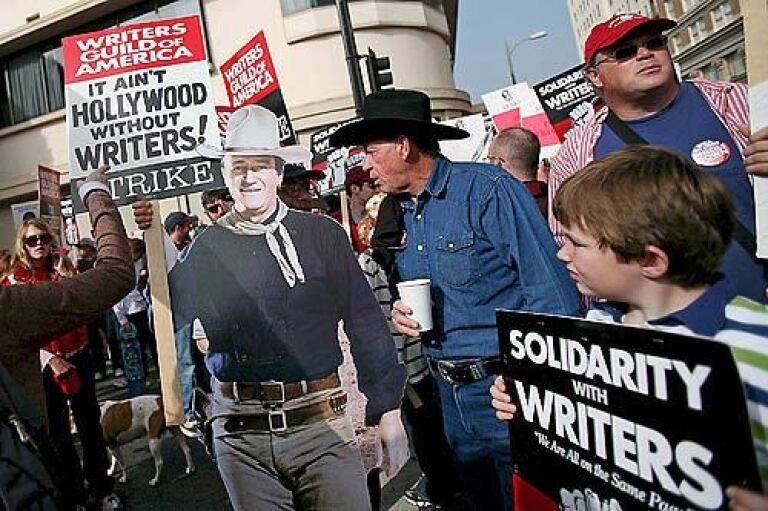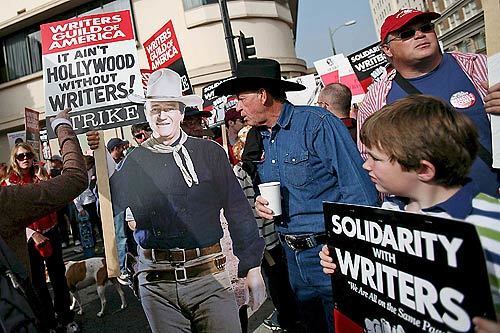 With a life-size cutout of John Wayne at his side and a black cowboy hat atop his head, Curly Twiford of the TV and Motion Pictures Animal Trainers Assn. stands in solidarity with WGA members.
(Seam Masterson / EPA)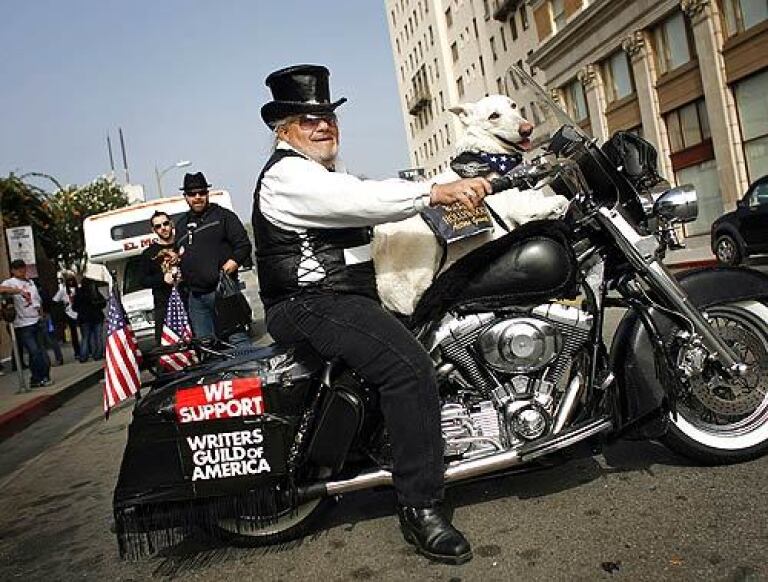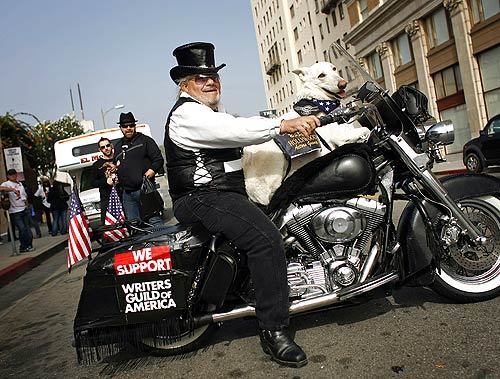 Jeremiah K. Gerbracht, of the Wild Bunch of Hollywood Actors Group, and his dog, Sir Davidson, join thousands marching in support of the Writers Guild of America.
(Barbara Davidson / Los Angeles Times)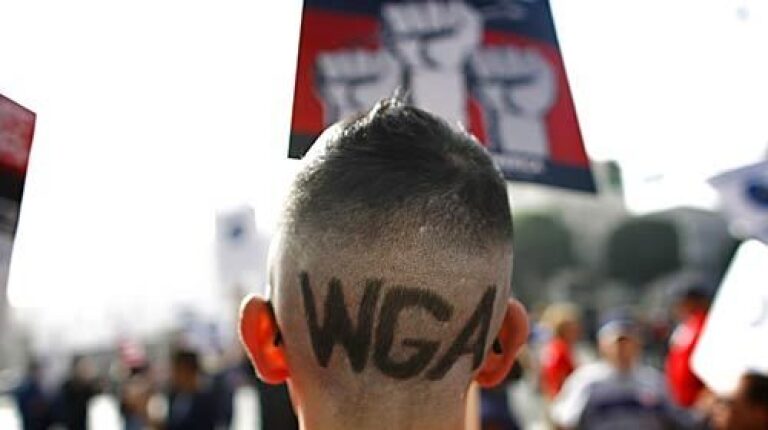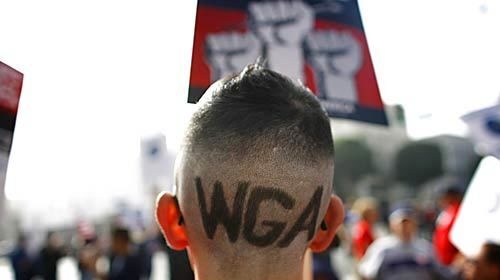 Writer Tim Tori's haircut shows his sentiments.
(Barbara Davidson / Los Angeles Times)
Los Angeles Times Staff Writer
Century City's famed Avenue of the Stars was transformed into a boulevard of determined demonstrators Friday as more than 3,500 writers, actors and supporters swarmed nearby 20th Century Fox studios to bolster their resolve for a potentially drawn-out strike by the Writers Guild of America.
The 45-minute rally produced a revivalist-like atmosphere outside the studio's executive offices at Fox Plaza tower as television's top writing talent and blue-collar industry workers mingled with Hollywood stars including Julia Louis-Dreyfus and Oscar winners James L. Brooks and Paul Haggis of "Crash" during Day Five of the strike.
Spilling into the streets and landscaping around the building, the crowd cheered various speakers that included the Rev. Jesse Jackson, producer Norman Lear and "Family Guy" creator Seth McFarland as they stood on the back of a flatbed truck exhorting the workers to stay strong.
Talks between writers and major studios broke off Sunday, primarily over reimbursement for content that is broadcast over the Internet and other new media outlets.
Jackson drew whoops of approval from the crowd when he said, "We deserve our share of the American Dream," and later when referring to civil rights leaders the Rev. Martin Luther King Jr. and Cesar Chavez in his brief address. He led protesters in several chants, including: "Forward forever, backward never" and "Save the workers, save the family, share the wealth."
Writers' negotiating committee leader John F. Bowman, chief negotiator David Young and Alan Rosenberg, president of the Screen Actors Guild, also spoke, eliciting widespread applause.
"You're going to get everything you need and [they] are going to get everything they deserve," Zack de la Rocha, front man for hard rock band Rage Against the Machine, told the crowd as he pointed up to the offices behind him. Backed by the band's guitarist Tom Morello, he belted out the militant anthem "Bulls on Parade" while a demonstrator behind him waved a sign that featured a picture of Peter Chernin, president and chief operating officer of News Corp., the parent company of Fox. The sign said "Write This!" and "Chernin made $34 million last year."
Friday's demonstration was the first mass rally since the strike began, although several studios, including Fox and Paramount, were the targets of smaller protests earlier this week.
Despite the size of the crowd, the gathering was orderly with no reported major incidents. About an hour before the mid-morning rally, police shut down part of Avenue of the Stars. Heavily traveled Pico Boulevard near Fox Studios and Rancho Park Golf Course also were closed briefly after the demonstration to allow marchers to picket in the street.
Reports that studios were laying off support staff and issuing "breach of contract" letters to TV show runners did little to dull the spirit of the marchers, who were energized by voluminous supplies of water, juice and bagels handed out by guild staff and volunteers.
Shawn Ryan, show runner of FX's "The Shield," said his contract was suspended without pay as of Wednesday.
"I will lose money with this strike. But it's not about me," he said. "I benefited from the guild in the past. Now it's my turn to sacrifice for the people who come after me."
Veteran producer and director Jon Avnet said the strike was more inspiring than the one 20 years ago. "This is very different, a very real unity," he said.
McFarland said he was impressed by the enthusiasm. "We are going to win this thing," he said.
Steven E. de Souza, who wrote "Die Hard," stood in front of the building on Avenue of the Stars where that blockbuster movie was shot and where Bruce Willis' famous jumping scene unfolded. De Souza said he wanted to send a message to Gov. Arnold Schwarzenegger, who starred in another movie that de Souza wrote, 1985's "Commando."
Pretending that he was knocking on the governor's trailer, De Souza said: "Fifteen minutes, Mr. Schwarzenegger. We need you on the set."
Times staff writer Lorenza Muñoz contributed to this report.
RELATED STORY Portrait: A striking writer is on the financial edge. E1
---
Must-read stories from the L.A. Times
Get the day's top news with our Today's Headlines newsletter, sent every weekday morning.
You may occasionally receive promotional content from the Los Angeles Times.