High prices and student loans put housing out of reach, readers say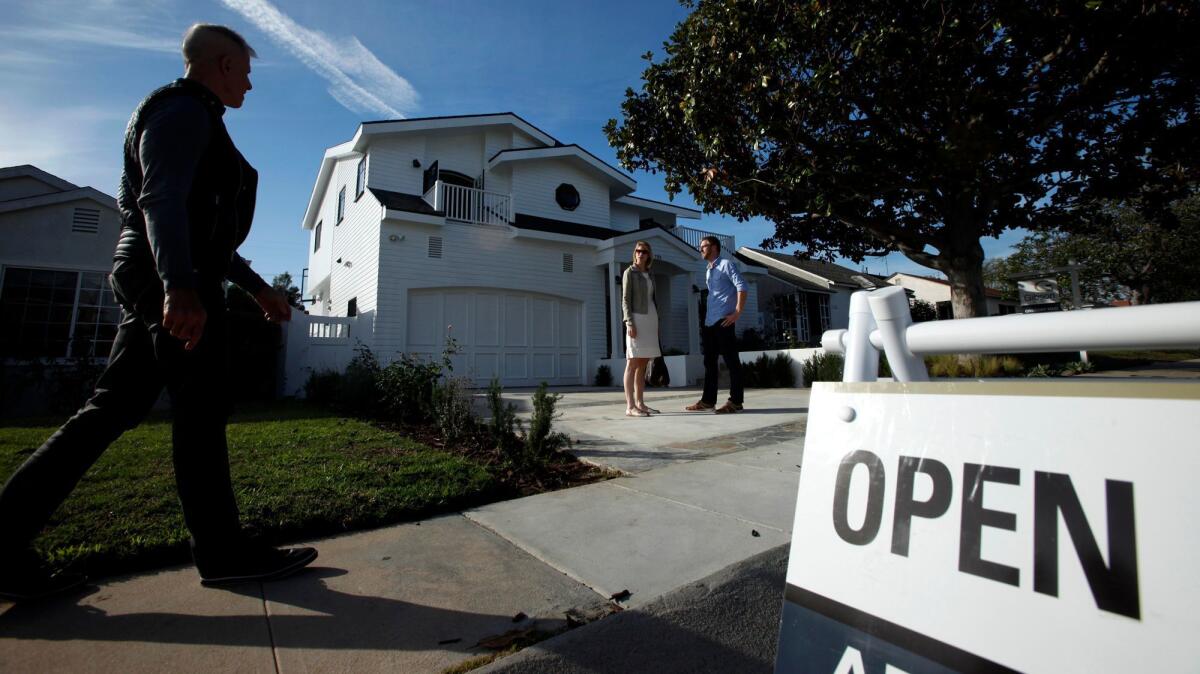 Courtney Pickard is a real estate agent who holds an MBA from Loyola Marymount University and makes around $100,000 a year.
But Pickard, 27, said she can't buy a house.
"My goal right now is to be a homeowner by 34," she said. "It's a lofty goal."
Pickard is among the dozens who responded to a Times social media inquiry seeking people to talk about problems buying a home with loads of student debt.
Pickard said her inability to become a homeowner stems from two factors: her debt and the high cost of housing in Southern California. The Los Angeles resident said that when she left LMU she had $115,000 in student loans and now, after "aggressively" paying it off, has only around $33,000 left.
But by doing so, she hasn't been able to save for a traditional down payment, which in Los Angeles County would be $113,800 if she put 20% down on a median-priced home.
Pickard estimates she could buy a house here in several years, but the Colorado native wonders if it's even worth it.
"The thing that crosses my mind more and more is should I leave L.A., because I can live somewhere else for $500,000 and have a mansion and have land," she said.
Others responded that student loans were holding them back as well.
"It's a huge scam, and if I could go back, I would skip law school JD and stick with the BA," one reader wrote in an email. "I'll never be able to buy a house, especially with credit falling since [a] divorce and the high loan debt."
Yosef Mahmood, 30, said he and his wife have "talked on and off about home ownership for a couple years."
"But we are basically of the mindset that we just can't afford it," Mahmood wrote in an email. "When half our income goes out the door every month with loans and rent, it's hard to save for a down payment."
Some on Facebook scoffed at people who said they couldn't afford to purchase a home.
"Now all the babies will be crying about having a loan and can't get a house. You were not the only ones that have gone through this. Grow up already and get a job, work hard and save money like everyone else did," one Facebook user wrote.
That drew a response from another reader: "We did all of that and because of student loans, we couldn't get approved for a house."
Fannie Mae — the government-controlled mortgage giant — has rolled out changes that reduce how much money borrowers have to put down to get a mortgage and to assist home buyers with heavy student debt.
They include counting a borrower's actual student loan payment for debt-to-income ratios if the borrower is on an income-based repayment plan. Before, lenders often had to count 1% of the loan balance as the monthly payment.
Those changes may help some people get into houses, but it will still be a struggle in California, where according to the California Assn. of Realtors, only 32% of households can reasonably afford the median-priced house.
"I'm working harder than my father ever did, and he was able to buy a beautiful home in Claremont, raise three kids, and retire at 55. He didn't even have a college degree! The baby boomers played life on easy mode," said one Facebook user.
Follow me @khouriandrew on Twitter
ALSO
Prominent anchor Maria Elena Salinas steps down from Univision
Amid affordability worries, mortgage industry moves to ease home lending standards
Cybersecurity expert hailed for stopping WannaCry attack is suspected of unleashing another virus