California sues Sutter Health, alleging the hospital system unfairly inflated costs for patients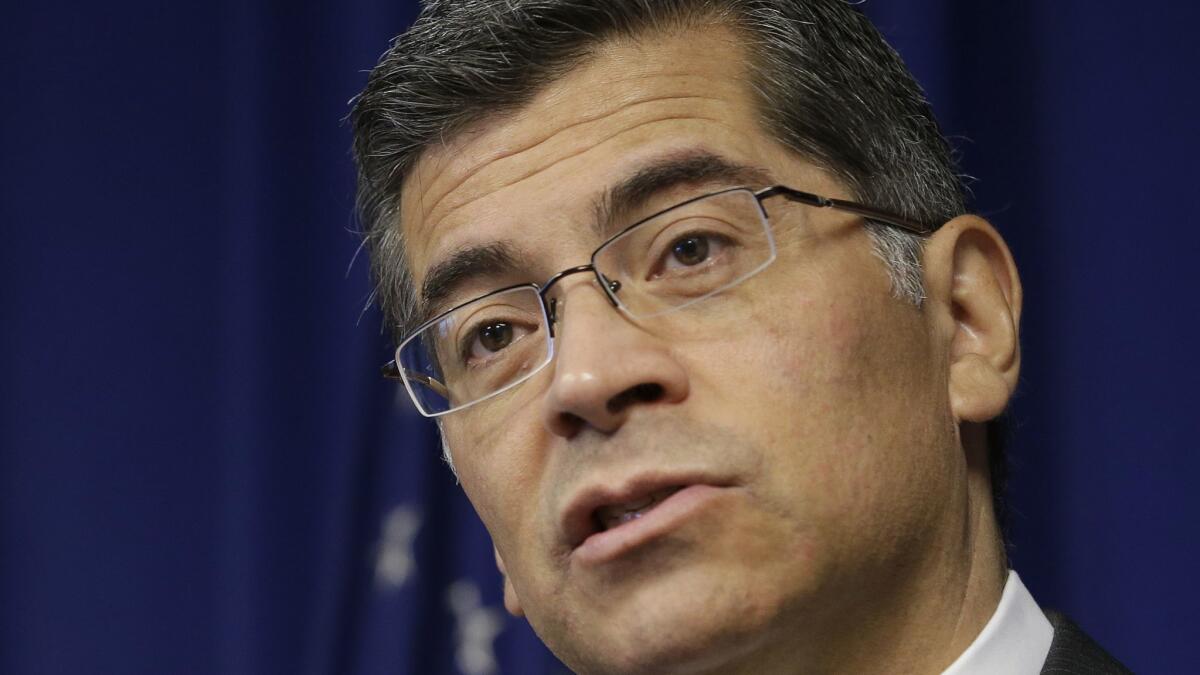 In a high-profile legal action aimed at the financial cost of healthcare consolidation, California's attorney general has sued Sutter Health, the largest hospital system in Northern California, alleging anticompetitive business practices that unfairly drove up costs for patients.
The lawsuit filed Friday in San Francisco County Superior Court alleges that Sutter Health engaged in "anticompetitive contractual practices" and that it charged prices for hospital healthcare services that far exceed what the company would have been able to charge in a competitive market.
The complaint also alleges that the excess profits went toward extreme levels of executive compensation, purchasing other health firms and financing the company's insurance arm.
"It's time to hold healthcare corporations accountable and bring down illegally inflated healthcare costs that are imposed on California's families," state Atty. Gen. Xavier Becerra told reporters in Sacramento. "We seek to stop Sutter from continuing this illegal conduct."
Sutter Health is aware that a complaint was filed, but system administrators had not seen it and therefore declined to comment on specific claims, spokeswoman Karen Garner said.
"Sutter Health is proud to save patients, government payers and health plans hundreds of millions of dollars each year by providing more efficient and integrated care," Garner said in a statement, adding that "on average, total charges for an inpatient stay in a Sutter hospital are lower than what other Northern California hospitals charge."
Sutter consists of some two dozen acute-care hospital facilities with 8,200 physicians and 48,000 employees in 19 counties in Northern California, according to the state Department of Justice. The company's nonprofit health system has 35 surgery centers and 32 urgent care clinics. Sutter reported net income of $893 million last year on $12.4 billion in revenue.
Becerra alleged that Sutter set "excessively high" prices for out-of-network healthcare and restricted insurance companies from providing low-cost options.
The lack of competition for healthcare in California has concerned state officials for some time, and this latest legal fight will attract attention from employers and policymakers across the country amid growing alarm about the financial implications of industry consolidation.
A 2016 study found that hospital prices at Sutter and Dignity Health, the two biggest hospital chains in California, were 25% higher than at other hospitals around the state. Researchers at the University of Southern California said the giant health systems used their market power to drive up prices — making the average patient admission at both chains nearly $4,000 more expensive.
This week, researchers at UC Berkeley issued a report that examined the consolidation of the hospital, physician and health insurance markets in California from 2010 to 2016. The authors said 44 of California's 58 counties had "highly concentrated" hospital markets.
The problem is worse in Northern California, and the report said prices for medical procedures are often up to 30% higher there than in Southern California, which has more competition. Becerra cited the Berkeley study, which said the average patient hospital procedure in Northern California, $223,278, exceeded that in Southern California, $131,586, by more than $90,000.
Sutter Health has gobbled up doctor practices across the Bay Area, gaining market muscle that has pushed costs upward. Obstetrician-gynecologists employed by Sutter Health, for example, are reimbursed about three times more for the same service than independent doctors, according to a Kaiser Health News review of OB-GYN charges on several insurers' online cost estimators. It's a key reason why Northern California is the most expensive place in the country to have a baby.
Becerra's lawsuit could build off a similar civil case filed in 2014 by a grocery workers' health plan.
The plaintiffs in that case, scheduled for trial next year, allege Sutter is violating antitrust and fair competition laws. The plaintiffs have been requesting documents related to contracting practices, such as "gag clauses" that prevent patients from seeking negotiated rates and choosing a cheaper provider. They also are challenging "all-or-nothing" terms that require every facility in a health system to be included in insurance networks.
In November, the state judge handling the grocery workers' case said Sutter was "grossly reckless" when it intentionally destroyed 192 boxes of documents that employers and labor unions were seeking in the lawsuit. San Francisco County Superior Court Judge Curtis E.A. Karnow said Sutter destroyed documents "knowing that the evidence was relevant to antitrust issues. … There is no good explanation for the specific and unusual destruction here."
The lead plaintiffs, the United Food and Commercial Workers and its Employers Benefit Trust, are a joint employer-union health plan that represents more than 60,000 employees, dependents and retirees. The court certified its case as a class action in August, allowing hundreds of other employers and self-funded health plans to potentially benefit from the litigation.
Terhune writes for Kaiser Health News.