Many Tesla drivers are happy to help company test its 'beta' autopilot feature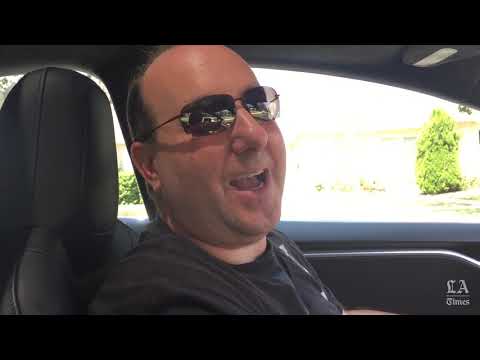 Jason Fudenberg, president of the Los Angeles Tesla Owners Club, drives a Tesla using autopilot on the 101 Freeway near Sherman Oaks.
Jason Fudenberg is a willing test pilot for Tesla Motors Inc.'s self-driving car technology.
As such, Fudenberg, 45, has had some issues with the autopilot feature on his Model X SUV. Once he was approaching a shredded tire while using the vehicle's autopilot mode and had to manually switch lanes because the car "won't swerve out of lanes for you," he said.
At other times, the Sherman Oaks resident's car has driven too quickly for his comfort because it couldn't tell that traffic had stopped about a half mile ahead. And on several occasions, the car drifted out of a lane because it seemed to not be tracking white lines on the road.
Fudenberg, the chief information officer at tech consulting firm Sandbox Technologies and president of the L.A. Tesla Owners Club, said glitches are a part of all software updates; his job is to point out those flaws to Tesla.
"You can't find every bug and every problem before you release something," said Fudenberg. "Being a tech guy, I feel like I am helping the system become better."
News of a fatal crash in May of a Model S sedan engaged in self-driving mode has done little to dampen the loyalty of many Tesla drivers to the electric-car maker.
Several drivers, like Fudenberg, said they view themselves as part of the test process for the autopilot feature – which the Palo Alto company describes as still being in beta mode.
Since its founding in 2003, Tesla has steadily garnered an extremely devoted fan base, akin to that of Apple Inc. Drivers eagerly pounce on the latest blog posts and tweets from the company and its chief executive, Elon Musk.
Part of the Tesla mystique is the company's very opposition to business as usual. Its electric cars don't rely on fossil fuel. The company sells through showrooms, not car dealers. Updated features arrive via software downloads.
This spring, Tesla drivers came out in droves to place more than 115,000 pre-orders in 24 hours for the latest car, the Model 3, which won't even be available until 2017 at the earliest.
"I am loyal to the idea of what Tesla stands for," said Liz Gattra, one of the organizers of the St. Louis Tesla Enthusiasts Group. "As Elon says, it is there to change the world."
Gattra, 44, had her own nerve-wracking moment with the autopilot feature when she was test-driving a Model S sedan in January.
She said she noticed the car tended to hug the inside white line when she passed a semi truck, which made her more vigilant around those vehicles.
The fatal crash in Williston, Fla., occurred when driver Joshua Brown's Model S crashed into a tractor trailer while on autopilot.
According to a Tesla blog post, "neither Autopilot nor the driver noticed the white side of the tractor trailer against a brightly lit sky, so the brake was not applied." The sedan passed under the trailer and the bottom of the trailer hit the car's windshield.
Gattra said Brown's accident would make her "more attentive" the next time she drove using autopilot. But it didn't shake her confidence in the system.
Several owners said the feature can lull drivers into a false sense of security and that they have eaten or texted while using autopilot.
In a blog post, Tesla said every time autopilot is activated, it reminds drivers to "Always keep your hands on the wheel. Be prepared to take over at any time," and that visual and audible sensors alert drivers when it senses hands are off the wheel.
"I think people need to pay attention regardless of being on autopilot, cruise control," said Greg Schenk, 56, who drove from Columbus, Ohio, to a suburb in Delaware last weekend with autopilot enabled on his 2015 Model S.
"Any accident can happen, regardless of autopilot or not," he said.
Schenk said his sedan got very close to concrete barriers while he drove through a construction zone on narrow roads in Pennsylvania; the car beeped and he grabbed the wheel. He said he will continue to use the autopilot feature.
Some drivers have had conflicts with Tesla over other issues with its cars, including claims of unintended acceleration.
Last year, Irene Yuen's 2015 Model S, which was not on autopilot, crashed into a wall while she was parking.
Yuen says Tesla told her its software logs showed she had depressed the pedal 97% of the way. She disputes that and says she did not have her foot on the brake or accelerator.
"You're not going to be a believer until it happens to you," says Yuen.
She acknowledges that other carmakers, such as Toyota, have had problems with unintended acceleration. But she says Tesla seems to be relying heavily on its own data to assign blame.
Since 2013, the National Highway Traffic Safety Administration has received at least 15 other complaints from people who alleged their Teslas suddenly accelerated without the driver intending to move forward.
One of them is Puzant Ozbag, who said his wife was slowly pulling into a parking space at a shopping center in Irvine in June when her Model X careened into a brick wall.
Ozbag is driving a loaned Model S while the Model X is being repaired, but he said his wife refuses to go near another Tesla vehicle. And Ozbag has no desire to try out autopilot.
"Before this happened to us or before the fatal accident happened, I would have played with it," Ozbag said. "But not today, not anymore."
ALSO
Fatal Tesla crash exposes lack of regulation over autopilot technology