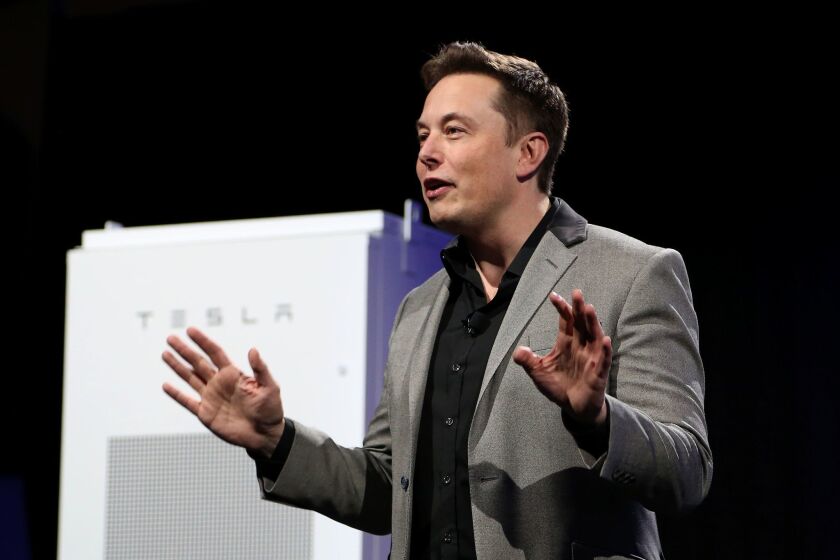 Tesla announced Thursday that it has been selected by Southern California Edison to build a battery project at the utility's Mira Loma substation that will have the largest output of any existing lithium-ion storage facility.
When Tesla's big battery system is expected to come online by Dec. 31, it will store 80 megawatt hours of energy, enough to power more than 2,500 households for a day, Tesla said.
The battery system is designed to increase reliability of the electric grid by taking a charge from it during off-peak hours and delivering power to customers during peak hours.
Edison and other California utilities are under a 2013 order by the state Public Utilities Commission to install 1.3 gigawatts of storage capacity by 2020. One gigawatt is the equivalent of 1,000 megawatts.
Paul Griffo, an Edison spokesman, said the company was ahead of schedule in meeting its 2016 targets. And while cost for energy storage has been a factor in wider use of the technology, Tesla's project met state regulators' requirements for competitive prices, he said.
"Much like renewable resources, we expect to see a declining cost curve in energy storage over time," Griffo said.
Projects already are under development that will have five times the output of Tesla's.
AES Corp. is building a 100-megawatt system at the Alamitos Power Center in Long Beach.
In 2014, Edison announced the opening of its Tehachapi energy storage facility, which, at the time, was the largest storage building in North America. The Tesla project will be more than twice the size of the Tehachapi plant.
"Accounting for power and duration combined, [Tesla] will be the largest for a bit," said Matt Roberts, a spokesman for the Energy Storage Association. But Roberts said the AES project "is the largest lithium system ever announced, and is due to be completed in the next couple years."
Tesla responded to a request for proposals by Edison to create more electricity storage to supplement the Aliso Canyon natural gas storage facility, which has been out of service following a leak in one of its wells last fall.
The Aliso Canyon plant is the state's largest storage facility. Southern California Gas says the storage facility is needed to ensure ample supply of natural gas for power plants, homes and businesses in Southern California.
Bill Powers, of San Diego-based Powers Engineering, has argued at public hearings and in reports that Aliso Canyon isn't needed. Powers said Tesla's battery project highlights that there are other solutions to meeting the energy needs of Southern Californians.
"It is good news that it is being fast-tracked," said Powers, adding that installing the batteries at a substation such as Edison's Mira Loma facility makes it easier to deliver large-scale battery storage. "It's not cutting edge," Powers said, "but it is kind of the simplest way to do batteries."
Twitter: @ivanlpenn
---
UPDATES:
2:20 p.m.: This article has been updated with comment from Southern California Edison spokesman Paul Griffo.
1:35 p.m.: This article has been updated with additional details and analysis.
The article was originally published at 10:25 a.m.
---