Why theme parks are spending millions to give guests free Wi-Fi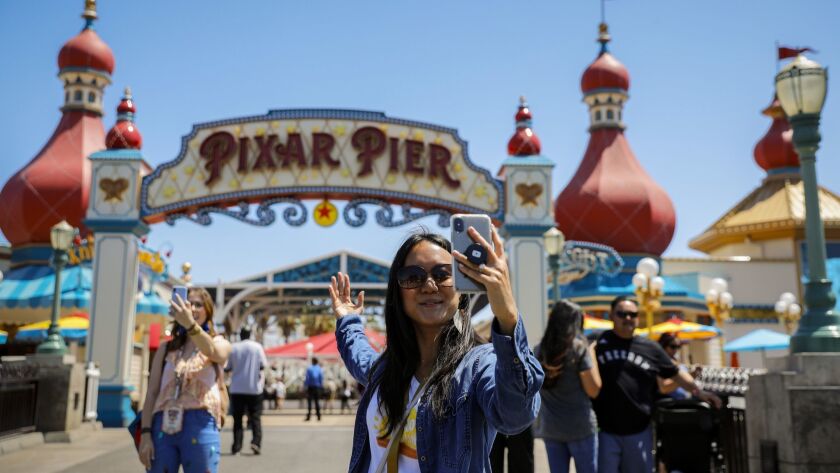 Stand by the Hyperion Theater at Disney California Adventure Park and you may be able to connect to the internet with speeds fast enough to stream a video about your day in the park.
But if you try that on the boardwalk at nearby Pixar Pier, you'll find yourself on a less-than-nostalgic trip to a pre-internet age, said Paul Barrie, host of "Window to the Magic," a biweekly podcast about Disney attractions and other happenings.
"If I'm streaming, I have to be careful where I am to get best possible picture out of the park," he said.
In this pics-or-it-didn't-happen era, a selfie unposted represents a financial opportunity squandered for theme park operators. For that reason, parks have begun investing heavily in improving internet access for visitors, primarily by expanding their free, in-park Wi-Fi systems.
"People can't live without Wi-Fi anymore," said Dennis Speigel, president of the Ohio-based consulting firm International Theme Park Services. "They need access to it all of the time."
The Disneyland Resort recently has been adding new Wi-Fi hot spots throughout its two Anaheim parks, and Universal Studios Hollywood said it has worked over the last two years to expand and upgrade its Wi-Fi service throughout its park. Six Flags Magic Mountain began offering free Wi-Fi parkwide in 2016.
None of the parks would disclose how much they have invested in such upgrades, but industry experts say such systems can cost millions of dollars, depending on how many park guests the system is expected to serve.
Three years ago, Los Angeles International Airport upgraded its free Wi-Fi system to increase speeds at a cost of $1.5 million.
One element of a theme park Wi-Fi system is the access points — the stations that transmit and receive data. For every 250 to 500 people in a park, industry experts suggest installing one access point at a cost of as much as $3,000 each. For a park like Disneyland, which serves as many as 40,000 visitors a day, that could require up to 160 access points, costing as much as $480,000.
"We are constantly evaluating needs and introducing new technology in the parks to enhance the guest experience," said Liz Jaeger, a spokeswoman for the Disneyland Resort.
But theme parks are not investing in free internet service just to keep tech-loving guests like Barrie happy. There is big money to be made with in-park Wi-Fi because it lets guests promote the park on social media and it gives the park access to valuable data about visitors.
Industry experts note that videos, pictures and messages dispatched from theme parks to social media sites help promote the parks to millions of potential guests on Twitter, Facebook, Instagram and Snapchat, among other sites. Last year, Disneyland was the most Instagrammed location in the world, according to the photo-sharing app.
"There is an entire new industry of people posting pictures, going live, streaming while at a theme park or creating photo reports," said Martin Lewison, a theme park expert and business management professor at Farmingdale State College in New York.
That was evident during a recent preview event for the new Kung Fu Panda attraction at Universal Studios Hollywood, where online bloggers and podcasters such as Theme Park Insider and Inside the Magic far outnumbered traditional news reporters in the media stands.
Free Wi-Fi is also important because most theme parks want guests to sign in to smartphone apps created by the parks to book times to ride attractions without waiting in long lines, order food in the park or monitor the wait times of their favorite rides.
Some theme park apps also offer guests upgrades — such as passes to avoid ride queues — for an extra price.
Disneyland launched a smartphone version last year of its ride reservation system, calling it Maxpass. It operates from the park's smartphone app, and unlike the free Fastpass reservation system that dispenses paper tickets from kiosks in the parks, the digital Maxpass costs $10 a day.
But if guests' smartphones can't connect to the internet, such apps are useless.
"Parks have realized that most guests will already have a smart device with them in the park and they can consolidate a whole bunch of services and information into an app for guests to use," said Martin Palicki, publisher of InPark Magazine, an online trade publication about theme parks and other types of attractions. "All of this, of course, works a lot better when it runs on a robust Wi-Fi network."
Two years ago, Universal Studios Hollywood launched a new mobile app that includes a map that lists the minimum wait times for all rides and the locations of restrooms and eateries, such as Lard Lad Donuts and Suds McDuff's Hot Dogs.
Since then the park has "made significant upgrades to its Wi-Fi to help maximize the guest experience and enable them to immediately share their experiences with their friends on their social platforms," park spokeswoman Audrey Eig said.
Lewison, the Farmingdale State College professor, said such apps help the parks drive more spending.
"They are certainly getting cash flow out of it right away," he said of the apps and the Wi-Fi connections at theme parks.
Theme park operators also hope that internet access will help keep guests entertained while they are stuck in long attraction lines.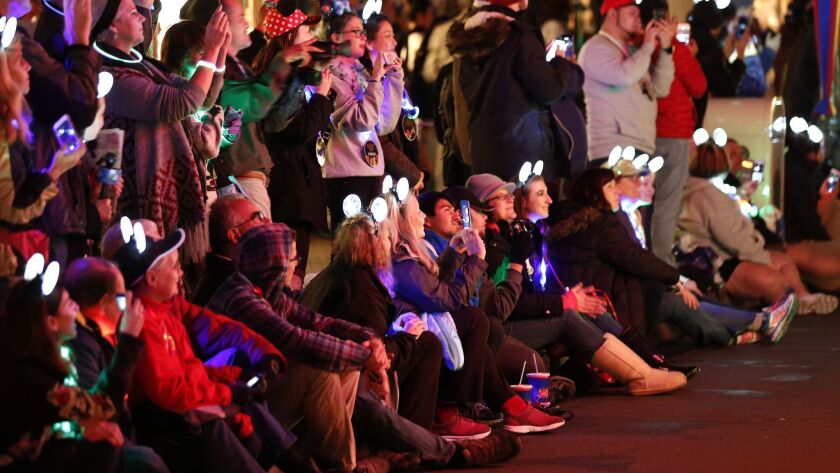 Disneyland recently launched the Play Disney Parks app that offers trivia games and music tracks to keep guests entertained while waiting in queues that can last as long as two hours.
But when theme park visitors sign in to the park's public Wi-Fi, they may be giving the park digital information that can be used to create a profile of the parkgoers for marketing purposes, according to industry experts.
"When visitors sign up, the park immediately has a profile of that person that they would never have unless they sat them down for an interview," said Dan Stokich, executive director of enterprise accounts at CarrierBid Communications, a Phoenix telecommunications company that helps build Wi-Fi systems for theme parks and other large businesses.
Cisco Systems reported in 2014 that it had installed a Wi-Fi system for Spain's PortAventura theme park, and the technology company based in San Jose went on to tout that "when people first use the Wi-Fi network, they're asked for their email address, age and gender. This gives the park more data about its visitors."
The privacy settings for the Universal Studios Hollywood app say the park's parent company, NBCUniversal, can collect from guests such information as an IP address, browsing activity, keystroke activity, web pages viewed, location information and viewing behavior.
"Certain information may also be stored while you are offline and transmitted to us when you next connect to the Internet, regardless of where you connect from or the device you use to connect," according to the NBCUniversal privacy settings.
Eig said Universal Studios Hollywood does not use the information collected from the app to send promotional material to guests.
The privacy policy displayed on the new Play Disney App says Walt Disney Co. can use the information it collects from apps and other sources to "send you offers and promotions for our products and services or third-party products and services."
The policy also says the company can use the information it gathers from guests to "detect, investigate and prevent activities that may violate our policies or be illegal."
When asked to elaborate on such data collection, a Disney representative said the rules are spelled out in the app's privacy clause and would provide no additional information.
To read more about the travel and tourism industries, follow @hugomartin on Twitter.
---
For reporting and exclusive analysis from bureau chief John Myers, get our California Politics newsletter.
You may occasionally receive promotional content from the Los Angeles Times.