With sale to Amazon, doorbell start-up Ring goes from 'Shark Tank' reject to L.A. tech scene's latest success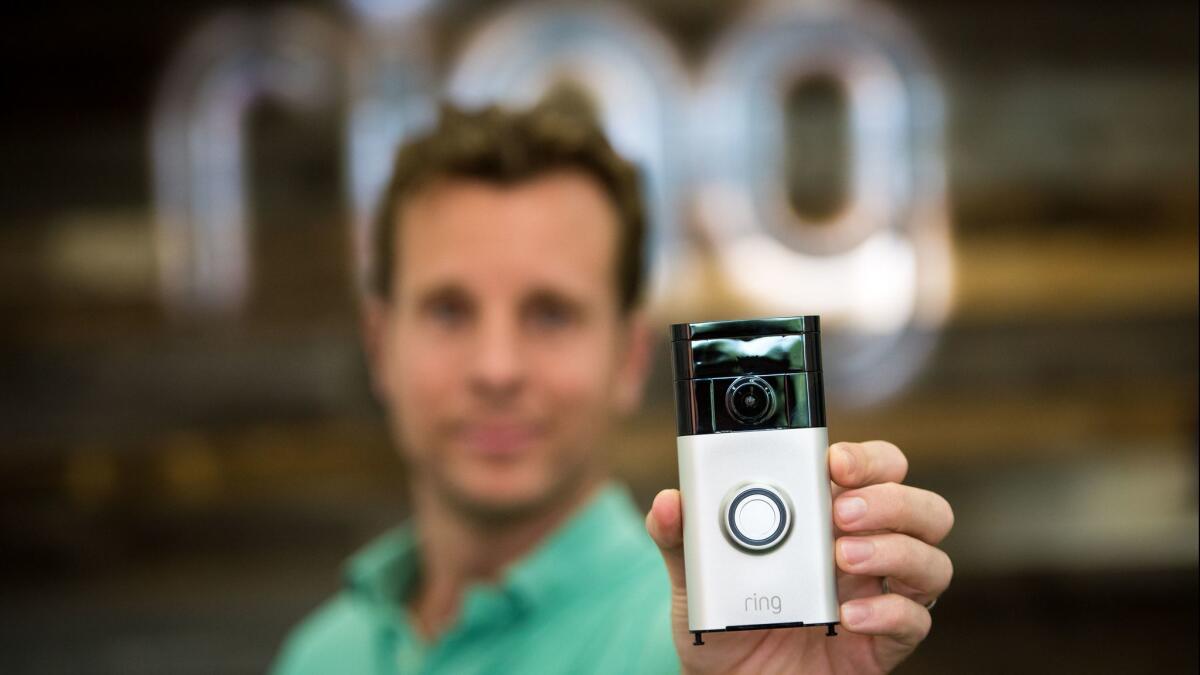 If Amazon succeeds in turning Alexa into the brains of the modern smart home, then Ring will provide the eyes.
In a deal that expands Amazon's network of internet-connected household gadgets — and with it, the e-commerce giant's reach into customers' homes — the Seattle company has agreed to buy Ring, a Santa Monica maker of high-tech doorbells, for a reported $1 billion.

For the record:
9:45 a.m. Feb. 28, 2018
An earlier version of this article said Amazon acquired Rachio and Scout Alarm. Amazon invested in those companies.
Ring doorbells are already being used by 2 million customers. Its improbable success comes five years after its founder, serial entrepreneur Jamie Siminoff, was rejected on the TV show "Shark Tank."
But the company proved there was demand for video-enabled doorbells, which enable users to see outside their homes via smartphone or computer. The technology provides a sense of security and a salve for one of the most nagging problems in the e-commerce era: package thieves.
That's a huge benefit for Amazon, which has revolutionized the way people shop and the way goods are delivered.
But there's more to this acquisition than protecting parcels, analysts say.
Amazon has been quietly investing in technology to bolster its smart home capabilities.
Amazon has in recent years focused extensively on Alexa, the popular home speaker that also doubles as an artificial intelligence device that can answer questions and make Amazon purchases. In 2015 the company invested in smart lawn sprinkler company Rachio. That same year it also invested in home security company Scout Alarm.
"Amazon's really watering the grass, so to speak, to grow into our homes and become more integrated in our lives in ways we haven't even fathomed yet," said Matt Schreiber, president and chief investment strategist at WBI. "This isn't just about Ring's doorbell technology.
"They've envisioned Alexa as your personal assistant, as your butler, as the hired help without having a hired help. This is the help for everyone on the planet, and they're not done yet."
With investments in so many industries — retail, grocery, hardware, AI — it's not a stretch to imagine a future where someone can tell Alexa to buy groceries, a delivery worker can pick up the food from an Amazon-owned Whole Foods, and a customer can monitor doorstep delivery via Ring.
"This is like 'I, Robot,'" Schreiber said, referring to the 2004 science fiction film in which humans create robots to serve as personal assistants. "Hopefully the robots won't take over, though. That would be terrifying."
One of the newest, and most controversial, experiments includes Amazon Key, a service that allows couriers to enter homes to drop off packages. If successful, it could eradicate package theft. If unsuccessful, it could erode consumer trust in Amazon's business.
Ring's camera-equipped doorbells could give hesitant Amazon shoppers some reassurance in letting strangers open their doors.
"This shows how serious Amazon is about privacy and security," said Michael Pachter, an analyst for Wedbush, who thinks Ring will give Amazon a jumping-off point to expand even further into home security.
"With Ring, you can set camera zones," Pachter added. "You can pull it up on your phone, trigger a light, and see what your camera sees. There's no reason why it can't trigger an alarm too."
Siminoff came up with the idea for a video-enabled doorbell after he realized he couldn't hear his front door ring while brainstorming business ideas inside the garage of his Pacific Palisades home.
Despite the "Shark Tank" setback, his TV appearance in November 2013 sparked an uptick in sales, giving the company new life.
"Nothing ever will supersede 'Shark Tank.' We'd have been gone," Siminoff told The Times last year.
Ring has raised more than $200 million in funding and counts Richard Branson among its investors. The company has also received capital from Amazon's Alexa Fund, which invests in companies developing voice-enabled technology.
Siminoff has said in the past that he works "very closely" with Amazon, but was wary of the company because of its size and influence.
"To say Amazon will not compete with you is lunacy because they compete with everybody," he told CNBC. "They're like nuclear power. They are very, very powerful and you can get amazing, clean energy from them, but there's also the possibility of getting human radiation if you're not careful."
Ring's sale marks the biggest exit for an L.A.-area start-up since Unilever bought Dollar Shave Club for $1 billion in 2016. At least three local venture capital firms have invested in Ring: Upfront Ventures, QueensBridge Venture Partners and VTF.
A spokesperson for Ring said the company employed 2,000 "team members," but did not clarify how many were full-time workers. The company had 2 million customers and sales of $160 million in 2016, according to IHS Markit.
The acquisition of Ring also gives Amazon more ammunition to take on rival Google, which is expanding into video doorbells with its line of smart home hardware called Nest.
Amazon faces the risk of confusing consumers now that it has so many overlapping products, analysts said.
The tech giant already offers a smart camera called Cloud Cam, which is used for Amazon Key. And it acquired smart camera and doorbell start-up Blink in December.
"It's like here's this widget, here's that widget," said Frank Gillett, an analyst with Forrester. "Confusion would not be surprising given they've just run out and bought a bunch of companies. That's the mess they're headed into."
Amazon will have to figure out whether it wants to continue partnering with different companies or consolidate the services its hardware provides, Gillett said.
Neither Ring nor Amazon would discuss the terms of the deal. Reuters, citing an unidentified source familiar with the matter, reported that the price is more than $1 billion.
It would mark Amazon's second-biggest acquisition after the nearly $14-billion purchase of Whole Foods in June.
"We'll be able to achieve even more by partnering with an inventive, customer-centric company like Amazon," Ring said in a statement. "We look forward to being a part of the Amazon team as we work toward our vision for safer neighborhoods."
"Ring's home security products and services have delighted customers since Day 1," Amazon said in a statement. "We're excited to work with this talented team and help them in their mission to keep homes safe and secure."
To read this article in Spanish click here
Times staff writer Alejandra Reyes-Velarde contributed to this report.
---
UPDATES:
7 p.m.: This article was updated with a new focus on smart home technology.
3:25 p.m.: This article was updated to include more context about Ring's history.
This article was originally published at 1:35 p.m.