Roku IPO: Shares jump 68% as investors bet the firm can fend off Amazon, Apple and Google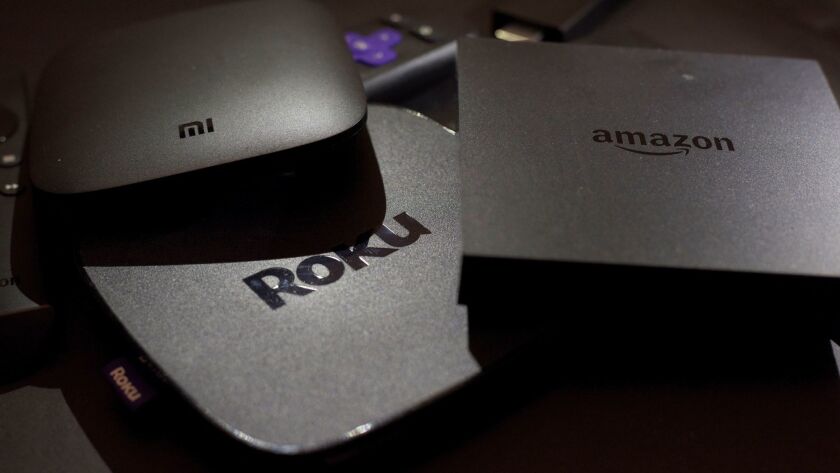 Investors brushed aside concerns about Roku's stiff competition in the video streaming business, sending the company's shares up 68% on its stock market debut Thursday.
Roku stock closed at $23.50 after pricing its 18 million shares at $14 apiece, which was at the high end of its expected range.
The enthusiastic response to Roku's $252-million initial public offering comes despite concerns the Los Gatos, Calif., company is up against the world's biggest technology giants, namely Amazon, Apple and Google.
All three of them offer streaming video boxes featuring the most popular apps, such as Netflix and Hulu, to the growing number of cord cutters .
Moreover, Amazon and Google are large enough to sell their hardware at more affordable prices, adding more price pressure on rivals. Amazon, for instance, introduced a 4k Ultra HD Fire TV streaming player for $69.99 on Wednesday, around $20 less than Roku's similar Premiere+ device. Also, most TVs sold today feature functions to download streaming video apps.
Analysts say Roku has shown great upside by diversifying its revenue away from chiefly hardware to partnerships and advertising over its platform.
"Over the past two-and-a-half years, Roku has expanded their product lines, evolved their platform business with smart-TV makers, and continued to build out its advertising business," said Brett Sappington, director of research of at consulting firm Parks Associates. "A platform-based approach and their advertising business will be keys to their future revenues and success."
Still, Roku must prove it can outmaneuver its bigger rivals. Investors need only look at Snap Inc., the biggest technology company to go public this year, as a reason to be cautious.
Snap has seen the value of its shares nearly slashed in half from its all-time high as investors concluded, among other things, that Facebook's Instagram could marshal its considerable resources to simply copy Snapchat's features.
So why should investors roll the dice on Roku?
"The simple answer is they've managed to compete so far," said Jan Dawson of Jackdaw Research. "They're up against the three biggest ecosystems and they've still managed to take considerable share."
Roku's 32.6% market share of America's 150 million connected TV users last year was ahead of Google Chromecast (29.9%), Amazon Fire TV (26.3%) and Apple TV (19.9%), according to research firm EMarketer.
Buttressing that success, Dawson said, is that Roku users aren't locked into any one ecosystem; it offers everything. That gives its users more choices for apps rather than being force fed Apple, Amazon or Google content.
"They're like the Switzerland of the streaming box world," Dawson said. "They're an open platform, which is a big part of their value proposition."
Roku Chief Executive Anthony Wood echoed that assessment during an interview Thursday shortly after trading commenced.
"Roku's position in this ecosystem is being the platform that ties together the customers, the advertisers, the user, and we've been competing with big companies for a long time very successfully.… We do it by winning customer reviews," Wood told CNBC.
Consumers are already seeing what happens when one of the big three Roku rivals decides to protect its content: Google on Tuesday blocked Amazon's Echo Show, a smart speaker with an LCD touch screen, from streaming YouTube.
The question is whether Roku's market share and neutrality will be enough to prevent consumers from being wooed by its rivals' innovations. After all, Amazon can boast its streaming service doesn't require a remote control thanks to its virtual assistant, Alexa.
Founded in 2002, Roku earlier had been tasked with building a player for Netflix. But the streaming video giant spun off the project in 2007 over fears it would constrain Netflix's growth on other video boxes. The move proved prescient now that Netflix has shown itself to be an overwhelming success.
Roku has also flourished, seeing revenue jump nearly 25% in 2016 to $398.6 million, driven mostly by sales of its devices. But the company also saw more red ink spill during the year with its net loss widening to $42.8 million, compared with $40.6 million in 2015, as it ramped up spending across the company.
Leaders struck a cautious tone ahead of the IPO, saying in an SEC filing that Roku receives little to no revenue from YouTube or Netflix, two of its largest streaming content providers. Netflix accounts for about one-third of all hours streamed on Roku devices.
"We depend on a small number of content publishers for a majority of our streaming hours, and if we fail to monetize these relationships, directly or indirectly, our business could be harmed," the company said in the filing.
Roku said its future growth depends on TV streaming advertising, which includes ads that appear on its user interfaces as well as video ads delivered to users as they stream content. A cut of subscription revenue from the apps featured on Roku's platform also provides a sizable share of business.
This month, the company launched the Roku Channel, which features hundreds of free, ad-supported movies. Although it lacks the deep pockets of competitors such as Apple and Amazon, Roku has received financial backing from a bevy of media conglomerates including 21st Century Fox, Viacom and Britain's Sky. All told, Roku has raised $208 million in funding.
Hardware sales have slowed but still represent a large percentage of the company's revenue. Video player sales slipped 2% to $117 million in the first half of 2017 compared with a year earlier despite a 37% increase in volume sales. The reason? Prices for the hardware fell by almost one-third.
By comparison, revenue generated on the platform, such as ads and subscription fees, grew 91% year-over-year to $82.4 million in the first half of 2017.
"That's great growth for them, but that playbook can also be copied," said Kathleen Smith, principal at Renaissance Capital.
Smith noted that the other high-profile tech public offering of the year, Blue Apron, will soon be directly challenged by Amazon, which filed a trademark for its own meal kit service earlier this year. Blue Apron shares have slumped nearly 40% since it went public in June.
Roku investors probably are celebrating the company's early pop, but they'll have to hope the company's perception on Wall Street doesn't go the way of Snap or Blue Apron — businesses whose ideas some traders fear can be easily replicated by a deep-pocketed competitor.
"There's too much money chasing too few good ideas," Smith said. "We're seeing a lot of 'me too' ideas. These big companies are a force to contend with."
ALSO
Chevron names Michael K. Wirth as its next chairman and CEO
L.A.'s iconic Fatburger restaurant chain prepares to take its story to Wall Street
Former hospitals find new life as apartments and condos
---
UPDATES:
3:15 p.m.: This article was updated after the close of markets.
10:10 a.m.: This article was updated to note that shares had jumped as high as 50% Thursday.
9:45 a.m.: This article was updated with comments from Roku Chief Executive Anthony Wood and a clarification in the performance of Snap shares.
8:25 a.m.: This article was updated with the initial trading price of Roku's stock.
This article was originally published at 3 a.m.
---
Must-read stories from the L.A. Times
Get the day's top news with our Today's Headlines newsletter, sent every weekday morning.
You may occasionally receive promotional content from the Los Angeles Times.