IPhone sales shortfall could leave Verizon owing Apple $14 billion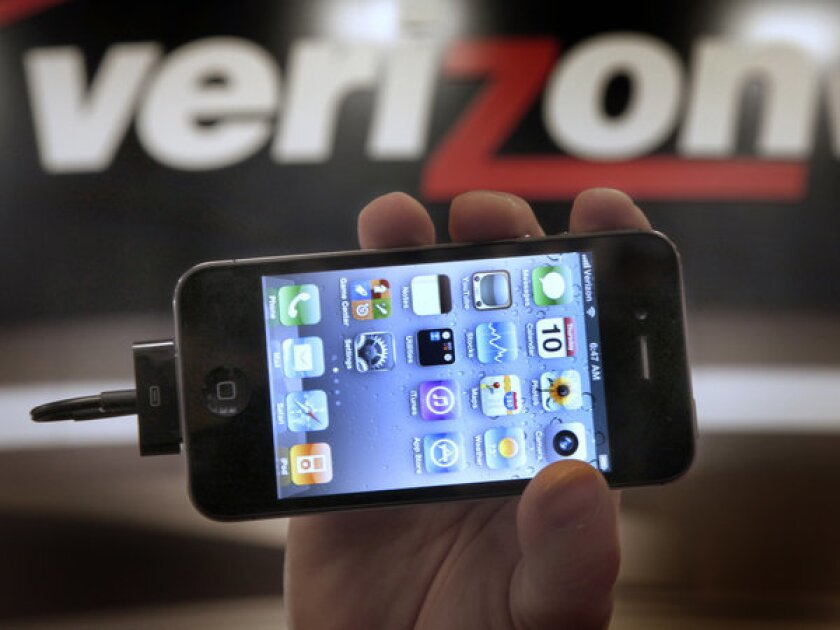 Two in five smartphones sold in the U.S. this spring were iPhones. But that may not be good enough for Verizon Wireless.
The company must sell $23.5 billion worth of iPhones this year to meet a commitment it made to Apple Inc. in 2010, according to an investment research firm's analysis of SEC filings.
PHOTOS: Top smartphones of 2013
Because of slower-than-expected sales, Verizon now must double its iPhone sales of last year. If it falls short, the company could be on the hook for as much as $14 billion, Moffett Research said in a report released this week.
"It is likely that Apple would be reluctant to simply ignore these commitments, since many other carriers around the world are probably in a similar situation, and a simple amnesty would set an unwanted precedent," the research firm wrote. "It is therefore unrealistic to think that Apple won't extract some consideration for renegotiating these shortfalls."
The firm said that Verizon Wireless' parent company, Vodafone, reported that Verizon had $45 billion in purchase commitments over a three-year period at the end of 2010. Moffett believes most of the money is due to Apple.
"Few if any other handset suppliers require purchase commitments of this kind, and, again, it is noteworthy that the total commitment was almost zero until Verizon contracted with Apple for the iPhone for the first time," the report stated.
Since 2010, competitors such as Sprint and T-Mobile have started carrying the iPhone, while Android smartphones have achieved similar levels of popularity.
Moffet said AT&T reported just $3.8 billion in commitments overall at the end of the 2012.
The revelations about Verizon's potentially staggering deal with Apple take up less than two pages of the 115-page report on the state of the telecommunications industry. Moffett warns that giants such as Verizon and AT&T are weak long-term investments because of slower smartphone sales growth and increasing competition.
Verizon didn't immediately respond to a request for comment. A Verizon spokeswoman declined to comment to Bloomberg regarding the iPhone commitments.
ALSO:
Three reasons you may want to buy a Google Chromebook laptop
Federal judge rules against Apple in e-books case [Video discussion]
T-Mobile's new Jump plan gives customers a new phone every few months
---
For reporting and exclusive analysis from bureau chief John Myers, get our California Politics newsletter.
You may occasionally receive promotional content from the Los Angeles Times.