Toyota headquarters in Torrance sold for $270 million to Irvine real estate developer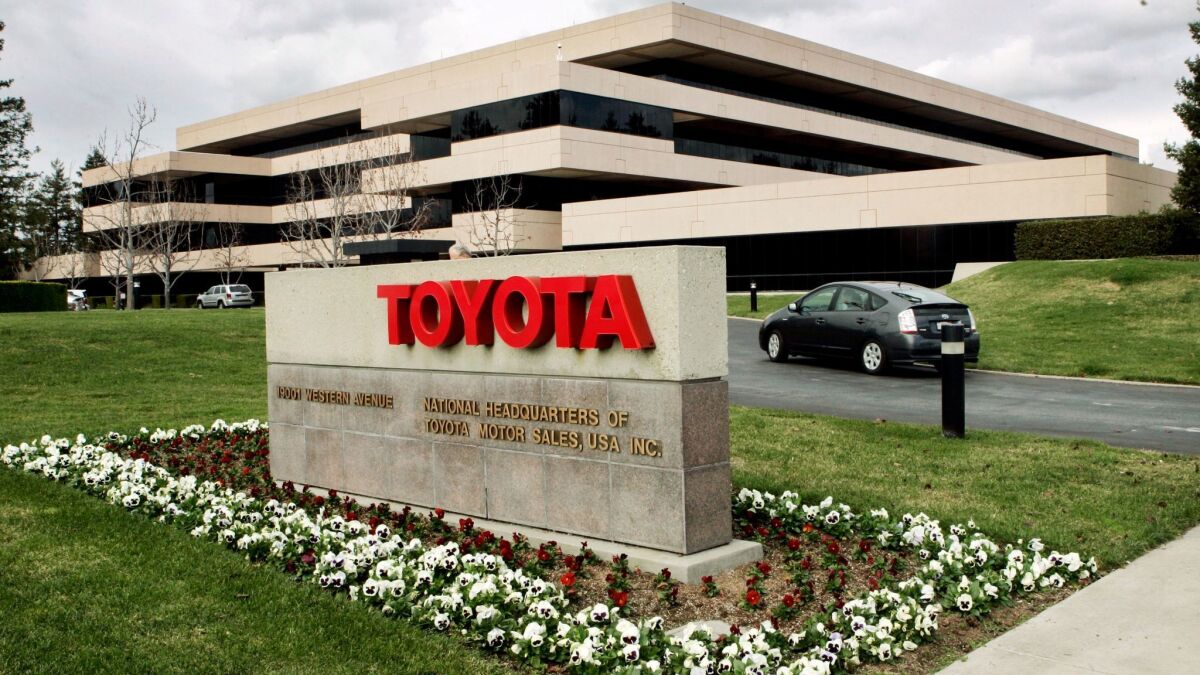 Developer Sares-Regis Group has acquired the former Toyota headquarters in Torrance for $270 million — making it one of the biggest real estate transactions of the year in the region, where there is high demand for campus-style offices.
The price was nearly double earlier estimates and indicates the potential the Irvine firm sees in developing the sprawling office and industrial park near the 405 Freeway. It also is another example of how the region has been able to absorb the loss of corporate headquarters and associated jobs.
Toyota and Sares-Regis did not release the sale price after the transaction closed this week. It was disclosed by people who know about the deal but aren't authorized to discuss it publicly.
Peter Rooney, president of Sares-Regis' commercial development division, said the 110-acre property could be worth as much as $500 million in a few years when new offices, shops and perhaps a hotel are built.
"We'll take some of the buildings down and build some new ones," Rooney said. "It will be driven by what companies we can attract to come to Torrance."
The campus, which Toyota is gradually vacating, comprises 18 buildings with more that 2 million square feet of office and industrial space. It has served as the company's North American headquarters since 1967.
Toyota announced plans to leave Torrance for Plano, Texas, a suburb of Dallas, in 2014.
Sares-Regis has experience redeveloping commercial property. It has been repurposing a former aircraft plant by Long Beach Airport now known as Douglas Park that incorporates old aerospace buildings with new structures.
At Douglas Park, Sares-Regis landed numerous small and medium-sized companies such as aircraft equipment maker Shimadzu Precision Instruments and Virgin Orbit, which plans to provide launch services for small satellites.
The former Toyota campus, which has yet to be renamed, will have a mix of office, retail and industrial businesses, Rooney said. It could include a hotel, "if we can get the right one to come."
Torrance Mayor Patrick Furey said city officials are enthusiastic about Sares-Regis' plans. "They have done a fantastic job in Long Beach, and we are looking for the same thing here with lots of good jobs," he said.
Rooney estimated that as many as 4,000 people could end up working at the refurbished site, more than the 3,000 employees that worked there recently under Toyota.
He said several companies have already expressed interest in moving to the site, though he doesn't expect Amazon to be among them. (Bids were due Thursday from cities nationwide vying to be the online retailer's second headquarters, which would eventually accommodate 50,000 employees.)
The Los Angeles region has been hit before by the loss of the North American operations of a Japanese automaker.
In 2006, Nissan Motor Co. sold its Gardena campus where it had its U.S. headquarters and moved to Nashville. The campus near the 110 and 405 freeways also was a configuration of offices and light industrial space but was less than half the size of Toyota's campus.
It sold for more than $75 million, leading some to speculate that the Toyota price might go for $150 million or more. However, the $270-million sale price far exceeded estimates.
The Nissan campus was turned into an office and manufacturing park for multiple businesses by Los Angeles developer Kearny Real Estate Co.
Economist Christopher Thornberg said the $270-million price tag is a sign that the California economy is not dependent on the decisions of individual companies.
"Wringing your hands over the loss of anybody is just nuts," he said. "We'll have more housing [open up] for everyone else."
Thornberg noted that seasonally adjusted unemployment is less than 5% in Los Angeles, the lowest it's been in 50 years.
Toyota has been winding down operations in Torrance for months and opened its new North American headquarters in Plano this year. The company, however, is maintaining about 2,300 employees in California in sales and marketing, parts distribution and other operations, spokesman Aaron Fowles said.
Toyota set up shop in Torrance about a decade after it started U.S. sales in a former Rambler dealership in Hollywood.
Today, the property includes some automobile-specific uses such as hydrogen fueling stations, a carwash and an auto-test facility. But most of it is a self-contained environment set up to support Toyota's corporate functions such as accounting, finance and communications.
Among the 18 buildings on multiple city blocks are a data center, five diesel power generators, two helipads, two dining centers, one cafeteria, a tennis court and a fitness center with a swimming pool. It also has 8,000 parking spaces.
"It's a phenomenal asset," said real estate broker Jeff Adkison of JLL, who helped arrange the sale. "You don't find 110 acres on the 405 Freeway to be redeveloped anywhere else."
Companies priced out of office space in other popular neighborhoods are heading that way, he said.
"As markets in Playa Vista, Santa Monica and others to the north get more and more expensive," Adkison said, "the market is pushing south."
Twitter: @rogervincent