U.S. trade deficit rises 3.4% in October to $43.9 billion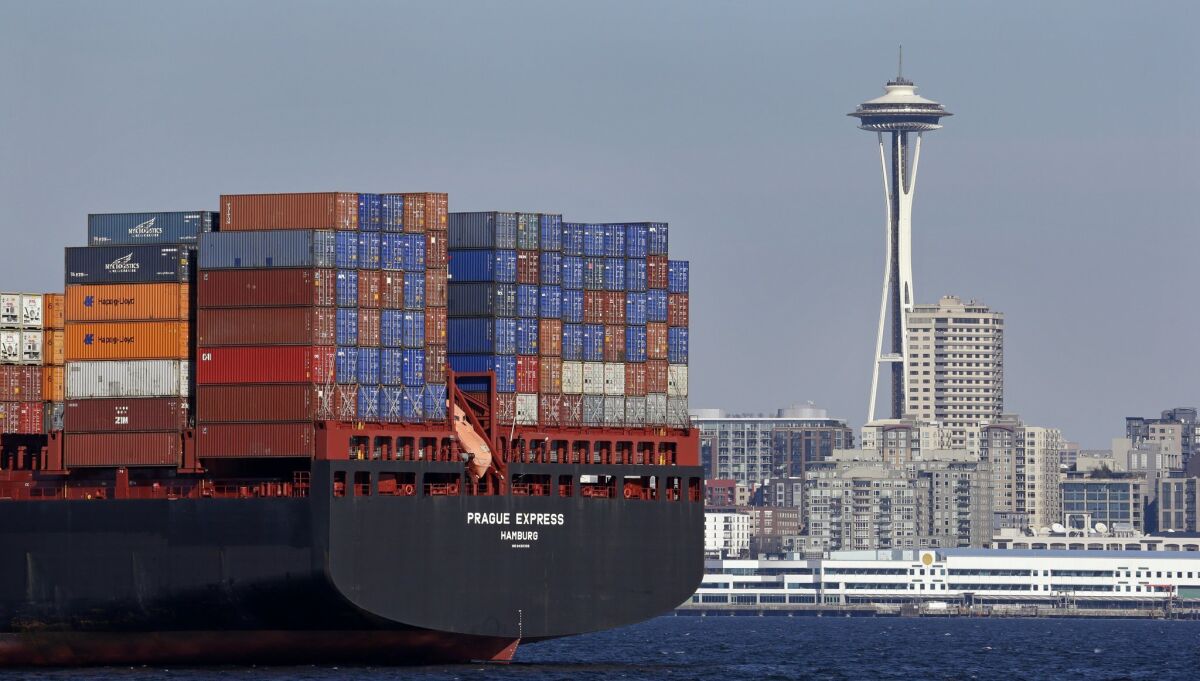 The U.S. trade deficit widened in October, the Commerce Department said Friday, as exports of U.S. goods fell to the lowest level in more than four years, a reflection of the impact of a weak global economy and stronger dollar.
The trade deficit, the difference between exports and imports, widened 3.4% in October to $43.9 billion, compared to a revised $42.5 billion deficit in September. Exports of goods and services fell 1.4% to $184.1 billion while exports of just goods dropped an even bigger 2.4% to $123.8 billion, the lowest level since June 2011.
Imports of goods and services were also down in October, dropping 0.6% to $228 billion. The drop in imports reflected in part falling oil prices, which pushed petroleum imports down to the lowest level in nearly 15 years.
The deficit with Mexico rose 10.2% to $33 billion, the biggest deficit with Mexico in more than three years. The deficit with China fell 9.1% to $33 billion, still the largest imbalance with any country.
NEWSLETTER: Get the day's top headlines from Times Editor Davan Maharaj >>
A rising trade deficit acts as a drag on overall growth. For October, it means that American manufacturers and farmers were able to sell fewer goods in overseas markets.
U.S. companies have been hurt this year by a rising value of the dollar, which makes American products more expensive on overseas markets and foreign goods cheaper and thus more attractive to American consumers. U.S. producers have also had to confront economic weakness in key overseas markets such as Europe and China.
Through October, the deficit this year is 5.3% higher than the same period a year ago. Economists expect the deficit will continue to worsen next year as American exporters continue to struggle with the dollar's strength and growth in other nations remains subdued.
MORE FROM BUSINESS
Congress revives the Export-Import Bank
HMO giant Kaiser agrees to buy Washington state insurer
Solid jobs report all but guarantees Fed rate hike; now the question is: How fast?
---
Sign up for the California Politics newsletter to get exclusive analysis from our reporters.
You may occasionally receive promotional content from the Los Angeles Times.