Act up on Korean Air and you may get stunned by the response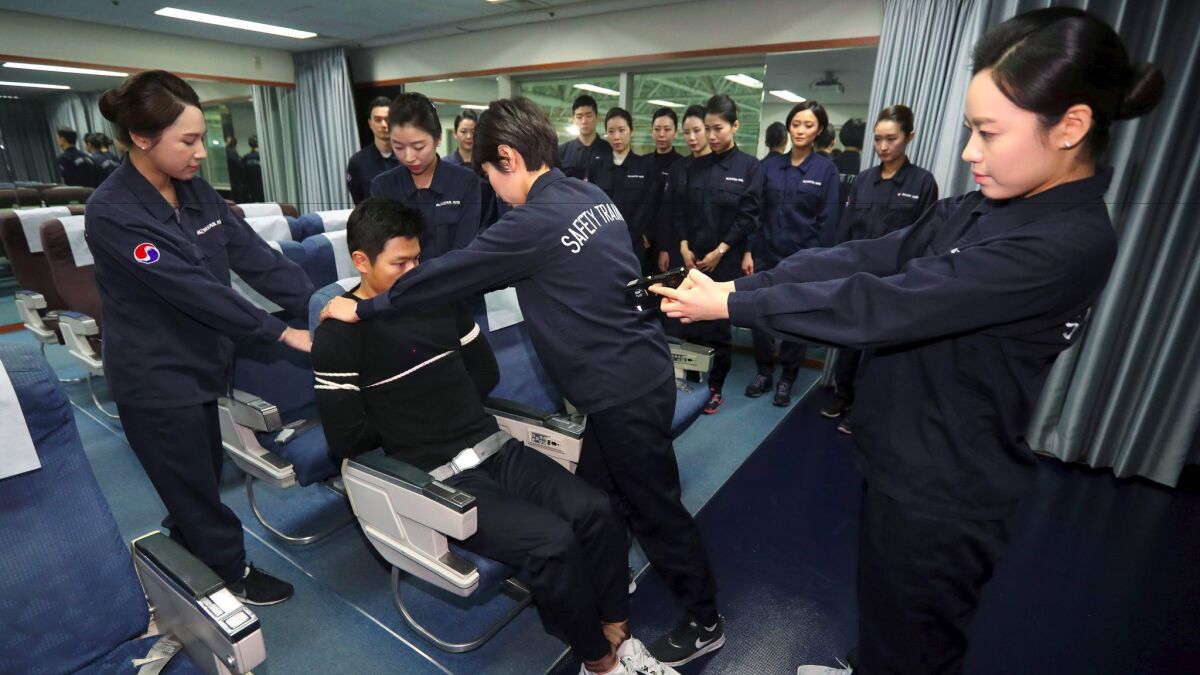 A Korean Air flight from Vietnam to South Korea devolved into a flying fracas last month when a passenger began attacking passengers and flight attendants.
In response, Korean Air says it is beefing up its security measures, including improved training of flight attendants in the use of stun guns, airline spokeswoman Penny Pfaelzer said.
The airline may also consider assigning at least one male flight attendant on each flight to help subdue disorderly fliers, she said.
Such incidents are fairly common.
In 2015, the world's airlines reported 10,854 incidents of unruly passengers, up 16% from the previous year, according to data from the International Air Transport Assn., the trade group for the world's airlines.
The melee on the Korean Air flight got extra attention because it was reported on social media by Daisy Fuentes, the former model and MTV host, who was on the plane with her husband, singer Richard Marx.
According to Fuentes' social media post, Marx joined in the struggle with flight attendants to subdue the unruly flier.
To read more about the travel and tourism industries, follow @hugomartin on Twitter.
ALSO
Are landlords required to install new flooring for disabled tenants?
Freewheeling news anchor and Oprah BFF Gayle King celebrates five years with 'CBS This Morning'
Meet Arnon Milchan, the Hollywood producer at the center of Netanyahu probe
Our six-week newsletter will help you make the right decision for you and your property.
You may occasionally receive promotional content from the Los Angeles Times.