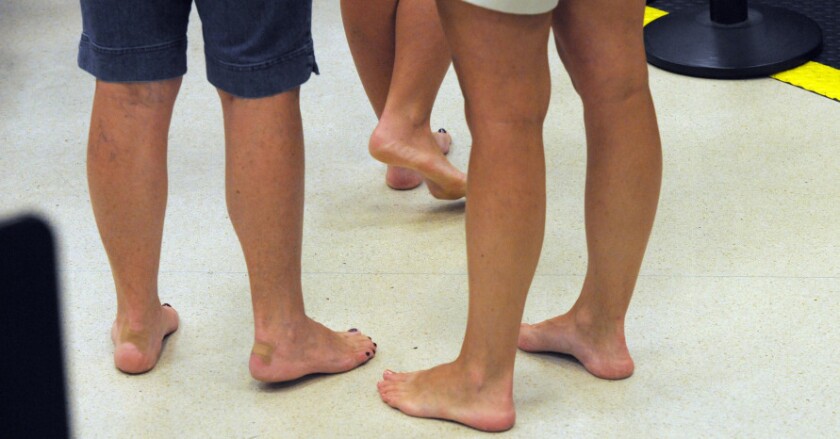 Satisfaction with air travel is up, thanks to lower airfares and an increased tolerance for those annoying passenger fees.
But there is one aspect of air travel that fliers still hate: taking off their shoes at the security checkpoint line.
Those are among the key findings of two airline passenger surveys released this week.
See more of our top stories on Facebook >>
Satisfaction with air travel is at the highest level — 726 on a 1,000-point scale — since 2006, according to a survey of more than 10,000 travelers of major carriers in North America by the consumer research firm J.D. Power. The satisfaction level jumped 9 points compared with last year.
A steep decline in fuel costs over the last year and a half helped domestic fares drop nearly 4% in 2015 compared with the previous year, according to federal statistics. That may explain why passenger satisfaction with the airfares and passenger fees increased 12 points to 658, according to the J.D. Power survey.
But the percentage of fliers who said they are satisfied with airport security is down about 2 percentage points to 64%, according to a separate survey of more than 3,000 U.S. travelers by Travel Leaders Group, a Minnesota travel agency company.
When asked what airport screening measure they would eliminate, the most common answer given by fliers (31.5%) was "removing of shoes."
MORE FROM BUSINESS
Airline trade group wants fliers to report long lines to TSA
Civil rights groups suggest compensation for victims of racial profiling on planes
TSA union calls for hiring 6,000 more officers to reduce long airport security lines
---