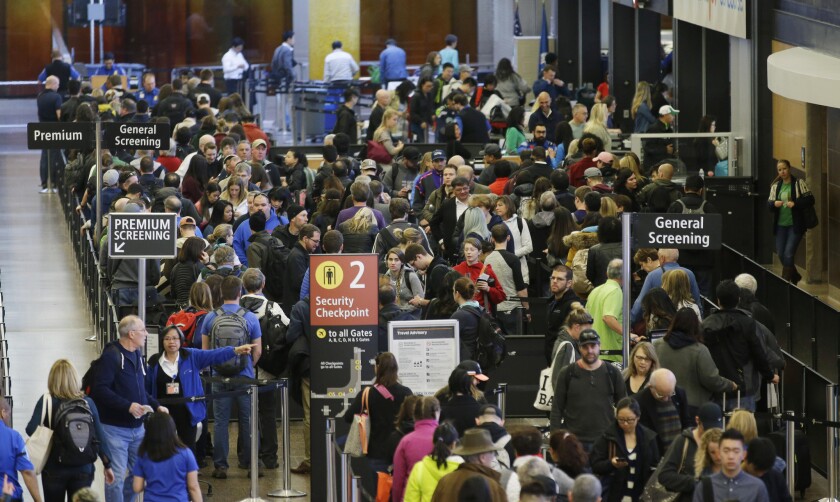 If you are stuck in a long airport security screening line this summer, you don't have to just stand there and fume.
Airlines for America, the trade group for the nation's air carriers, suggests that you use your idle time in the line to point out the delay to the Transportation Security Administration through Twitter.
The trade group commended the TSA last week for announcing new efforts to reduce long screening lines that airlines worry might scare Americans away from traveling this summer.
See more of our top stories on Facebook >>
But the airline group also seemed to be taking a shot at the TSA by asking travelers who are waiting in long lines to "alert TSA by tweeting your airport code or location to @askTSA along with your issue and the hashtag #iHateTheWait."
A TSA spokesman declined to comment when asked if the tweeting idea would help the TSA reduce lines.
Meanwhile, two U.S. senators have suggested another way to cut the lines this summer: Stop charging baggage fees.
If airlines stopped charging baggage fees, travelers wouldn't need to cram so many belongings into their carry-on bags, thus reducing screening time. At least that is the theory proposed by Sens. Richard Blumenthal (D-Conn.) and Edward J. Markey (D-Mass.). The lawmakers made the suggestion in a letter to a dozen airlines this week.
Don't hold your breath: The nation's biggest carriers collected $3.8 billion in bag fees last year.
MORE FROM BUSINESS
Airline satisfaction levels are up but fliers still hate removing shoes
Civil rights groups suggest compensation for victims of racial profiling on planes
TSA union calls for hiring 6,000 more officers to reduce long airport security lines
---