TSA union calls for hiring 6,000 more officers to reduce long airport security lines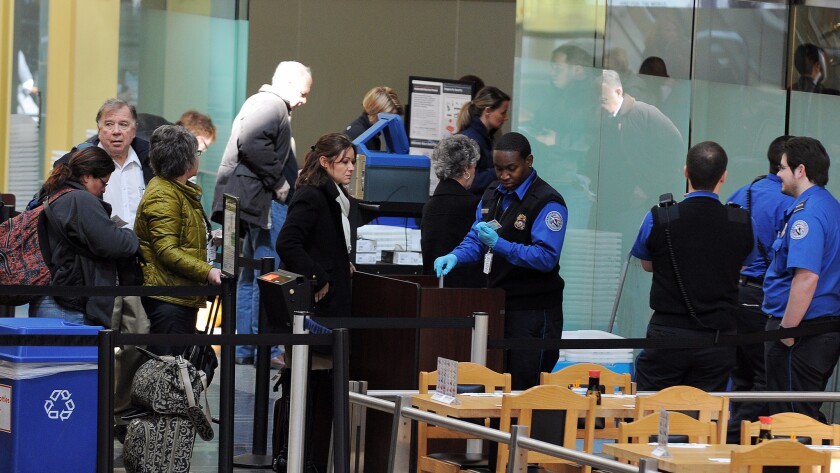 To reduce frustratingly long airport screening lines, the union representing airport security agents is calling on the federal government to free up emergency funding to hire 6,000 additional officers.
Airport screening lines have been the topic of heated discussion in Washington as travel and tourism industry leaders press for a solution before the peak travel season hits this summer.
Transportation Security Administration officials and airline representatives agree that screening lines have gotten longer because the number of TSA agents has declined in recent years while the number of passengers has increased.
See more of our top stories on Facebook >>
The TSA now employs about 42,000 screeners, down from 47,000 in 2013. Meanwhile, the number of passengers flying through U.S. airports has jumped 15%, from 643 to 740 million a year, in that same period.
Adding to the delays: TSA agents are instructed to use more thorough screening techniques after terrorist attacks in Europe and news last summer that TSA agents failed to detect 67 of 70 fake bombs planted in luggage during regular security tests.
The TSA no longer allows regular fliers to use expedited security lines — known as TSA PreCheck — when standard lines get long.
Congress has already agreed to move $34 million to the TSA to hire nearly 800 new officers and cover overtime pay for the existing TSA screeners this summer.
But the American Federation of Government Employees, which represents TSA officers, said the nation's airports need an additional 6,000 screeners to handle the rise in passenger traffic.
"These additional TSOs [Transportation Security Officers] will at least begin to address the shortage of TSOs needed to reduce the delays passengers are facing in airports across the country," AFGE national President J. David Cox Sr. said. The group did not say how much it would cost to hire the 6,000 screeners.
SIGN UP for the free California Inc. business newsletter >>
Roger Dow, president of the U.S. Travel Assn., the trade group for the country's travel industry, commended government officials for acknowledging the problem.
"Given the importance of travel to our economy and way of life, it is not an overstatement to call the TSA situation a national crisis, and fixing it needs to be a national priority," he said.
MORE FROM BUSINESS
Subaru tells some Legacy and Outback owners: Don't drive them
Despite uptick in retail sales, struggling department stores hold back market
There's 'no evidence' Facebook suppressed conservative news, Mark Zuckerberg says
Follow me on Twitter: @hugomartin
---
Must-read stories from the L.A. Times
Get the day's top news with our Today's Headlines newsletter, sent every weekday morning.
You may occasionally receive promotional content from the Los Angeles Times.