Flight attendants say airlines have failed to address sexual harassment in the skies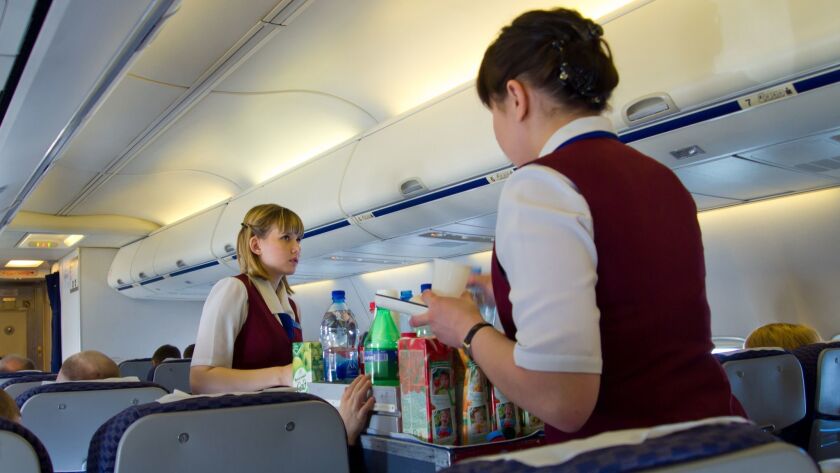 Despite the growth of the #MeToo movement, nearly 1 in 5 flight attendants say they have been the victims of physical sexual harassment in the last year — and have seen no efforts by their managers to address the problem.
A survey of more than 3,500 flight attendants from 29 airlines in the U.S. found that 35% of flight attendants say they have experienced verbal harassment, with 18% saying they have been physically abused by passengers over the last year.

For the record:
2:20 PM, May. 12, 2018An earlier version of this article reported that the Assn. of Flight Attendants-CWA represents 42,000 flight attendants from 19 airlines. The group represents 50,000 flight attendants from 20 airlines.
According to the survey released by the Assn. of Flight Attendants-CWA, 68% of flight attendants have experienced some form of sexual harassment during their careers. But only 7% of flight attendances who have experienced abuse have reported it, the survey found.
Those flight attendants who have been physically harassed say it includes having their breasts, buttocks and crotch area "touched, felt, pulled, grabbed, groped, slapped, rubbed and fondled," according to the survey.
More than two-thirds of flight attendants say they noticed no efforts by their employers to address the problem in the last year.
"Flight attendants must be confident that airline executives will back them up when they respond to and report harassment of crew and passengers," said Sara Nelson, president of the association, which represents 50,000 flight attendants from 20 airlines.
Harassment of flight attendants is nothing new. In decades past, flight attendants were nearly all young women who often were forced to wear tight, revealing outfights. Today, flight attendants — about 20% are men — are considered the first line of defense during an onboard emergency, Nelson said.
Some airlines have taken action against harassment.
About a month ago, Alaska Airlines Chief Executive Brad Tilden dispatched an online post to his employees, saying the carrier is adding training to help protect flight attendants and passengers from being the victims of assault or harassment.
"To be clear, sexual harassment and assault have absolutely no place in our workplace, on board our flights, or any place," he said in the post.
Delta Air Lines says it has also added training for new and existing employees to cut back on such incidents.
The chief executives of United Airlines, American Airlines and Spirit Airlines have issued messages to their employees in the past few months, condemning harassment in the workplace.
The nation's airlines have adopted no industrywide policy for addressing passengers who harass flight attendants. If the harassment is extreme, crew members can accuse a passenger of interfering with the duties of the crew on a commercial flight — a federal crime that can result in civil or criminal penalties, said Taylor Garland, a spokeswoman for the flight attendants union.
Alaska Airlines took a different approach to the problem earlier this year when it banned a San Diego man from flying on the carrier following allegations that he harassed a flight attendant — an accusation he said is unfounded and is "reverse discrimination against men."
To read more about the travel and tourism industries, follow @hugomartin on Twitter.
---
Your guide to our clean energy future
Get our Boiling Point newsletter for the latest on the power sector, water wars and more — and what they mean for California.
You may occasionally receive promotional content from the Los Angeles Times.