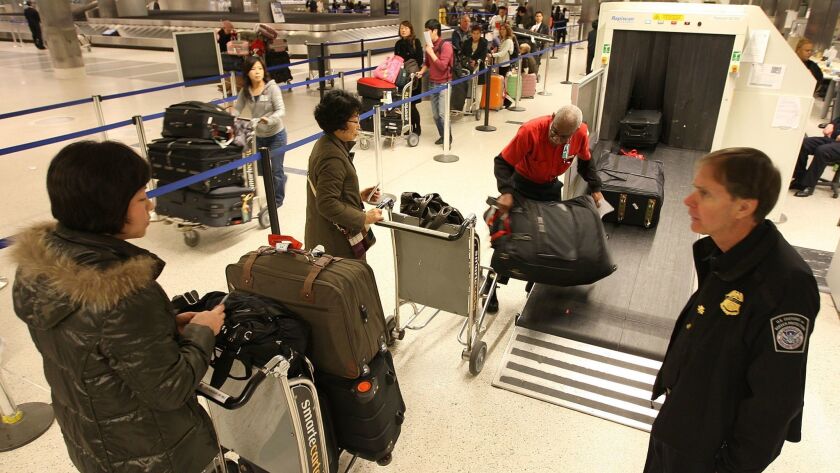 With international travel to Los Angeles continuing to grow, U.S. Customs and Border Protection is for the first time in 10 years accepting applications for dozens of new officers to work at Los Angeles International Airport.
The numer of customs officers working at LAX has diminished through normal attrition and those that remain are under increasing pressure to screen a surge in international travelers flying into LAX, said Claudia Canizalez, a representative for the agency.
Under normal circumstances, she said, the federal agency hires new officers and assigns them primarily to work near the border in Texas, Arizona and Southern California. But now new job applicants can specifically request to fill one of several dozen openings at LAX, Canizalez said.
"We need the help," she said of staffing at LAX. "We definitely need the help."
In the busy summer months, LAX will process as many as 40,000 international travelers per day, with lines to clear customs screening taking as long as an hour.
In 2017, the airport reported a 4.5% increase in passengers, with the biggest growth in international travelers coming from China, South Korea, Germany, France and India, according to the Los Angeles Tourism and Convention Board.
To screen the surge in international travelers, Canizalez said the federal agency is turning to automated kiosks and customs agents who are transferred temporarily from nearby areas such as Long Beach. The new hires will be employed to deal with the expected continuing growth, she said.
But the new officers — whose jobs include questioning incoming travelers and looking for drugs, money launderers, terrorists and human traffickers — won't be at LAX soon. It takes nearly a year for prospective agents to complete drug tests, background checks and other screenings. Training lasts an additional five months.
To read more about the travel and tourism industries, follow @hugomartin on Twitter.
---