In Tribune Publishing shake-up, chief executive and former Times executives leave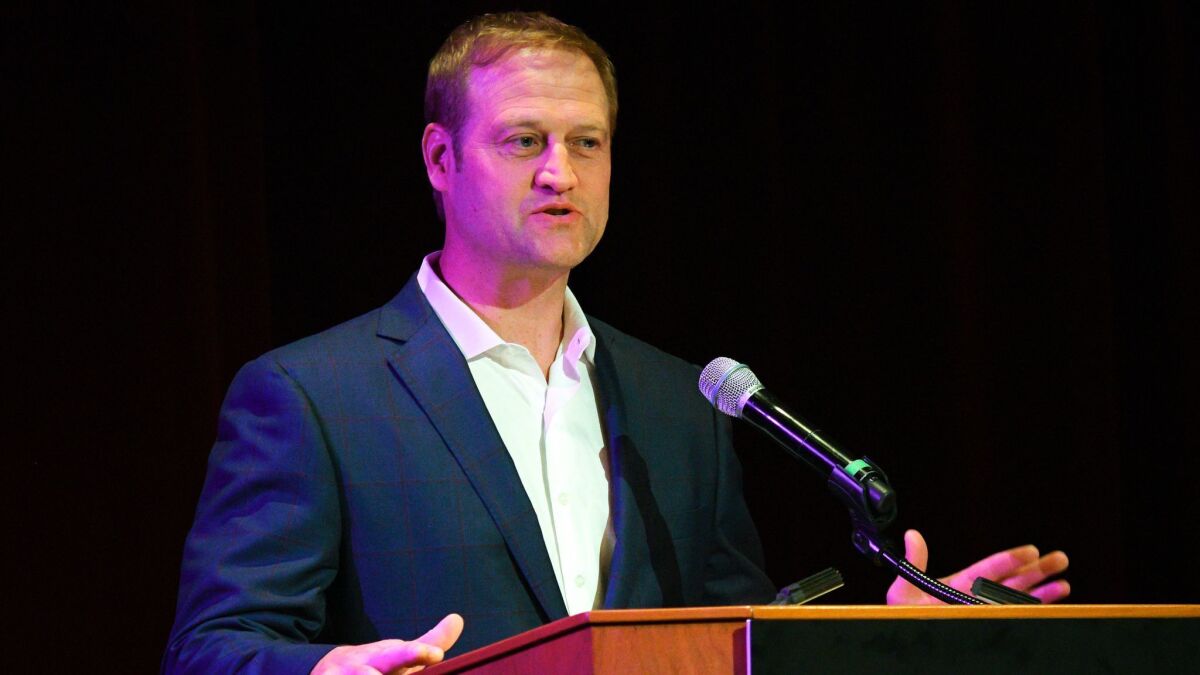 Tribune Publishing, after months of turmoil, has shaken up its leadership in a dramatic overhaul that further distances the company's management from its former chairman, Michael Ferro.
The Chicago-based company announced late Thursday that Chief Executive Justin Dearborn was stepping down after nearly three years in the job. Dearborn was a longtime business associate of Ferro, who quit the board nearly a year ago amid allegations of sexual misconduct, which he denied. Ferro remains the largest shareholder of the newspaper company.
Tribune Publishing's board appointed longtime publishing executive Timothy P. Knight as Dearborn's replacement.
In addition, former Congressman David Dreier was elected chairman of the board, replacing Dearborn, who also had filled that role. Dreier, who has served on Tribune Publishing's board since 2016, represented part of Southern California's Inland Empire in the U.S. House of Representatives from 1981 until 2013.
Tribune Publishing was the parent company of the Los Angeles Times and the San Diego Union-Tribune until June, when biotech entrepreneur Dr. Patrick Soon-Shiong purchased the two Southern California papers for $500 million. Soon-Shiong, who remains Tribune Publishing's second-largest shareholder, began investing resources in the California papers after years of staff cutbacks.
The newspaper industry has been under siege amid a defection of advertisers to digital platforms. Tribune Publishing has encountered other problems too, including an ill-fated decision to rebrand itself as Tronc, a move that prompted ridicule.
The company failed to quell an uprising in Los Angeles, and The Times' newsroom voted overwhelmingly in early 2018 to form a union — the first time in the paper's more than 135-year history. Tragedy struck at Tribune Publishing's newspaper in Annapolis, Md., when a gunman entered the newsroom and killed five members of the Capital Gazette staff.
Then, late last month, Tribune's computer networks were infected by a malware attack, which delayed the distribution of newspapers in Los Angeles, San Diego and regions where Tribune operates. The California newspapers share computer systems with their former parent.
In addition to the Chicago Tribune and the Annapolis Capital Gazette, the company owns the New York Daily News, Baltimore Sun, Hartford Courant, Orlando Sentinel, South Florida Sun-Sentinel, the Morning Call in Allentown, Pa., the Daily Press in Newport News, Va., and the Virginian-Pilot in Norfolk, Va.
The shake-up comes as Tribune Publishing has been actively seeking buyers, and it reached out to USA Today owner Gannett Co. in hopes of striking a deal. In December, the company broke off negotiations to sell the newspaper chain to the California-based McClatchy Co. The Chicago Tribune, citing sources familiar with the process, reported that the New York-based investment firm Donerail and Dallas-based newspaper group Aim Media have also been working on a joint bid to buy Tribune Publishing.
In addition to Dearborn, two executives who briefly led The Times — Ross Levinsohn and his deputy, Mickie Rosen — were let go Thursday, according to a person familiar with the situation but not authorized to speak publicly. Levinsohn, a former Fox television executive, served as The Times' publisher for about five months during much of the upheaval.
Since being removed from The Times, Levinsohn and Rosen served as chief executive and president, respectively, of the company's digital arm, Tribune Interactive.
The changes suggest that Tribune Publishing's board wanted to entrust the company once again to executives who have had careers in publishing.
Dearborn, 49, joined the firm as its CEO in February 2016, three weeks after Ferro became the company's largest shareholder and non-executive chairman. It was his first job in a senior newspaper role. Before joining Tribune Publishing, Dearborn had been chief executive of Merge Healthcare, a Ferro-controlled medical technology company that was acquired by IBM in 2015.
Knight, 53, also worked for Ferro, previously serving as chief executive of Wrapports, the Ferro-controlled former ownership group of the Chicago Sun-Times. He joined Tribune Publishing nearly two years ago and most recently was in charge of the company's local markets.
Before that, Knight served as president of Advance Ohio and was a top executive of Newsday in New York. Knight, an attorney, began his media career with the Chicago Tribune's legal department in 1996.
"Tim's deep knowledge of our company and his commitment to expand our paid digital business will be critically important," Dreier said in a statement. "Journalism is under attack across the globe and we have an unwavering commitment to delivering a first-rate news product."
Robert Channick of the Chicago Tribune contributed to this report.
---
Sign up for the California Politics newsletter to get exclusive analysis from our reporters.
You may occasionally receive promotional content from the Los Angeles Times.