Pricey jeans maker True Religion files for bankruptcy protection
Upscale jeans maker True Religion Apparel Inc. said July 5 that it filed for bankruptcy reorganization. (July 5, 2017) (Sign up for our free video newsletter here http://bit.ly/2n6VKPR)
Upscale jeans maker True Religion Apparel Inc. said Wednesday that it filed for bankruptcy reorganization, making it the latest Southern California apparel firm to falter as people embrace online shopping.
The once-trendy manufacturer also was frayed by design missteps and boring store displays as fickle shoppers sought out the next new thing.
True Religion said that in tandem with filing under Chapter 11 of the bankruptcy laws, its owner, TowerBrook Capital Partners, a private equity firm, reached a proposed deal with lenders to slash True Religion's debt by about three-quarters as it continues operating.
"We are taking an important step to reduce our debt, reinvigorate True Religion's iconic brand and position the company for future growth and success," which includes putting more resources into its online efforts, True Religion Chief Executive John Ermatinger said in a statement.
The Manhattan Beach-based firm, which employs 1,900 people, sells its jeans and other clothing in 140 stores with the True Religion and Last Stitch brand names, and through other boutiques and department stores. The company said it closed 20 of its stores last year to cut costs.
Founded in 2002, True Religion grew popular with its array of pricey designer jeans, and from 2007 through 2012, it nearly tripled in size, becoming a company with revenue of $490 million in 2013.
The company formerly was publicly held, but it went private in 2013 when it was acquired by TowerBrook Capital for $835 million.
Also starting in 2013, True Religion "began experiencing declining sales caused by the general trend of consumers [moving] away from traditional retail to online shopping," Dalibor Snyder, True Religion's chief financial officer, said in a filing with the U.S. Bankruptcy Court in Delaware, where the company filed its Chapter 11 petition.
That trend has accelerated in recent years with shoppers shifting from brick-and-mortar stores to e-commerce. In addition, the rise of "fast-fashion" stores carrying lower prices — such as Zara, owned by Inditex of Spain, and H&M (Hennes & Mauritz) of Sweden — has hobbled True Religion and other apparel retailers.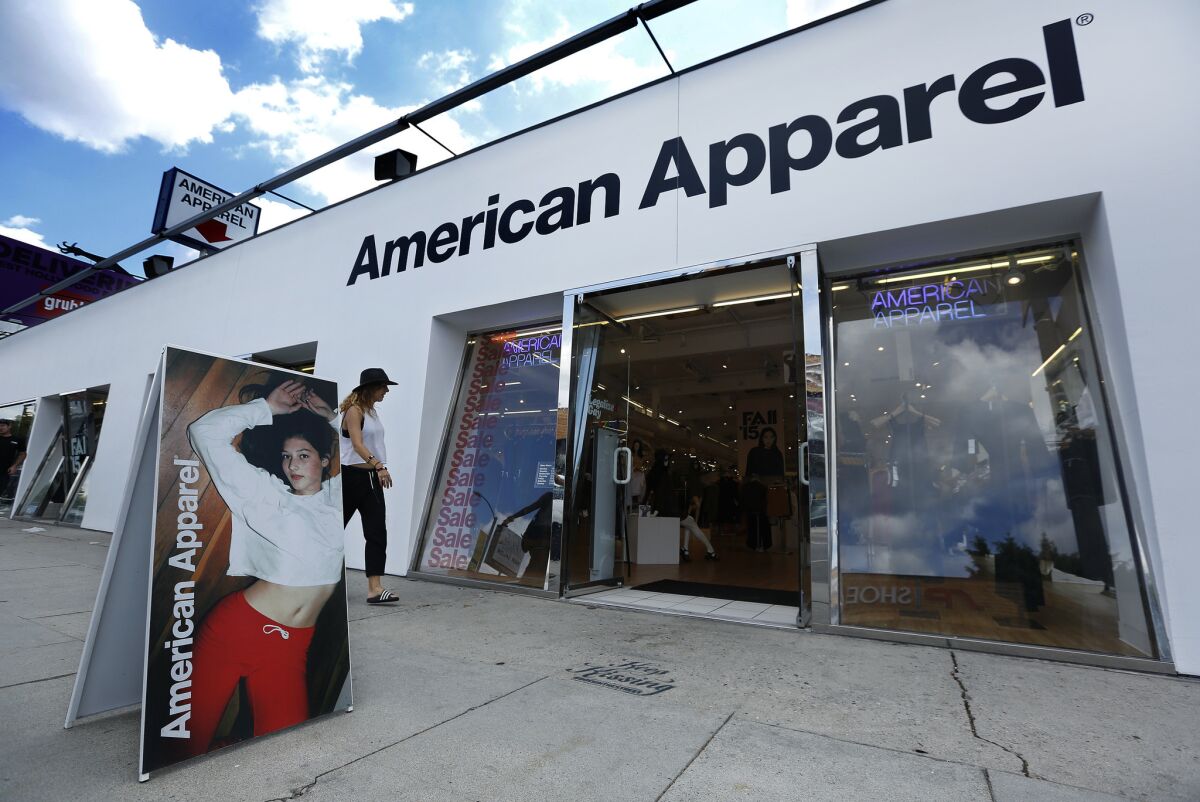 The shift resulted in the bankruptcies of such Southern California-based clothing retailers as American Apparel Inc., Pacific Sunwear of California Inc., Nasty Gal Inc. and Wet Seal.
There also has been a widespread retrenchment in retail overall as consumers spend more online. Chains closing stores in malls and elsewhere in the last year include Macy's Inc., Sears Holdings Corp., J.C. Penney Co. and Payless ShoeSource Inc.
True Religion's problems were "further adversely impacted by new product designs launched by the company that failed to resonate with the consumer," Snyder said in his filing.
In its fiscal year ended Jan. 28, True Religion lost $78.5 million on revenue of $369.5 million.
On True Religion's website Wednesday, many of the women's jeans were priced at $199 or higher, with some pairs selling for $319. Many of its men's jeans also were priced at $199 and up.
Ilse Metchek, president of the California Fashion Assn. trade group, said there continues to be a market for expensive denim but that True Religion also has struggled with marketing and merchandising shortcomings.
"Their retail establishments were not exciting enough, and they weren't putting enough marketing energy behind their brand to bring them to an aspirational level — that the consumer would aspire to [buy] True Religion" apparel at its lofty prices, she said.
"No longer can you excite a consumer in a retail store with piles of jeans on the table," Metchek said. "There has to be a look around it. Is there an excitement to it that defines the brand?"
Under its deal with lenders, True Religion plans to swap debt for new equity in the reorganized company that will reduce its debt by more than $350 million. The firm said it also had obtained additional financing of up to $60 million from Citizens Bank.
Twitter: @PeltzLATimes
ALSO
L.A. billionaire cancer doctor Patrick Soon-Shiong battles business turbulence
Judge tells Martin Shkreli: Keep your mouth shut
Southern California's grocery battle heats up with the spread of discounter Aldi
---
UPDATES:
2:30 p.m.: This article was updated with additional details about retail store closures, current prices of True Religion's jeans and comments from an industry executive.
This article was originally published at 9:55 a.m.
Our six-week newsletter will help you make the right decision for you and your property.
You may occasionally receive promotional content from the Los Angeles Times.