Trump threatens tariffs on European auto imports in escalation of trade dispute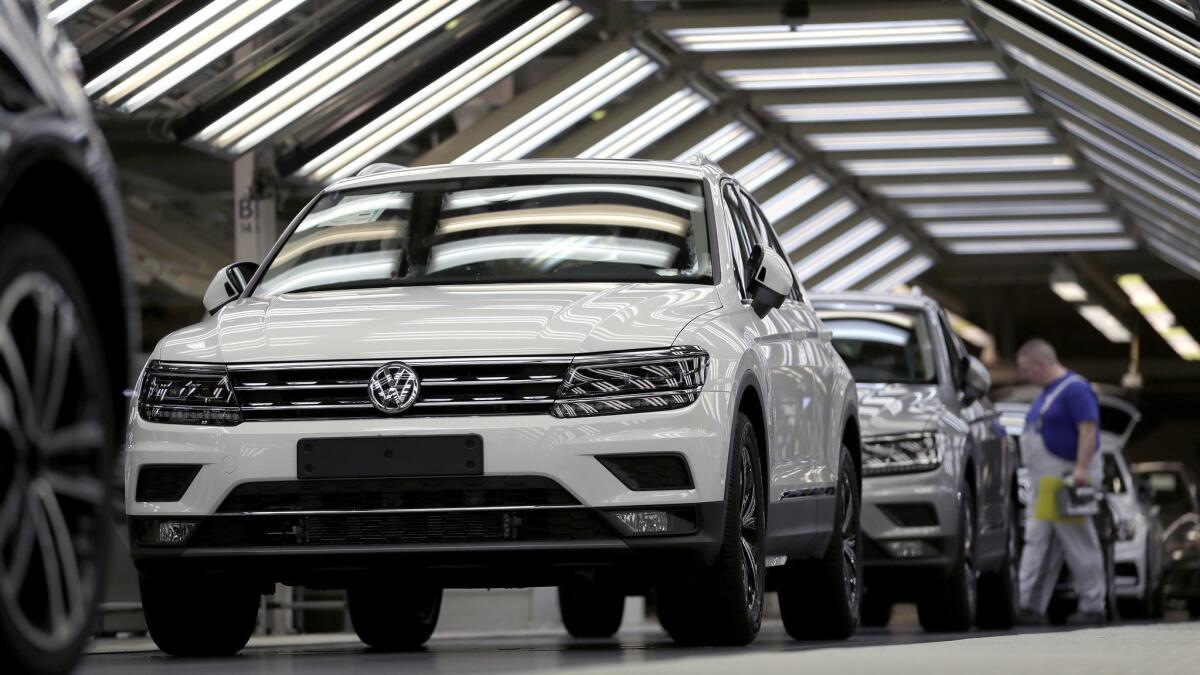 Reporting from Washington —
President Trump on Friday reiterated his threat to place a hefty tariff on automobiles imported from the European Union if the trading bloc doesn't remove tariffs placed on a variety of U.S. products as part of an escalating trade war he triggered.
Trump lashed out on Twitter after tariffs from the EU on about $3.3 billion worth of U.S. goods — including iconic products like Levi's jeans, Harley-Davidson motorcycles and Kentucky bourbon — kicked in Friday in response to U.S. levies on steel and aluminum imports from the region that went into effect June 1.
In a tweet, Trump warned that "if these Tariffs and Barriers are not soon broken down and removed, we will be placing a 20% Tariff on all of their cars coming into the U.S. Build them here!"
But most major European automakers, including BMW, Volkswagen and Daimler, which produces Mercedes-Benz vehicles, already manufacture in the U.S. And vehicles made in those factories would not be subject to any tariffs.
The changing nature of the auto industry and the growth of foreign-owned plants in the U.S., highlights the difficulties for Trump in his protectionist push.
"It's really tricky," said Rebecca Lindland, an analyst at Kelley Blue Book. "I don't think anybody's going to win with these tariffs if they actually go into effect."
The biggest hit if the U.S. follows through with tariffs is likely to be on luxury car purchasers here, said Mark Wakefield, global co-head of automotive and industrial at AlixPartners, an industry consulting firm.
European automakers tend to produce larger sport utility vehicles in the U.S. because those sell better here but make high-end passenger cars in Europe or elsewhere, he said.
"There is a desire to build where you sell, but the trouble with the luxury car makers is, the volumes aren't large enough to build two plants," Wakefield said. "That's where those tariffs would hit because a lot of those [luxury cars] are imported into the U.S."
Shares in the three major European automakers were down in after-hours trading following Trump's threat. Shares in Ford and General Motors, which had been up early Friday, nosedived as well after Trump's tweet before recovering somewhat.
Ford closed down 6 cents, or 0.5%, at $11.65. GM stock was up 13 cents, or 0.3%, to close at $41.25.
For U.S. automakers, the fear is that Europe will respond to potential U.S. tariffs with higher tariffs there.
"While we understand that the administration is working to achieve a level playing field, tariffs are not the right approach," said a statement from the Auto Alliance, a U.S.-based trade group of leading global manufactures.
"Tariffs raise vehicle prices for our customers, limit consumer choice and invite retaliatory action by our trading partners. Automakers support reducing trade barriers across the board and achieving fairness through facilitating rather than inhibiting trade," the alliance said.
Brian Maas, president of the California New Car Dealers Assn., said American car buyers would be losers under any new tariffs.
"A 20% increase in anything is a significant increase," he said. "The problem with any tariff, including this one, is that a tariff is an artificial manipulation of the marketplace. To have an artificial price change makes it more difficult for consumers to make a decision on a car to buy."
Trump first threatened tariffs on imported European automobiles in March. Then last month, the Commerce Department launched an investigation to determine whether imports of vehicles threatened to impair U.S. national security.
"There is evidence suggesting that, for decades, imports from abroad have eroded our domestic auto industry," Commerce Secretary Wilbur Ross said in announcing the inquiry, which has not yet been completed.
He said imports of passenger vehicles have grown to nearly half of all cars sold in the U.S. from about a third 20 years ago.
But at the same time, foreign automakers have been building more factories in the U.S. Their share of U.S. auto production has jumped from 1% in 1979 to 47% in 2016, according to the Assn. of Global Automakers, an trade group.
The first manufacturers here were Japanese, such as Honda and Toyota. European automakers started building factories in the U.S. in the 1990s. There are now seven such plants here: three making Mercedes-Benz vehicles or parts, two for BMW and single factories for Volkswagen and Volvo.
Most of the plants make SUVs, but Mercedes, Volkswagen and Volvo make some sedans here as well.
The tariffs would hit particularly hard on European manufacturers that don't make any vehicles in the U.S., such as Porsche. The German automaker, a unit of Volkswagen, sold 55,470 cars in the U.S. last year, about a quarter of them in California.
The U.S. has about a $40-billion trade deficit with the European Union on autos and parts. The European Union charges a 10% duty on imported vehicles from the U.S. The U.S. duty on European imports is 2.5% for passenger cars but 25% for pickups and other light trucks.
The tariff on pickups and other light trucks originated in a 1960s trade dispute involving inexpensive U.S. chicken that had flooded the European market. West Germany was among the countries that responded with a tax on U.S. chicken and Washington responded by placing the 25% tariff on pickup trucks made by European automakers.
The North American Free Trade Agreement eliminated the tariff on pickup and light trucks built in Mexico, leading to U.S. and foreign manufacturers to produce them there. In 2001, Mercedes-Benz built a plant in South Carolina to reassemble cargo vans to avoid the so-called chicken tax.
Trump on Friday threatened to increase the U.S. 2.5% tariff on European vehicles so it would be double what the European Union charges on U.S. imports.
At a rally Wednesday in Duluth, Minn., Trump complained about the U.S. trade deficit with the European Union.
"They put up barriers so that we can't sell our farm products in. And yet they sell Mercedes and BMW and the cars come in by the millions. And we hardly tax them at all," he said.
"They don't take our cars. And if they do, the tax is massive," he said. "So they're basically saying, 'We're going to sell you millions of cars. By the way, you're not going to sell us any.' Not going to work that way anymore, folks."
The figures were overstated. According to the Commerce Department, the U.S. imported 1.2 million passenger cars from the European Union last year. The U.S. exported about 256,000 cars to the EU.
Wakefield, whose firm consults for automakers, suppliers and sellers, said the tariff threats are creating problems for an industry that needs to plan far in advance for future production. In addition to the possibility of auto tariffs, automakers are concerned about levies on imported steel and aluminum needed in manufacturing.
"The cycle of the industry is, you make very big decisions that drive a lot of costs years before you start selling the car," he said. "It's creating a lot of uncertainty."
Times staff writer Ethan Millman contributed to this report.
Twitter: @JimPuzzanghera